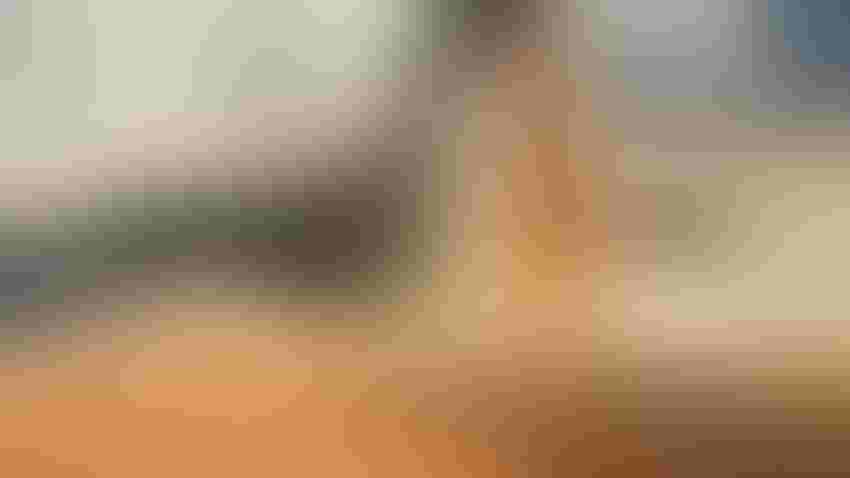 SAVING THE ELEVATOR: Perdue Agribusiness has wanted to unload its Lothian grain elevator for a few years, citing the disappearance of farmland and row crop acres in Anne Arundel County, Md. But a group of farmers and local leaders have been fighting for the elevator to stay open. Recently, the county agreed to buy it. Now, an operator needs to be found.
fotokostic/Getty Images
It's not every day that the government steps in and buys a grain elevator. But that's exactly what is happening in Anne Arundel County, Md., where the county government wants to save a grain elevator in hopes of preserving what remains of viable farming in a place where development is becoming the norm.
Late in March, the county announced plans to buy the Lothian grain elevator from Perdue, which was planning to close the elevator this year, for $1.25 million. Perdue originally planned to close the elevator in 2021, citing the reduction in farmed acres and total harvested grain acres in southern Maryland over the past 20 years.
But pressure from farmers and public officials delayed the elevator's closing for two years. A group of local leaders then got together to see if a buyer could be found. Then, the county stepped in and decided that it would purchase the elevator outright.
Steuart Pittman, county executive of Anne Arundel County, says the county is using money from its land acquisition fund — money that is usually earmarked for infrastructure projects such as schools — to buy the elevator. It will then get reimbursed by the state through a line item in the state budget, which was secured by Sen. Sarah Elfreth, who sits on the Senate Budget and Taxation Committee.
Pittman says the agreement with Perdue is good for 90 days and is contingent on land appraisal, an environmental assessment and the approval by the county council. Then the focus will shift to getting an operator for the 15-acre site that includes the elevator itself and some surrounding land.
"We needed to move to keep this thing opened. We were just the ones willing and able to pull it off," Pittman says. "We needed to believe that this was going to be financially self-sufficient, and we're confident that we will be able to sign an agreement with an operator that will lease the facility and operate it and keep it going for many years into the future."
He adds that the site also opens possibilities of doing other things, such as opening a regional compost facility for the county's horse farms to compost manure.
Shelby Watson-Hampton, director of the Southern Maryland Agricultural Development Corp. (Watson-Hampton also writes the Generation Now column for Farm Progress), says the site also has value-added ag potential, including being the site of a mill for artisanal wheat growers.
Craig Sewell, infrastructure project manager at SMADC, agrees.
"A mill like this would engage the entire extended agricultural community, from farmers growing premium wheat [and getting a premium price for it], to the elevator operators, to the millers, to the food service professionals in kitchens around the state, to marketers, sales and delivery," he says. "The rise of small artisanal millers across the country are proving the effectiveness and the financial viability of this burgeoning industry."
But most of the acres devoted to farming in Anne Arundel and surrounding counties are still row crops and hay, Pittman says. The county's comprehensive plan states that preserving viable farming is in the best interest of the county long term.
"Because when parts of the county are kept rural, it's less burden on the county budget, to just look at it from a fiscal standpoint," he says. "We don't have sewer and water. We don't need public infrastructure where we have fewer people."
Finding an operator
Once the deal with Perdue goes through, and that is still an if, the question then shifts to how long it will take to find an operator for the elevator. While the county has not started negotiations with a potential operator yet, the hope is to get an operator in time for fall harvest. Pittman says there are operators that are potentially interested in leasing the facility.
According to SMADC, which has advocated for the preservation of the elevator, the Lothian elevator takes grain from about 100 local farmers — 17% of southern Maryland's grain — with a storage capacity of 1 million bushels.
One of those farmers, Kayla Griffith — who farms 700 acres of mostly corn and soybeans a few miles away from the elevator with her father, Jeff — says the facility serves a small but dedicated farming community, one that has gotten smaller over the years because of development and urban encroachment.
At 34, she is the fifth generation on the farm, is married and has a newborn baby. She returned to the farm in 2015 after attending college in Michigan and earning a degree in biology.
She says that she and her father would have likely stopped growing grain had the elevator deal not been reached. Another option was adding to her cousin's grain bin system nearby to accommodate more of their grain.
The bottom line, Griffith says, is that they do not have the trucks to take their grain to another, more distant elevator, most likely either across the Chesapeake Bay Bridge on the Eastern Shore; farther north in northern Maryland or Pennsylvania; or south to Virginia.
So long as the elevator is going, they will continue growing grain. "That's the short- and long-term plan," she says.
Chip Bowling, who farms about 40 miles south of the elevator, has not hauled grain to the elevator in years, he says, but he called the purchase of the elevator good news. His concern is that if Perdue could not make it work, who could?
He describes the area in and around Lothian as a "commercial farming dead zone," a place that has very few facilities such as the Lothian grain elevator. He also says the elevator needs a lot of work, and for anything different to be done, it will take a complete rethinking and likely rebuilding.
Bowling has enough storage capacity on his own farm for 75,000 bushels. He hauls grain to Virginia, only a few miles from his home farm, but he has two large trucks to be able to do this, something many farmers in the Lothian area may not have.
Still, he hopes the facility remains. "We don't know what that final plan is. But I'm cautiously optimistic of what it will end up being," he says.
Subscribe to receive top agriculture news
Be informed daily with these free e-newsletters
You May Also Like
---