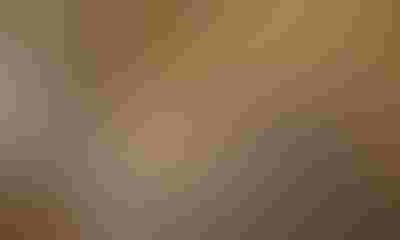 Don and Lois Martin were engaged but not yet married when they bought their first farm together.
"The banker looked at us and said, 'well you two seem pretty darn sure of yourselves.' But he loaned us the money and we started our farming operation.
A few months later, they were married as planned and they have been farming together ever since.
"We both grew up knowing we wanted to farm," Don says. "I hadn't planned to go to college, but I won a football scholarship to K-State and my mom said 'you aren't turning down that kind of money. You are going to college.' So I went to college."

LONG HISTORY: Lois and Don Martin have seen and met challenges from health to financial crises in a marriage and farm partnership that dates back five decades.
He had just graduated and used his $4,700 savings from working for neighbors to get a start in farming when he met Lois.
shehad grown up on a farm in Harper County and was a recent Kansas State University graduate with a masters degree in home economics education
They established their farming operation and started their family and very early on had an experience that forged much of their future idea of community.
In 1966, a very young Don suffered a severe heart attack and was in the hospital for seven weeks. He had livestock to care for and Lois was a young wife with two small children and a third on the way. One of their neighbors stepped in to help, an act of kindness that the Martins never forgot and remain to this day determined to "pass it on" which they have done in a number of ways through the years.
Don recovered and the family and the farm continued to grow. In 1967, they moved into their present home and added onto it in 1972, enlarging the kitchen and adding living space.
"It was good we got the bigger kitchen because we had six kids and five hired men and Lois was cooking dinner for that crowd every day," Don says.
The family was challenged again in the farm crisis of the 1980s. They had borrowed money for expansion and were caught in the spiraling interest rates and falling land values debacle.
Settling with their lender cost them more than 1,000 acres of their land, but they were able to avoid bankruptcy and begin rebuilding.
Don went public with his problems and mistakes and spoke at several farm crisis meetings, sharing his experience and trying to help others.
"It was hard, telling other people about my problems," he says. "But I realized that other people could learn from my mistakes and maybe avoid the kind of troubles I had."
 Of the couple's six children, the youngest son, Timothy, has come home to the family farm.
"We are proud that all six of the kids mad it through college and into careers," Don says.
Giving back is way of life for the Martins
Early in their marriage, a very young Don Martin suffered a severe heart attack and was hospitalized for seven weeks.
His wife, Lois, had two small children and a third on the way. The farming operation was heavy on livestock with a substantial herd needing care.
A neighbor stepped in to help Lois take care of the livestock until Don was back on his feet.
The couple says that was a key experience in their lifelong commitment to paying back by helping others.
They are well-known for their "community sweet corn" patches, which that plant on several acres both north and south of town.
When the corn is ready for harvest, they put out the word to "come and get it" and allow Clay County friends, neighbors and business associates to come and harvest as much as they want.
Martin says the hard times of the 1980s taught them careful planning and having a backup plan are essential, but that has still made the recent downturn in the cattle markets hard to weather.
"We are looking at such a steep, sudden drop in prices that has really hurt us," Martin said. "This fall and winter has been really devastating. I have some equity but I won't pretend this doesn't hurt. It makes me think back to the 80s too much. I really feel for the younger people who have more debt in the environment we are looking at now."
Meet the Master Farmers:
Kevin and Barbara Alpers
Ronald and Patricia Fredrickson
Subscribe to receive top agriculture news
Be informed daily with these free e-newsletters
You May Also Like
---