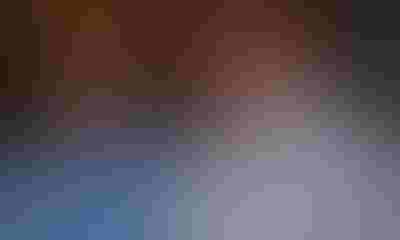 When Doug Morrow appeared on a panel at Dow AgroSciences last week, chaired by Tim Hassinger, the CEO of the company, there were more than questions about Enlist herbicide. Hassinger wanted to know what crops were like in their areas, and how they were adjusting to this season.
Related: Weather conditions favor foliar diseases on corn
Doug Morrow, Swayzee, has a unique perspective. "Our operation is unusual in that we farm over a 200-mile area," he says. His farm has three main bases of operation – one at Swayzee where they live, one in Jasper County and another in east-central Indiana in the Muncie to Winchester area. He typically drives major pieces of equipment between the three sites.

Spread out: Indiana farmer Doug Morrow farms over a wide area. This year some of his crops are good, some are very poor, and some are so-so. In some ways that represents what Indiana looks like overall.
So if you ask him about crops this year, he'll say quality depends which of his three main farming areas you are asking about. The glass could be half-full or half-empty for him in terms of this crop year, depending upon where he looks.
The area near Rensselaer has been one of the hardest hit by excess water in the state. "Our crops there are not good at all," Morrow says. "We're still deciding what to do to try to salvage something there. The decisions are difficult at this point in the season.
Related: What Midwest crops look like
"Our crops around Swayzee look good in most cases. We haven't been hit with nearly as much rain there. In the Muncie area it's decent until you go east or south of Muncie, then you run into problems pretty quickly."
Morrow is trying to take things in stride. His goal is to wrap things up the best he can this year, and start looking toward next season.
Before he does that, he and his family will serve as one of the 17 families honored in Dow AgroSciences Year of the Farmer program at the Indiana State Fair. A different family will be involved in activities each day at the fair. Look for more details on that program coming soon.
Subscribe to receive top agriculture news
Be informed daily with these free e-newsletters
You May Also Like
---