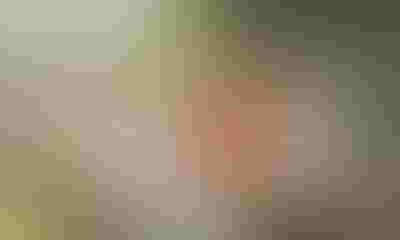 Across Iowa, rural and urban partners continue working together toward improved water quality, watershed by watershed. On September 9 the Iowa Department of Agriculture & Land Stewardship (IDALS), the Iowa Agriculture Water Alliance (IAWA), the USDA-Natural Resources Conservation Service (NRCS) plus multiple partners gathered to celebrate and begin work on a new collaborative project in the Headwaters of the North Raccoon.

WORKING TOGETHER: Farmers, landowners, representatives of towns and local governments, along with the Iowa Secretary of Agriculture, and representatives of USDA/NRCS and the Iowa Agriculture Water Alliance met last week to start a new water quality improvement project for the Raccoon River.
"Iowa is leading the way in using a collaborative, research-based strategy to improve water quality," said Iowa Secretary of Agriculture Bill Northey. "We are bringing rural and urban partners together to help retain water in the landscape, protect vulnerable populations from flooding and keep nutrients in the soil, all the while helping feed and fuel the nation." The meeting took place at Rembrandt, a town in northwest Iowa. It is in one of the three counties that are being sued by the Des Moines Waterworks over water quality issues in the Raccoon River, which supplies water for the city of Des Moines and suburbs and other central Iowa towns.
One of the largest public-private partnerships on water quality
"We're all in this together," said Sean McMahon, executive director of IAWA. "This is truly a team effort as we work watershed by watershed toward a One Water Iowa solution."
Kurt Simon, NCRS state conservationist in Iowa, added, "We celebrate the leadership in Iowa for forming one of the largest public-private partnerships in the nation to address water quality through conservation practices." The public-private partnerships are being coordinated through the USDA-NRCS Regional Conservation Partnership Program (RCPP), with matching funds leveraging the $9.5 million federal investment.
During the meeting last week, local farmer conservation leaders, Mike Ehlers, Troy Elbert, and Dick Lund and cover crop expert Sarah Carlson with Practical Farmers of Iowa, shared key learnings regarding practices that are used to manage nutrients in the Headwaters of the North Raccoon watershed.
Infield and edge-of-field practices work to reduce nutrient losses
Attendees also learned about opportunities for sharing the cost of implementing new conservation practices. Qualifying practices include strip till/no-till, cover crops, denitrifying bioreactors, saturated buffers and others.
"These in-field and edge-of-field practices are scientifically demonstrated to reduce nutrient loss and improve water quality," concludes McMahon. Water quality practice demonstrations provided firsthand learning opportunities for those people who attended the meeting.
The launch event for this project was hosted by IAWA, IDALS, USDA-NRCS, Iowa Department of Natural Resources, Conservation Districts of Iowa, and Buena Vista and Pocahontas County Soil and Water Conservation Districts. Farm Nutrients hosted the event at their Rembrandt, Iowa headquarters. Farm Nutrients is a subsidiary of Rembrandt Enterprises, and has grown to become a leader in natural poultry fertilizer. The company has a full-service agronomy center in Rembrandt to provide products, services and expertise to farmers.
Visit CleanWaterIowa.org to learn more about collaborative, research-based efforts to improve water quality. Iowans can also follow @CleanWaterIowa on twitter or "like" the page on Facebook to receive updates and other information about the ongoing Iowa Water Quality Initiative. Visit IowaAgWaterAlliance.com to learn more about IAWA's efforts to increase the pace and scale of farmer-led efforts to improve water quality. 
Subscribe to receive top agriculture news
Be informed daily with these free e-newsletters
You May Also Like
---