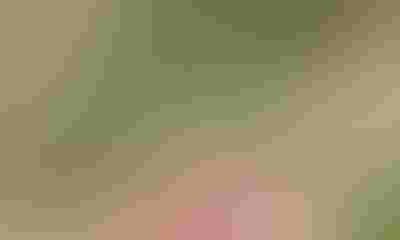 Remember the days before Roundup Ready soybeans and the massive switch to glyphosate? Soybean fields often took on a somewhat bronzed look in the summer after postemergence herbicide applications. That was due to the herbicide applied for broadleaf control.  At the time, most agronomists determined that soybeans typically grew out of the damage, and there was little or no yield loss in most cases.
Today some of the products being used in postemergence applications besides glyphosate again produce some leaf burn. And like before, most agronomists say the beans grow out of it. It's often possible to find new, normal growth within a reasonably short period after application.

TYPICAL SCENE: Here is a leaf showing signs of burn after a postemergence herbicide application. Some experts say if you don't see burn like this, it may mean you didn't get enough coverage on the weeds.
In fact, too little leaf burn after a postemergence herbicide application with a product that produces burn might be sending a signal, says Dan Childs, weed management tech representative with Monsanto.
"This leaf shows just a small amount of speckling from the herbicide," he says while holding up a leaf (far right in photo).  "That means there wasn't enough herbicide reaching that leaf to produce as much burn as we typically see with the product that was applied."
While that may sound like a good thing, remember that some soybean burn, especially at that stage, hasn't shown it affects yield, Childs says. It also means the weeds you were trying to control didn't see as much herbicide coverage either.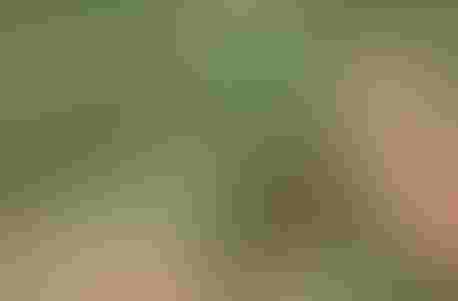 COMPARE COVERAGE: Note the leaf with less damage on the right. This actually could mean you were light on getting sufficient coverage on target weeds during the herbicide application.
Note the leaf on the left in the photo with two leaves. It shows a more typical pattern of leaf burn in soybeans after a herbicide application, Childs says. Comparing the two, weeds around the leaf with more burn probably saw better coverage of the herbicide than weeds around the leaf with only speckling on it.
"We need sufficient coverage of the product to get good control of weeds," Childs says. Insufficient coverage is one of the reasons why some weeds aren't completely killed, and instead put out regrowth.
Coverage can be a function of several things, including spray volume per acre and spray pressure. If products are most effective when applied at 20 gallons per acre and are only applied at 10 gallons per acre to speed up the process and require handling less water, for example, coverage may be affected. In turn, weed control may be affected.
How much burn you find on a leaf may seem like a small thing, Childs notes. But if you remember the basics and realize that some leaf burn also means coverage on weeds, it may be a clue as to why a herbicide didn't perform as well as you had hoped. It may also be a sign that you might want to consider making adjustments in volume applied or pressure next time around. Always refer to product labels for information about recommended spraying rates, volumes and pressures, Childs concludes.
Subscribe to receive top agriculture news
Be informed daily with these free e-newsletters
You May Also Like
---