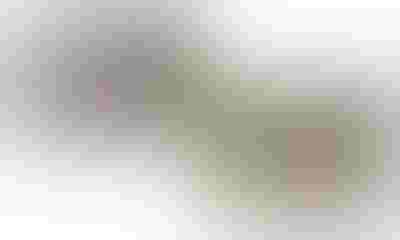 We are in the midst of National FFA Week. Chapters across the state celebrate in different ways. One thing is constant- they celebrate! Some have fun, some help others, some train themselves or honor parents, and some do all of the above.
One big part of FFA week is a visit to many chapters by a state FFA officer. Here are interviews with two state officers who are out and about this week. They each travel alone, and each will go to a different part of the state than where they're from. Look for interviewers with other FFA state officers throughout the week.
First, meet Josh Calhoun, Hope FFA, state sentinel.
IPF: Josh, where are you traveling this week?

Meet two Indiana state FFA officers - Josh Calhoun, left, is with Hope FFA and is a state sentinel. Mason Gordon, right, Rushville FFA, is the southern region vice president.
Calhoun: I'm going to northeastern  Indiana. Some of the chapters I will be visiting are Warsaw, Carroll at Ft. Wayne, Prairie Heights on the LaGrange-Steuben County line and Fairfield in Elkhart County.
That is a lot of chapters. Will you be going to other places too?
Calhoun: Yes, that is just a partial list. I also plan to go to Columbia City FFA, and will visit some other chapters as well.
What event are you most looking forward to this week?
Calhoun: There is an FFA night at the Indy Fuel hockey game at the Indiana State Fairgrounds. Some FFA chapters will be attending, as well as staff members that support FFA. Eastern Hancock FFA is going to be there. This sounds like lots of fun.
Learn about Mason Gordon
Next, meet Mason Gordon. Mason is originally from Rushville FFA in east-central Indiana. He will be traveling to northwestern Indiana to get a glimpse of agriculture and FFA activities in that part of the state. He serves as the southern region vice president.
Which chapters will you be visiting this week?
Gordon: I will be traveling into District 1 in the northwestern corner of the state, and will also visit some chapters in District 2. West Central, South Newton and Tri-County are three of the chapters which I will visit.
Are there others on your list?
Gordon: Yes. I will be going to Argos and Culver in Marshall County in District 2, and I will be at other chapters as well. Sometimes we will lead leadership training activities. Other times we will participate with the chapter in their FFA week events.
What one event are you looking forward to the most?
Gordon: I'm going skiing with Tri-County FFA at the end of the week. We are going to Timber Ridge in Kalamazoo, Michigan.
So do you ski?
Gordon: Heck no. I have never skied in my life. I'm just hoping I don't die! Still, it should be a lot of fun.
Subscribe to receive top agriculture news
Be informed daily with these free e-newsletters
You May Also Like
---