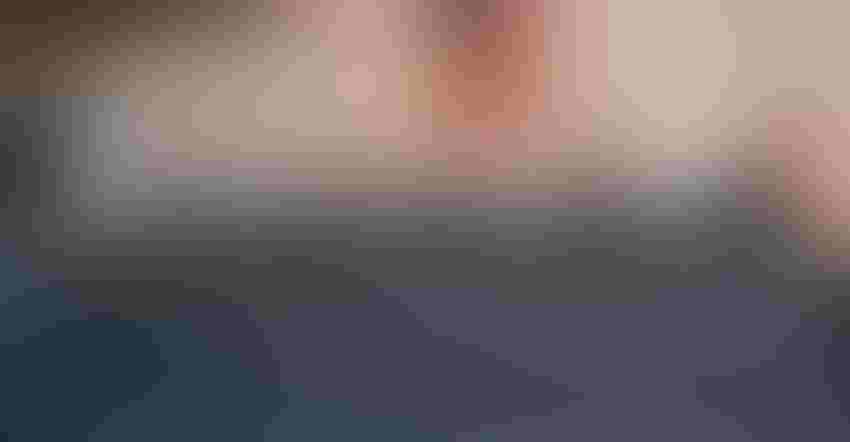 THE CANDIDATES: Five candidates running for Minnesota governor appeared on a panel at Minnesota Farmfest in Morton last week. Moderators were Dave Lee (far left) and Blois Olson (far right), both from WCCO. Candidates participating were Tim Walz (second from left), Tim Pawlenty, Lori Swanson, Jeff Johnson and Erin Murphy.
Farmers packed the meeting room at Minnesota Farmfest Aug. 8 to hear how five gubernatorial candidates would provide leadership for the next four-year governor's term.
During the hour-and-20-minute question-and-answer session, candidates weighed in on taxes, water quality, renewable fuels, investments in university research and education, health care, international trade and working with the other lawmakers.
Participating were Republican candidates Jim Johnson and Tim Pawlenty, and Democratic-Farmer-Labor candidates Erin Murphy, Lori Swanson and Tim Walz.
Comments of interest included:
• Water quality issues across the state have been based on political divisiveness, Walz said, and do nothing to unite state residents. As a congressman from Minnesota's 1st Congressional District, he noted how he worked on three farm bills, and ag got together and worked to get them passed.
"We set standards … not with a regulatory piece on the front end," he said.
Most candidates noted that the way the buffer bill began — without ag initially at the table — was not productive, and that they would work with farmers as partners in such discussions.
• Tax reform is a priority for Johnson, starting with property taxes.
"The state simply takes too much money from people," Johnson said. He supports the one-house, one-garage, 1-acre proposal that has been discussed regarding school capital levies.
Murphy recalled the 1970s "Minnesota Miracle" era, when government worked together for the good of all.
"We shared benefits and burdens across the state," she said. "That's been replaced with competing for what we want — local government aid [LGA], school levies …"
Walz concurred with Murphy, noting that the political change started in 2003 with cuts in LGA.
Swanson noted that LGA once totaled around 4% of the state's general fund budget. Now it's closer to 2%.
• Walz, Murphy and Swanson talked about expanding MinnesotaCare, a health care program available to adults and children who don't have affordable health insurance. Both Johnson and Pawlenty don't like single-payer health care. They want to see more competition in the marketplace and to be able to buy health insurance across state lines.
• How to support future ag research and education through state colleges drew a variety of comments. Swanson said she supports the value-added research done by the Ag Utilization Research Institute. Both Murphy and Walz commented on research efforts by the University of Minnesota — the new First Kiss apple, the soybean aphid-buckthorn connection and the growing hemp market.
Johnson said he doesn't trust U-M administrators when allocating funds for research. Pawlenty said he has heard comments about university research not being focused on state concerns.
• To stay informed of outstate issues and ag interests, Johnson said he would appoint a farmer to be his ag department commissioner. Murphy said she'd tap former MDA Commissioner Jim Nichols, who served during the 1980s farm crisis, as an adviser.
• When the topic of renewable fuels came up, Pawlenty took credit for Minnesota's legislation pertaining to biodiesel and ethanol requirements. "No one has surpassed my commitment and drive [in this]," he said.
Swanson pointed out her record as state attorney general in defending biodiesel mandates in court. Plus, she disagrees with EPA's practice of granting oil refinery waivers. "We need to get the federal government to stop that," Swanson said, "I'll tell EPA to knock this off."
• When asked about how they would approach working collaboratively with the state Legislature, Murphy, Walz and Swanson pointed to their work history. Murphy talked about her experience as House majority leader, and working with then-Gov. Pawlenty and later-House Speaker Kurt Daudt. Walz noted his experiences on the U.S. House ag committee and hammering out three farm bills. Swanson pointed to her years as state attorney general and working on settlements in various cases.
Neither Johnson nor Pawlenty offered examples of collaboration. Johnson acknowledged the dysfunction in the legislation.
"I'll work with Republicans and Democrats to end the backroom deals and the omnibus bills that both parties are guilty of," Johnson said.
The moderators for the panel were two metro media personalities from WCCO, Dave Lee and Blois Olson.
Subscribe to receive top agriculture news
Be informed daily with these free e-newsletters
You May Also Like
---