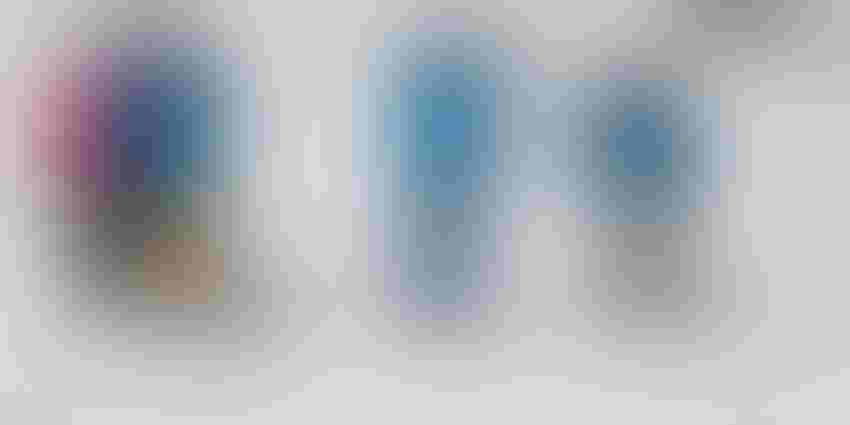 From left, U.S. Marine Corps Cpl. Jacob Orrock, state water resources engineer Sean DeGuzman, State Climatologist Michael Anderson, and water resources engineer John King conduct the first manual snow survey of 2019 near Lake Tahoe on Jan. 3.
Calif. Dept. of Water Resources
California officials' first manual survey of the year on Jan. 3 found below-average snow-water equivalents in the Sierra Nevada, but more snow is likely on the way.
Department of Water Resources officials gathered at Phillips Station, near Lake Tahoe, and recorded 25.5 inches of snow depth and a snow water equivalent of 9 inches, which is 80 percent of average for this time of year.
Statewide, the Sierra snowpack is 67 percent of average even after early winter storms whitened the landscape at higher elevations during the holidays.
"We still have three wet-season months ahead of us, so there's time for the snowpack to build and improve before it begins to melt, which usually starts happening around April 1," DWR State Climatologist Michael Anderson told reporters.
The survey comes as the National Weather Service predicts that moderate valley rain and heavy mountain snow will arrive this weekend with a cool system from the Gulf of Alaska. The system will likely affect travel about 3,500 feet with heavy snow and gusty winds, the agency advises. Wind will also be an issue in the valley.
The storm is expected to usher in a wet pattern that will linger into next week, as additional systems come that could bring significant rain and snow.
Precip totals lag
While the water year that began Oct. 1 got off to a fast start, rainfall totals in many parts of the Central Valley have fallen below their seasonal averages, according to the NWS. As of Jan. 3, Sacramento's 4.88 inches of rain for the season was below its average 6.51 inches, and Fresno's 2.33 inches so far this season was short of its average 3.62 inches.
Shasta Lake, the federal Central Valley Project's main reservoir, was at 50 percent of capacity and 80 percent of average for Jan. 3, according to the DWR's California Data Exchange Center. Lake Oroville, chief reservoir for the State Water Project, was at 29 percent of capacity and 47 percent of average as work crews are wrapping up their dam reconstruction project.
The anticipated cloud cover should put an end to nighttime chills that have had valley citrus growers irrigating and using wind machines to mitigate lows in the mid- and upper 20s, although growers say the low temperatures likely helped maturing navel oranges and may have only caused minimal damage to lemons and mandarins.
The federal Climate Prediction Center envisions warmer-than-average temperatures throughout California for the remainder winter, with equal chances of above- or below-average precipitation for most of the state. Southern California has a slightly better-than-average chance of precipitation over the next several months.
On average, the snowpack supplies about 30 percent of California's water needs as it runs off into reservoirs and streams in the spring and early summer, state officials note.
The DWR has done manual snow surveys at Phillips Station since 1964, measuring depth and snow-water equivalent. The agency conducts five snow surveys each year, from the beginning of January through the start of May.
The Phillips snow course is one of hundreds that will be surveyed manually throughout the winter, augmenting electronic readings from about 100 snow pillows throughout the Sierra Nevada.
About the Author(s)
Subscribe to receive top agriculture news
Be informed daily with these free e-newsletters
You May Also Like
---