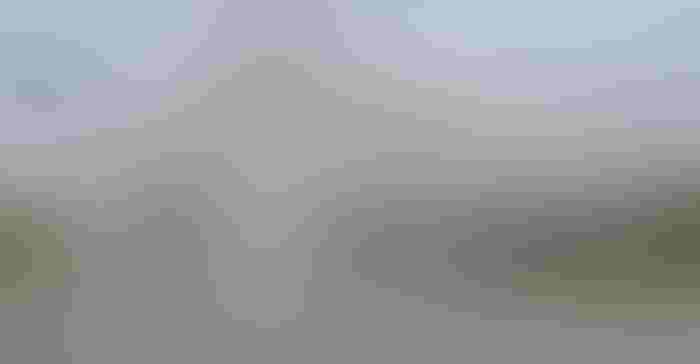 Cameron Mills first became interested in constructing a building for fertilizer and chemical storage on the farm because of convenience. He was looking for a way to streamline mixing chemicals and loading and unloading the sprayer with either fertilizer or chemicals. After erecting the building, he found that in addition to convenience, it provides many other benefits.
Mills and his wife, Cara, farm near Walton in Cass County, Ind. They built the 60-by-80-foot fertilizer and chemical storage building in 2015, after purchasing a self-propelled sprayer in 2014. They're strong believers in no-till and cover crops, and often plant green.
"We've discovered that having the fertilizer and chemical building makes our operation much more flexible," Mills says. "We have increased flexibility both in how we can operate and adapt to changing conditions, and also increased flexibility in when we make purchases. The ability to buy fertilizer and take delivery when we can get better prices is a real advantage.
"Looking back, the building has not only provided the convenience we wanted, but it was a good investment. We are definitely seeing a return on investment for money spent on the building."
Getting started
If you don't already have diked storage for fertilizer and/or chemicals, where do you start? How do you decide what you should build?
"We looked at facilities neighbors and other people we respect had and asked them what they liked and what they might do different," Mills recalls.
One decision is whether to enclose the dike in a building or build a dike without a roof that still meets state regulations. You can build approved facilities either way. One obvious advantage of an enclosed building is dealing with fewer water and weather problems. However, building a structure vs. a dike usually means more cost.
Mills says the aesthetics achieved by enclosing tanks and the convenience of protection from the elements tipped the scales toward enclosing the building in their case.
"We contacted the Office of the Indiana State Chemist and were upfront about what we wanted to do before we started," Mills continues. "We went to them directly because we wanted to make sure everything would meet their specifications. They were very supportive and helpful."
The Mills fertilizer and chemical storage building actually contains a dike within a dike.
"State law requires secondary containment for chemical separate from fertilizer," Mills explains. "So, we designed it so that chemicals are in an area with their own containment. If there was a problem, such as a leak in the herbicide area, it would be contained there."
Subscribe to receive top agriculture news
Be informed daily with these free e-newsletters
You May Also Like
---