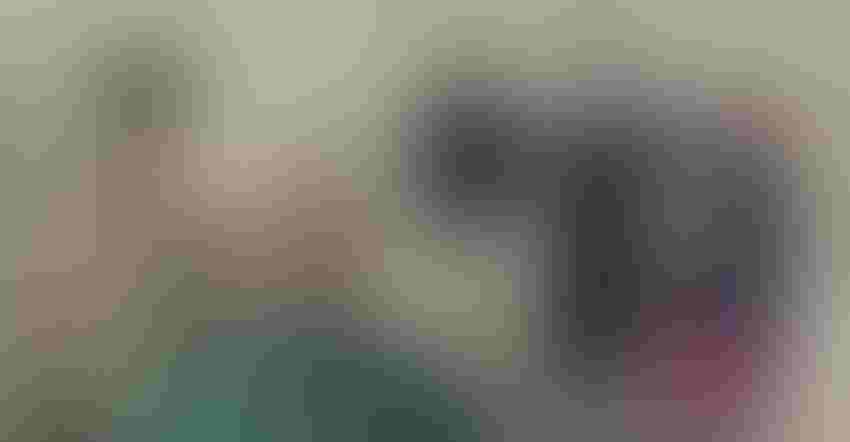 NEW BARNS: (From left) Kyle Schuman, Standard Nutrition Services, Eli Wipf, Fairview Colony; and Amber Boeshans, North Dakota Livestock Alliance, discuss Fairview Colony's new swine finishing barns at an open house.
By Amber Boeshans
The North Dakota Livestock Alliance and Standard Nutrition Services recently hosted an open house at the new Fairview Colony swine finishing barns near LaMoure, N.D. Approximately 300 people attended, including neighbors and members of the nearby communities, members of the media, farmers and ag industry affiliates from across the state, and members of 10 different Hutterite Colonies.
Fairview Colony's dedication to a sturdy design and flawless craftsmanship is evident through the facility. "These are Cadillac buildings," says Eli Wipf, minister for Fairview Colony.
Fairview Colony built two 180-by-252-foot barns. The barns were carefully designed for maximum herd health and safety. The barns are equipped with innovative technologies such as monitors for ventilation, temperature and humidity, which will automatically adjust to optimize the pigs' environment in the barns and immediately notify the barn managers if an issue arises, such as a loss of power. They also are equipped with AgPlus internet-based information and communication systems that will transfer real time data to allow employees to interact with offsite management teams.
The barns are another link in Fairview Colony's swine development program. The completed farrow-to-finish operation will send 16,000 finished pigs to market every year. Fairview Colony currently farrows 1,100 sows utilizing Hypor genetics. When the piglets grow to 30-60 pounds, they will be moved from the farrowing barns to the new finishing barns. It will take approximately 18 weeks for these pigs to be raised to 280 pounds and sent to market.
Over the 18 weeks, the pigs will be fed eight different feed rations specifically formulated by Standard Nutrition Services for their life stage. The feed will be sourced locally and mixed by the colony. The finishing site will require 5,200 tons of feed annually. This includes approximately 148,000 bushels of corn and 950 tons of soybean meal.
Manure management
This farm's manure handling system has been permitted and will be routinely inspected by the North Dakota Department of Health. All animal waste will be stored below the buildings in concrete pits that are engineered to protect the health of the pigs and employees. These pits also prevent the nutrients in the manure from being degraded by the sun or diluted by rain so it can retain higher value as crop fertilizer.
The manure will be applied to neighboring land every fall in a manner that minimizes odor and best utilizes the nutrient value for crop production. The manure will be applied to the Colony's land and to that of neighbors. Several of their neighbors were present at the open house and spoke about the positive impact the manure has had on their soil quality and crop production.
Antibiotic free
Fairview Colony raises its pigs without using any antibiotics. The pigs are finished and sold for a premium price to Coleman Natural Foods. Animal care at this farm will undergo routine Common Industry Audits. If a pig does get sick, it is treated with antibiotics in accordance with their veterinarian's instructions and then placed into a separate pen. The animal will eventually be sold into the conventional pork market after the medication's meat withdrawal period is met. Antibiotics used on animals intended for meat has a meat withdrawal period on its label. It defines the number of days it will take the medication to clear from the animal's system, therefore the farmer is required to wait that period of time before sending the animal to market. All pork in the U.S. is antibiotic free and inspected by USDA.
Fairview Colony's goal to grow these pigs without ever using antibiotics requires strict adherence to biosecurity and management protocols. Fairview Colony will supply all staff and management for day-to-day operations, and the veterinary services will be provided by Standard Nutrition Services. Staff will shower on-site before and after entering the pig housing. Vehicle traffic will be restricted to only those that have undergone biosecurity protocols and are approved by the management staff. When a group of pigs has been sent to market, the entire barn will be cleaned and disinfected via a built-in power washing system before the next group enters. Fairview Colony hauls their own livestock, so their trucks also undergo a wash and decontamination treatment before returning to the farm. All of these steps are important to keeping the animals illness free, therefore not requiring treatment with antibiotics.
Boeshans is the executive director of the North Dakota Livestock Alliance. Contact her at 701-712-1488. For more information on the Alliance, see ndlivestock.org.
Subscribe to receive top agriculture news
Be informed daily with these free e-newsletters
You May Also Like
---