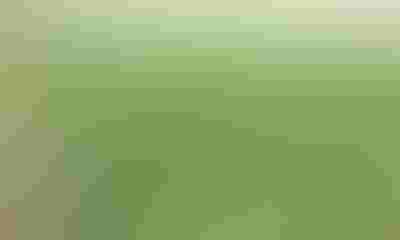 Controlling weeds is a never-ending battle for the U.S. farmer. The changing spectrum of weeds, influenced not only by the crop but also by the impact of herbicide choices makes managing a crop to get clean results a constant challenge. Yet this is nothing new.
What's new is the fact that researchers and agronomists are hard at work on effective tools to maximize yield and improve weed control even as more farmers face issues like glyphosate resistance. During a BASF Grow Smart Field Day in Seymour, Ill., recently, Gery Welker, a technical service representative who covers Illinois and Indiana, offered farmers insight into top ways to control weeds.

This research plot was sprayed with the rows using several different BASF preemergence programs. Then it was sprayed across the rows with Engenia herbicide (label pending). Note the weed pressure on the edges of the Seymour, Ill., demonstration area.
The key to effective full-season weed control is a two-pass system. The one-and-done with weed control idea is basically over. Today your weed control plan should be that — a plan.
Welker, pointing to the field plots at the Seymour location, notes that the facility has a definite population of troublesome weeds including waterhemp and Palmer amaranth that can still be controlled by glyphosate.
"Waterhemp needs a residual herbicide to keep early flushes down," Welker says.
It's an intense population of weeds that shows in control strips at the facility, and perhaps creates a whiff of what farmers would face if weed control didn't work at all in the operation. In some spots seeing the crop is nearly impossible. This shows that weed pressures aren't letting up and that farmers need to use all the tools they can.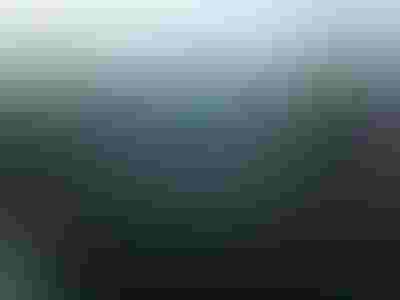 Katie Demers, right, and Kathryn Lillie, work at the Seymour, Ill., research facility. During the field day, they shared information about research on soybean planting time.
Alternating sites of action with preemerge herbicide choices is a first step. At the Seymour site, BASF has demonstrations of a range of choices including products expected to receive registration approval in 2017. The key when looking at herbicides is the mix of site of action groups you choose, and making sure there's variety in sites of action.
Take Armezon® PRO herbicide as an example. Introduced in 2016, Armezon PRO herbicide is one of the most flexible corn herbicides on the market with knockdown and reliable activating residual. The product targets two sites of action and was also recently labeled for preemerge use in 2017. This formulation is an emulsifible concentrate (EC) which offers easier handling for many producers, Welker points out.
It's that kind of thinking producers will need to have as they work on beating resistant weeds, and more successfully preventing resistant weeds in their operations. And there are new tools in the works as well.
"We're talking about taking a systematic approach to weed control," he says.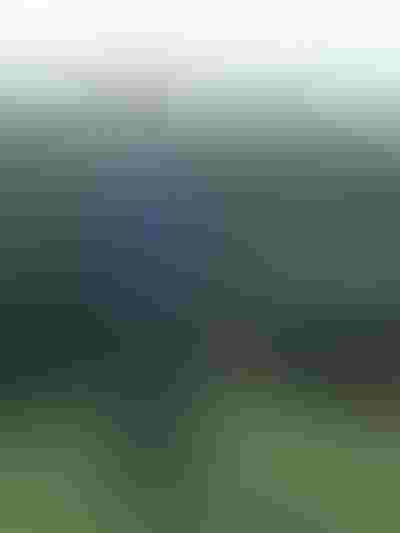 Jack Marshall provided visitors to the field day a good look at corn diseases, and treatment plans based on what's hitting fields mid season.
Welker points to work BASF has done at Seymour showing that even the newest products deliver better returns when part of complete system. For example, when controlling waterhemp in soybeans, a 100% post application of glyphosate provided less than 50% control. Even when a new product — like Engenia™ herbicide (not yet labeled) from BASF — is the only product used in a one-pass, the control of waterhemp is not satisfactory.
However, if you add in a preemergence application of Zidua PRO® herbicide followed by Engenia herbicide (a new formulation of dicamba) with glyphosate, the control of waterhemp is nearly 95%; add Outlook® herbicide to that postemergence pass to provide additional residual for late emerging waterhemp.
High control is key to keeping waterhemp at bay, since this is a weed where a single plant can produce 100,000 seeds; and if you have Palmer amaranth, the threat of a survivor can also be substantial. With a planned approach, however, you can better manage resistance.
New tools for resistance
As farmers look ahead, they'll have new tools to better control resistance. A key new product will be Engenia herbicide, which is a new formulation of dicamba by the company that invented dicamba (BASF). This latest formulation — the result of 50 years of experience with the molecule — represents a step change in the active ingredient and offers a significant reduction in volatility versus its predecessor — Clarity® herbicide.
The product works well when tank-mixed with glyphosate, and provides clean results. Dicamba, an auxin class herbicide, has yet to exhibit the wide-ranging resistance other herbicides including glyphosate and atrazine, have exhibited.
The key is that as part of your postemergence herbicide use over registered dicamba-resistant soybeans, Engenia can control more than 200 weeds including those that have shown resistance to glyphosate, triazines, ALS and PPO inhibitors. And the product offers two weeks of residual control as well. It's a new tool that meets the needs of planned weed control: it's a new mode of action for weed control in soybeans that tank-mixes well with other herbicides, and as Welker points out it gets the tough weeds — waterhemp, Palmer amaranth, morning glory and marestail.
Note that Engenia herbicide is not registered for use in the United States at this time. Keep up on Engenia herbicide and when it will be registered at ingeniousherbicide.com.
Looking ahead to 2017, and maximizing buffers
As new herbicides, such as Engenia herbicide, move through the regulatory system, one fact of application will be clear, farmers will need to maintain buffer areas to keep new herbicides from causing off-target injury. Downwind buffers will be defined by EPA, within a farmer's current crop, to account for drift (a key factor for herbicide injury).
"If the wind is blowing toward a neighbor's field with a susceptible crop, you could spray the rest of the field and leave the buffer area unsprayed," Welker says. "Then return to that unsprayed area when the winds change and apply the herbicide then."
His recommendation is to use a direct injection system for Engenia herbicide. So you'd have your key tankmix — glyphosate and perhaps Outlook herbicide — in the tank for spraying and have the injection system on for Engenia herbicide, then as you approach the buffer, you switch off the injector and avoid applying the herbicide.
When you return later — when winds are in your favor, the as-applied map on your sprayer can be used as a guide for applying the Engenia herbicide for best coverage, Welker explains.
It's one tactic that would allow farmers to maximize buffers without fear of losing the crop to weeds.
Engenia herbicide is not registered and not available for sale. Engenia is a trademark of BASF. Armezon, Clarity, Optill and Zidua are registered trademarks of BASF.
© 2016 BASF
All rights reserved.
Subscribe to receive top agriculture news
Be informed daily with these free e-newsletters
You May Also Like
---