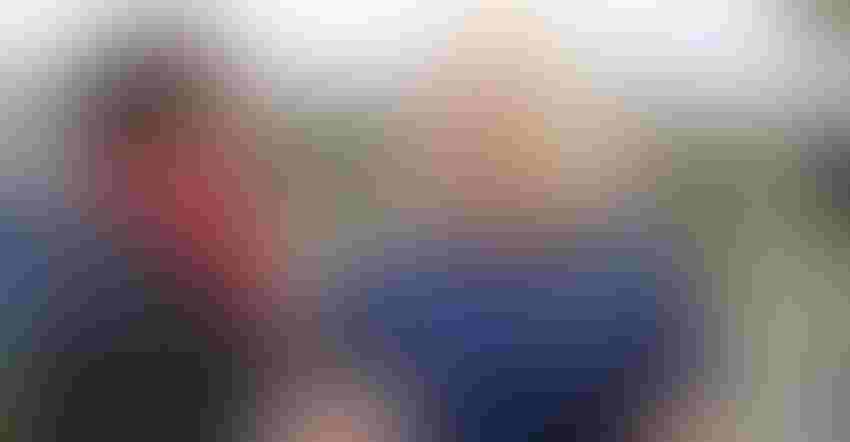 INTERACTION MATTER: Missouri Department of Agriculture director Chris Chinn (right) talks with a fairgoer during the Missouri State Fair. She says simple conversations go a long way to building trust between farmers and consumers regarding food production.
I've spent years working to rebuild the trust that has been lost between those who eat and the farmers who raise food. My most productive moments in helping bridge the gap have been one-on-one conversations that revolve around what's most important to the person I'm talking to. Truly starting that genuine conversation is half the battle. Even those who you think you'll have nothing in common with can surprise you.
Through our reach MORE pillar of MDA's strategic plan, we aim to rebuild trust in food decisions and tell the real and positive story of our farm families.
That's why we turned the Agriculture Building at the Missouri State Fair into a platform for telling Missouri's farm story. We had fun photo backdrops for the family, trivia towers showcasing fun agriculture facts, planter boxes with corn, rice, sorghum, soybean and cotton that people could feel in their hands. All of these were the means to have our staff engage with fairgoers. We explained the difference between sweet corn and field corn, we gave children the chance to feel seed with their hands and we showed them a 360-degree view of a modern hog barn and dairy operation.
On Sept. 30, we will have a similar opportunity to reach MORE when we participate in an event hosted by Gateway Advertising Group (Illinois Farm Bureau and Missouri Farm Bureau) at St. Louis Science Center GROW. "Grow, Harvest, Gather: A Farm Celebration" will turn this already outstanding venue into an opportunity for visitors to ask farmers questions about why they love to farm and how they do it. 
These two outreach opportunities offer time to engage in face-to-face conversations with people who may have questions about food production. Even, and especially, if you disagree, you still need to talk to people about what agriculture is — and what it is not.
Discover common ground
If you can find common ground, build trust and find something you can agree upon, you've made a huge step in the right direction. Finding a shared value opens up the opportunity for meaningful and influential conversations.
For example, I've met many vegetarians, and it would have been easy to move on once I found out they didn't eat meat and simply consider them to be "anti-agriculture."
By pushing myself to have conversations with many men and women who see things differently than I do, I've learned that there are a wide array of reasons people have made the decision not to eat meat — they have allergies, disease, digestive issues, etc.
I've learned that not all vegetarians are card-carrying PETA members and animal rights activists. In fact, many of them are moms, like me, trying to take care of their families; or they're hardworking men, just like my husband, who want to provide a good life for their children.
Discovering those similarities is so important! We cannot let one statement, or one label, dictate our interactions. Everyone in our world eats, and we as farmers need to connect with the consumers who eat our product. We can put ourselves in others' shoes and let ourselves be open to new viewpoints and opinions. We do that not to change ourselves, but to allow ourselves to change others.
Chinn is the director of the Missouri Department of Agriculture and a hog producer from Clarence, Mo.
About the Author(s)
Subscribe to receive top agriculture news
Be informed daily with these free e-newsletters
You May Also Like
---