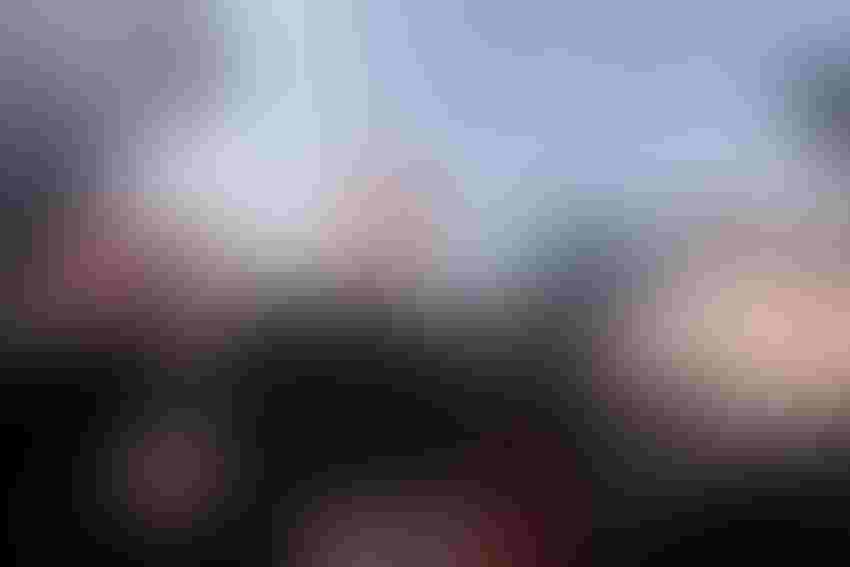 California Gov. Jerry Brown, seen at the World Ag Expo in Tulare, unveiled his revised 2018-19 budget on May 11.
Gov. Jerry Brown's $137.6 billion revised budget proposal for fiscal 2018-19 seeks to boost "climate smart" agriculture, including $60 million in one-time grant funding to help growers replace old diesel-powered vehicles and equipment and put in more resource-efficient systems.
The proposal unveiled May 11 would provide a one-time increase of $30 million to the California Air Resources Board to replace existing diesel agricultural vehicles and equipment with "the cleanest available diesel or advanced technologies," a budget summary explains. Another $30 million is proposed for the Energy Commission to fund innovative projects that reduce energy costs and emissions and increase efficiency, according to the summary.
The funding would be in addition to the $244 million in receipts from the state's cap-and-trade program set aside for various projects to help farmers and ranchers reduce missions, state officials say.
"We think that this is overall a significant program," Natural Resources Agency Secretary John Laird told reporters in a conference call. "One of the upshots is that we can understand what the impact of this $30 million (for diesel equipment) is and see if more needs to be done."
Money from the diesel-replacement program can be used for a variety of items, including irrigation pumps, tractor and truck engines and complete pieces of equipment, says Dave Clegern, an Air Resources Board spokesman. Judging from historical data from the state's Carl Moyer engine retrofit and replacement program, officials expect that most of the replacements will be tractors, Clegern told  Western Farm Press in an email. As such, $30 million would buy about 600 tractors, he says.
With such a purchase, the annual emissions reductions would be 368 tons of nitrogen oxides (NOx), 34 tons of reactive organic gases, and 18 tons of particulate matter 10 micrometers or less in diameter, or PM 10, he says. Over the course of the project life, the 600 tractors would reduce 3,680 tons of NOx, 335 tons of ROG, and 179 tons of PM 10, Clegern adds. 
CDFA funding
The "climate smart" initiative is one of several segments of the revised ledger for the fiscal year beginning July 1 that could affect agriculture. The budget offers nearly $99 million from the general fund to the Department of Food and Agriculture, down from $107 million in 2017-18 but a little more than the $96.7 million for the agency in 2016-17. The department's $479.35 million in total proposed funding includes all sources, such as federal grants and fees paid for services. The money would pay for 1,696.7 full-time-equivalent positions, up slightly from last year's 1,658.2.
The total would include $31 million in one-time water and parks funding that would provide $18.4 million for financial incentives for water efficiency, $9.1 million for a program to increase carbon levels in California's agricultural soils and $3.6 for deferred maintenance at local fairgrounds.
Climate-related measures can be seen throughout the fiscal blueprint, including a "forest carbon plan" that, among other things, uses $2.3 million in timber regulation receipts for multiple programs aimed at encouraging markets for wood products. These would include establishing a Joint Institute for Wood Products Innovation, financial support for mass timber and wood product manufacturing, and grants for cities and counties to showcase the architectural design of mass timber buildings, according to the budget summary. Mass timber is a type of laminated wood framing that can be used in buildings and other structures.
The plan also directs an additional $26.8 million to the Department of Forestry and Fire Protection for forest fuels reduction through prescribed fire and thinning projects. The plan follows an executive order that Brown issued May 10 to combat tree mortality and improve forest management. The order's key elements include doubling the land actively managed through vegetation thinning, controlled fires and reforestation from 250,000 acres to 500,000 acres and supporting the innovative use of forest products by the building industry, according to a news release.
Levee repairs
The budget would also devote $295 million from the general fund to flood control infrastructure, including $100 million on a one-time basis for maintenance projects on levees, giving priority to those weakened or damaged by last year's winter storms. The budget also foresees an increase of $25 million from the general fund for ongoing levee operations and maintenance, according to the budget summary.
In all, the ledger identifies about $1.8 billion from various sources to be used to repair or upgrade state-owned facilities, including $143.5 million for community colleges, $100 million apiece for the California State University and University of California systems, $10 million for fairs and $4 million for the CDFA. The May revision maintains the 3 percent increase in funding for higher education proposed in January while continuing to keep tuition levels unchanged at both the UC and CSU systems.
It is still unclear how much of the added money would find its way to the UC Cooperative Extension, but the university's Division of Agriculture and Natural Resources hopes to determine the amount next week, spokeswoman Pamela Kan-Rice says.
The governor's budget must be approved by simple majorities in the Legislature. To view the proposal, click here.
Subscribe to receive top agriculture news
Be informed daily with these free e-newsletters
You May Also Like
---