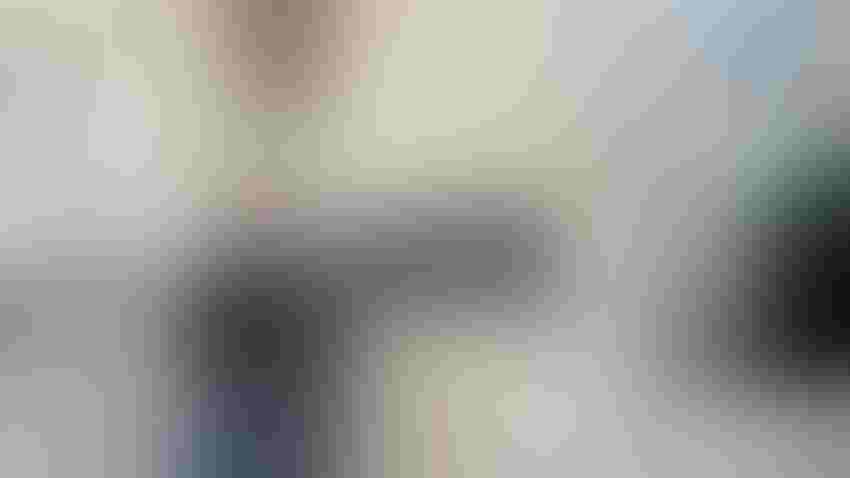 STUDENT LEADER: Jennifer Holliday serves as the student body president at Iowa State University. (Jennifer Carrico)
Jennifer Carrico
Taking advantage of opportunities is exactly how Jennifer Holliday landed the job as the student body president at Iowa State University. This was true even though some of the opportunities didn't end up quite like she had hoped — they were all steppingstones to get to the top at ISU.
Holliday, who grew up on a southwest Iowa farm, didn't ever expect to be in the position she was presented this summer, but she is taking full advantage of helping her fellow students. "I was actually elected as student body vice president, but when my running mate couldn't return to ISU this fall, I was moved up to president and I want to fulfill the duties to my best ability," Holliday says.
The junior is studying agricultural studies, journalism and mass communications, and international agriculture, which she says sounds like a lot but is the best combination of all the majors for her. This has given her the opportunity to take the courses needed to cover all the areas of study she wants to learn.
Moving through experiences
It took her a little while to figure out what the right course of study was. She started as an agricultural communications major, but wasn't getting the classes she was looking for. Then she switched to agricultural education as she thought she wanted to teach; but after spending some time in a classroom, she decided she needed to be able to travel to different places. "At one point when I'd go see my adviser, he thought I was going to change my major every time I was there — but I think I've finally found the right combination for my goals," she says.
An internship with radio station WHO in Des Moines made her realize how important it is to get agricultural information out to the public. This also made her change her ultimate goal to earning her doctorate and becoming an agricultural communications professor at Iowa State University.
"I would like to be able to help other students know how to communicate about agriculture. It may not be right away, but is a long-term goal," Holliday says.
She has learned that a person's plans don't always go as thought. While in high school she thought her career would include music, but that has shifted from a career path to a hobby. Peers encouraged her to join FFA in high school; it became a great learning experience and helped find her passion for leading others.
"I was balloted for both district and state office and lost both, but now realize that led me to where I'm at now, as I met someone who recruited me to join student government here at Iowa State," she explains. "As a freshman, I was on the public relations committee, and as a sophomore, a senator representing the ag college. By then I was hooked and committed to student government."
The next step
The choice to run for the executive committee wasn't taken lightly. The commitment was made in October 2022 to run as vice president on the ballot with another student. The next few months were full of collecting the necessities for the campaign. During the spring semester, the campaign was in full swing; they created a social media presence and had to follow all the rules to be sure no fines were brought down. During this time, they spoke at nearly 100 club meetings about their plan to better ISU for EACH (Empowerment, Academics, Community and Health) student.
"We've found if a student hears an acronym and knows what it means, they are more likely to remember something. That's why we ran on the saying 'For EACH student,'" she says. "The student government must advocate for helping the students. Our job is to meet with the university leadership to find how to help the students have a better experience at ISU."
When Holliday moved up to president in mid-July, it was then time to find a new vice president. She said the decision wasn't as hard as it could have been. She chose Quinn Margrett because of his love for student government. The sophomore is studying business economics and political science, which is a nice mix with Holliday's agriculture base. He had been speaker of the Senate, which was impressive while he was in his first year at ISU.
Stepping forward
Holliday says what agriculture taught her when it comes to building relationships and knowing how to properly communicate has certainly helped her on her leadership journey in college. Two items that were on their platform when running for the executive council have already moved forward, which makes her very happy.
The first was being able to have a name preference to be known as at school. She said, for example, if she wanted to shorten her name from Jennifer to Jen, or if a man named William wanted to be called Bill, this would become the name by which the candidate would be known on campus.
"The second is very exciting. When students sign up for classes, sometimes they will find they are full. Now they can be placed on a seat notification wait list for the class and if a spot opens, those on the wait list will be notified and have a 24-hour period to register for the class before it goes to the next person on the list," she explains. "This is a game-changer for those who have spent so much time refreshing their computer trying to get in the class. These changes will be available for the fall of 2024."
The agricultural industry helped Holliday develop the skills she needs for life, and she says is really unlike any other opportunity out there for students. "The responsibilities we learn on the farm and with our livestock are ones to help us be successful in academics, activities and when we are looking for a job. This is a glimpse of the real world and what is ahead for us," she says.
Holliday says she will continue to enjoy her time at ISU and being able to expand her leadership skills. The next stop for her is likely graduate school, but before that she wants to find an internship abroad to be able to experience a new culture with agricultural people in a different part of the world.
Subscribe to receive top agriculture news
Be informed daily with these free e-newsletters
You May Also Like
---