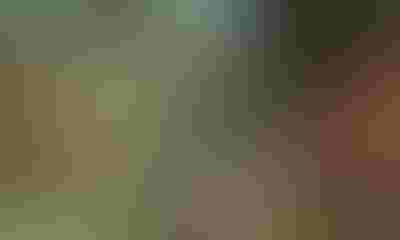 Dudley and Julie Wallace, Stilesville, brought this 1952 WD and Allis Chalmers Roto-Baler to the 2015 Indiana State Fair. The folks at Pioneer Village thought it was deserving of being placed in a spot by itself where more people could see it. The sign printed for the baler says "Allis Chalmers does it again! A baler that makes small, round bales farmers can leave in the field."
Related: How many acres could you cover with this vintage corn picker today?

Pride and joy: While they are antiques today and the pride and joy of Dudley and Julie Wallace, this pair of implements were workhorses in their day.
Was the idea ahead of its time or were farmers just not quite ready for that drastic a change in haymaking? The baler caught on in some places, especially among beef cattle producers who had rolling fields of grass hay. If they only cut the field once, the idea was to leave the bales where they fell and let cows eat them in the winter. Some people put them on wagons and stored them inside.
Some 25 years later, Gary Vermeer, Pella, Iowa, would take the concept a giant step further. He would develop a baler that made big round bales. They were designed to be moved out of the field so the forage could regrow for a second cutting. And they could be stored inside to prevent spoilage, and then fed to a group of cattle one at a time.
Labor was still readily available to throw square hay bales in the 1950s – not so much in the 1970s. By then, the round bale was an idea whose time had come, but for a slightly different reason: so one man could make and store away hay without looking for teenagers to lift bales and work in super-hot haymows.
Related: Here's a vintage tractor you won't find in everyone's barn
People report using the Roto-baler as early as 1947. Actually, two brothers in Nebraska invented the concept of a round bale in the late 19th century, and received patents in the early 1900s. They formed the Round Baler Mfg. Company.
Some ideas aren't as new as you think!
Subscribe to receive top agriculture news
Be informed daily with these free e-newsletters
You May Also Like
---