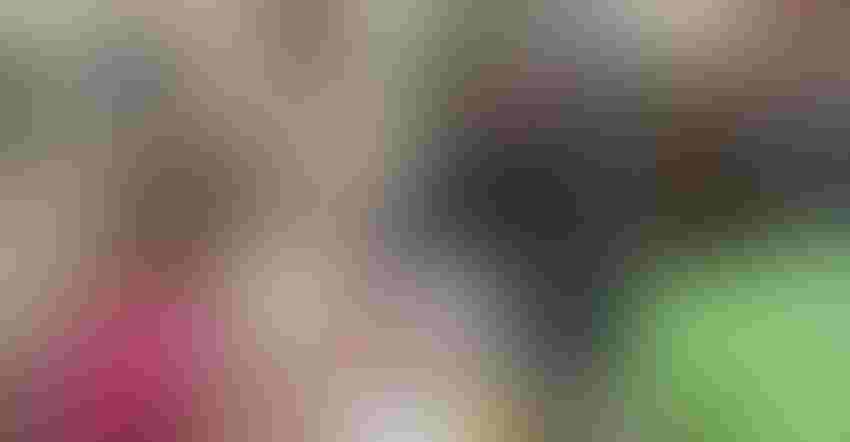 LEARN LEATHER CRAFT: A 4-H volunteer teaches young participants how to create and design leather crafts during a leather craft Spark club in Carroll County, Ind.
Joanne Lytton
By Natalie Korniak   
With so many sports and other activities today, how can youth easily decide what they do and don't do? Imagine if it were possible for one child to learn about soccer, prepare a four-course meal, build a robot, show a pig, become a public speaker and volunteer in his or her community all in one program.
That is 4-H. Overall, 4-H has made some changes throughout the years. Topics of interest change, advertising changes, delivery methods change and the use of technology increases. However, the core values of providing life skills to youth and preparing for the future will always remain, Steve McKinley says.
"4-H is a program for youth that provides them with many hands-on experiences learning about subjects that interest them [and] partnership with caring adults with the end result of a young person ready to move to secondary education or a future career," says McKinley, a state 4-H Extension specialist in Indiana.
The 4-H Youth Development Program provides youth with these and several other opportunities that allow them to learn and grow. Established in 1902, it aims to provide youth with life skills to prepare for their future through many innovative and new programs.
There are several new activities that aim to teach youth about updated topics and establish new skills, McKinley says. They include county Spark clubs; Teens as Teachers; and science, technology, engineering and math (STEM) after-school programs.
Every member learns the 4-H pledge that is said before every event. The pledge states, "I pledge my head to clearer thinking, my heart to greater loyalty, my hands to larger service, and my health to better living for my club, my community, my country and my world." As mentioned in the pledge, teaching youth how to use these aspects, along with science, healthy living and civic engagement, are the core values of the program, McKinley says.
4-H is constantly evolving to meet the needs of youth today. While some argue that the program is straying from its traditional roots, the purpose and mission of the program remain stable, state leaders insist.
Since preparing youth for the future is the overall goal of 4-H, it's important to know the needs of the industry. Today, the biggest need is for jobs in the STEM field. According to the Bureau of Labor Statistics, there were about 8.6 million jobs requiring STEM experts in May 2016.
4-H Spark clubs
The 4-H Spark clubs are short-term educational experiences organized to "spark" an interest in 4-H and to allow kids to learn through fun, hands-on activities. These activities range from learning how to knit to being a news reporter for a day. The club meets for a minimum of six hours and focuses on a single topic that exemplifies one of the three areas of 4-H: science, healthy living or civic engagement.
"Learning is fun, and that's what we do," says Joanne Lytton, the 4-H Extension educator in Carroll County, Ind. "A goal of 4-H is letting youth know that learning happens everywhere. Try something and then you can decide if you want to pursue it." Lytton says volunteers in Carroll County have hosted six different clubs for youth in their community: sewing, sports fishing, blacksmith, leather craft, outdoor cooking and drones.
Spark club members are 4-H members and pay state dues. According to an annual report prepared by Renee McKee, Purdue University Extension assistant director and state 4-H program leader, in the last year, 2,648 youth participated in a Spark club, with 45% being new to the 4-H program. Of those youth, 70% focused on STEM opportunities, 21.5% on healthy living and 8.5% on civic engagement topics.
Teens as Teachers
Teens as Teachers is a weekend-long training for teens where they come together to learn a topic, develop a presentation and then take that presentation back and share it in their communities.
The program focuses on four topics that change annually. These topics tend to be related to biotechnology, healthy living, teen leadership and animal science.
For example, in one of the biotechnology sessions, teens performed an experiment on how to extract DNA from a strawberry. Staff prepared them to teach the activity to youth. The 150 teens, grades nine through 12, who attended this session not only learned in their chosen topic area, but also gained skills in public speaking, adult outreach, teamwork and leadership.
Angela Christopher, 4-H Extension educator in Wabash County, Ind., has taken a group of teens to the program for the last three years. She is impressed by the initiative that her 4-H participants have taken. They've taught at 4-H club meetings and taken their presentation into several classrooms. Christopher's Teens as Teachers group has presented lessons to over 2,000 youth in Wabash County.

TEEN TEACHERS: A student teacher in the Teens as Teachers program leads an activity teaching younger members in the community how to extract DNA from a strawberry.
STEM after-school programs
Several county Extension educators have implemented after-school-type programs focusing on STEM topics. Corey Roser, Extension educator in Miami County, Ind., started one in Maconaquah School Cooperation in Miami County.
The thing kids get most excited about are virtual reality goggles, he says. "Everyone is ecstatic. Technology is great. It allows you to take a trip wherever you want to go. Many kids don't learn well from a textbook, and it helps get them excited about learning."
Roser hosts a two-hour learning session once a week after school for students in grades six through eight. He uses technology kits including 3-D printers and tablets to create fun projects that allow kids to participate in interactive activities.
Being comfortable with technology is important for youth because it is taking on such a huge role in the workforce and people's everyday lives, according to Roser. In the program, Roser helps tutor students and focuses mostly on highlighting STEM material. Using technology and allowing kids to gain experience with the high-tech products during his lessons is one aspect that he values.
Korniak is a senior in ag communication at Purdue University. She writes from West Lafayette, Ind.
Subscribe to receive top agriculture news
Be informed daily with these free e-newsletters
You May Also Like
---