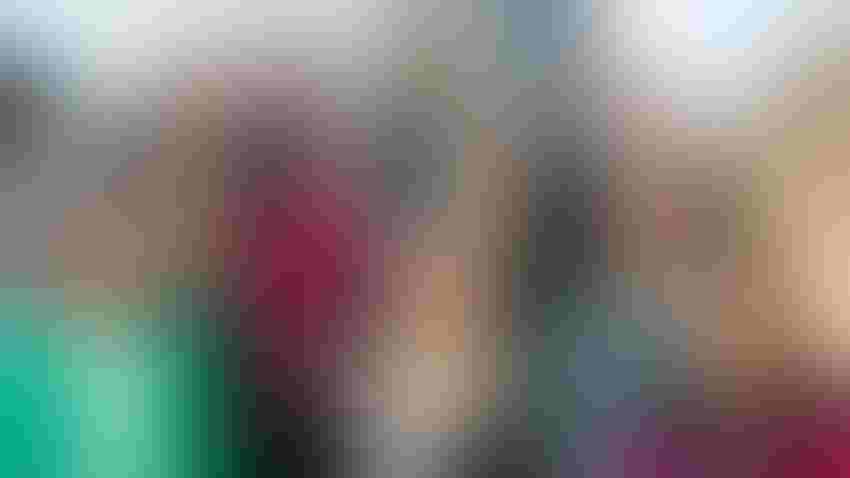 LEADERSHIP DEVELOPMENT: AgriPower is an OFB program designed for farmers and agribusiness professionals. It focuses on public issues relevant to the food industry.
Courtesy of AgriPower
Ohio Farm Bureau's 2023-24 AgriPower Institute kicked off in November with 14 farmers and agribusiness professionals participating in Class XIV.
AgriPower is an OFB program designed for farmers and agribusiness professionals. It focuses on public issues relevant to the food industry such as consumer relations, regulations, energy and trade policies. In AgriPower, people develop the skills necessary to become effective leaders and advocates for agriculture by learning from experts in these fields. 
Participants this year are Blake Adams of Leesburg, Jenna Brown of Utica, Deirdre Christy of Carey, Heather Coen of New Concord, Cristen Cramer of Woodville, Mia Grimes of Saint Paris, Hattie Hartschuh of Nevada, Lisa Holding of London, Olivia Krumwiede of Wakeman, Alicia McCracken of Beach City, Brianna Smith of Shelby, Shaeley Swick of Utica, Mary Wilhelm of New Bavaria and Cora Willeke of Marengo.
"AgriPower XIV is poised to provide these budding leaders with a remarkable chance to delve into the intricate challenges that Ohio agriculture faces, all while fine-tuning their abilities as powerful advocates for the industry," says Melinda Witten, director of AgriPower. "We eagerly look forward to witnessing the transformative journey these participants will embark upon as they engage with the AgriPower program."
One of the sessions will take place in Washington, D.C., to give participants a better understanding of national and global issues, and an out-of-state session will help them learn about the differences and similarities in agriculture outside of Ohio.
Partnering with OFB on AgriPower Class XIV are OFB Foundation, Ohio Soybean Council, Farm Credit Mid-America, AgCredit, Legacy Farmers Cooperative, Ohio Corn and Wheat Growers Association, Certified Angus Beef, Stark County Farm Bureau, PBS Animal Health, and United Producers Inc. 
For additional information about AgriPower, visit ofb.ag/agripower.
Peak represents Ohio at Global Youth Institute
Lily Peak, a junior at Global Impact STEM Academy and FFA student, represented Ohio at the Global Youth Institute in Des Moines, Iowa. hosted by the World Food Prize Foundation from Oct. 24-27.
Students around the state of Ohio begin by researching a global challenge. After writing their research papers and developing possible solutions to their chosen challenge, they can apply to participate in the Ohio Youth Institute at Ohio State University.
During this event, students engage in roundtable discussions with peers and experts in the field, sharing insights from their research. Following the in-person event, a board of reviewers from the World Food Prize Foundation meticulously evaluates the projects and provides valuable feedback to the students.
Finalists are then chosen to attend the Global Youth Institute. Peak chose to focus her research on Peru's access to clean drinking water and proper wastewater disposal to enhance human hygiene and health. Her research delved into the current state of clean water in Peru, and she explored potential solutions to address the situation.
"This initiative not only showcases Lily Peak's commitment to addressing global challenges, but also highlights the importance of empowering young minds to contribute innovative solutions to critical issues," said Trisha Seckel, Global Impact ag instructor and FFA advisor.
Bales chosen to run OFB legislative, regulatory team
Brad Bales of Columbus has been named senior director of state and national policy for the Ohio Farm Bureau Federation. He will be responsible for managing the organization's legislative and regulatory team and will represent the interests of Farm Bureau members with Congress, the General Assembly, and with federal and state regulatory agencies.
An Ohio University graduate, Bales most recently served as senior legislative liaison for the office of Gov. Mike DeWine. Before that, he was the legislative director for the Ohio Department of Natural Resources.
Ohio Farm Bureau's mission is working together for Ohio farmers to advance agriculture and strengthen communities. Learn more at ohiofarmbureau.org.
OFB offers technology intelligence report
Ohio Farm Bureau and Nationwide have created an Ag Intelligence Service report to help guide your technology investment decision-making process. It is designed to help position farm businesses to leverage technology trends on their operations by focusing on six important areas to consider before pulling the trigger on any new technology.
"Adopting New Ag Technologies: Tips to Minimize Your Risks," available exclusively for Ohio Farm Bureau members, will also help farmers understand and implement technology and help evaluate the risks associated with it.
The report identifies common pitfalls when adopting new technology and shares tactics to help avoid them. Identifying these risks and making plans to mitigate them can leave you more confident in investing (or not investing) in new technology to ensure your best farm future.
The report will help farmers understand how to:
• Calculate a technology return on investment.
• Understand and identify the hidden costs associated with technology.
• Develop a business plan and budget for funding new technology.
• Evaluate your and your farm employee technology skills.
• Identify training to equip your team with needed skills to implement and
manage the technology or consider a reliance on consultants.
• Conduct regular audits of your farm's technology needs.
For more information, download the report or visit ohiofarmbureau.org.
Subscribe to receive top agriculture news
Be informed daily with these free e-newsletters
You May Also Like
---