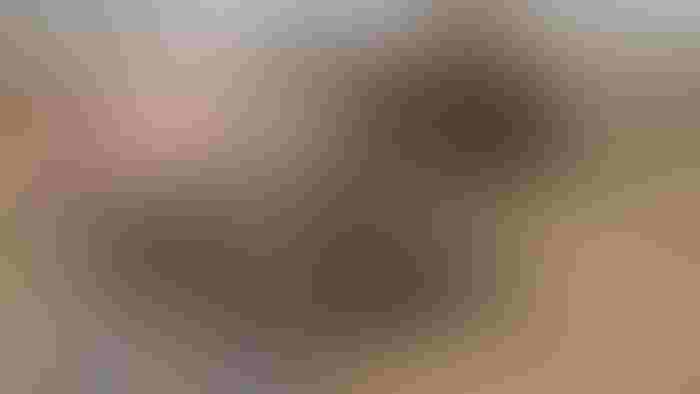 If you live in southeast Pennsylvania, New Jersey or Delaware, and you're an avid hunter, chances are you have probably brought a buck or doe to Ely Farm Products to get processed.
More than 4,000 deer will be processed this fall and early winter at this small processor in Newtown, Pa., just a few miles from Washington Crossing, where George Washington crossed the Delaware River during the Revolutionary War.
Plenty of primal cuts will be sliced, packed and delivered to thousands of venison-loving customers this fall. But at the heart of it all, Ely Farm Products is first and foremost a farm.
"By the grace of God, 42 years later, we're still buzzing away here," says Dwight Ely, seventh-generation farmer and owner of the business. His parents ran the farm as a dairy before dispersing the herd just before he went to college. His two brothers went to college to become engineers, and Ely didn't see himself as a dairy farmer.
"The writing was on the wall when I was a teenager that the farm likely wouldn't survive as a dairy," he says.
From crops to meats
Ely got a scholarship to wrestle at the University of Tennessee and first majored in agronomy. Each time he came home, it seemed another farm in his county was gone, either from development or from farmers just selling out.
"I sort of started to think, well, what should I do? … We were going to lose the ground, and I love tractor time and all that," he says.
Everything changed for him, he says, when Gordon W. Davis came to the University of Tennessee from Texas A&M to teach meat judging and meat sciences. In his junior year, Davis helped Ely get second-highest in the nation for meats judging. As a result, Ely says he started getting job offers from several food companies. Between his junior and senior years in college, he took a summer job at nearby Hatfield Quality Meats, part of the Clemens Corp.
He then got the idea of starting a niche meat market right on the farm. He officially started the business, Ely Pork Products Inc., in 1981, focused solely on hogs. He and his family continued growing crops. Today, they grow 500 acres of corn, hay and soybeans on mostly rented ground. The home farm is only 30 acres.
Expanding the business
Ely's pork products became a big hit. So much so that six years after starting the business, he ventured into beef.
Deer came soon after, and more recently, in the 2000s, Ely and his family started making cheese.
Beef, pork and venison are processed on the farm, which is USDA inspected, and sold direct to customers in the small farm store.
He has a small 35-head cow-calf operation. Hogs come from a producer in Lancaster County who farrows sows and then sends feeders to the farm for finishing. The hogs are also processed and sold on the farm.
After he and his family spent time vacationing in the French and Swiss Alps, he got inspired to make his own artisan and European-style cheeses. He built on to the existing meat processing facility and hired a cheesemaking expert from New Zealand who mentored him on the art of cheesemaking.
All the cheese is made from raw milk that he gets from a Kutztown, Pa., Jersey dairy. This summer, he made 10,000 pounds of cheese that was then aged 60 days at the facility.
In the mid-2000s, Ely officially changed the name of the business to Ely Farm Products to reflect the wider variety of products they sell.
Deer season
This time of year, though, venison is king. The deer side of the business "has just grown like crazy," Ely says with a laugh. The very first year, he put an advertisement in the newspaper and processed 200 deer. Now, the farm is processing upward of 4,000 deer a year.
And it's a true family operation. Ely and his wife, Susan, and their three children — Aldan, Elizabeth and Luke — work together processing, slicing and packaging venison, along with a few other employees.
"They have taken this business to another level," Dwight says of his children.
The deer side of the business runs like a well-oiled machine. Luke, the younger of his two sons, developed a computer system that allows the business to track every deer from when it is brought in to when it is sold.
Hunters leave their deer inside a drop-off area adjacent to the processing area. Using a separate shed set up with computers, each hunter gets a tag that is printed out and attached to the deer. From there, everything is tracked digitally. And the turnaround is fairly quick. If a hunter drops off their deer before Tuesday, they can usually get their product by the weekend. After Tuesday, they get it the following weekend.
Deer hides are packed on pallets — 100 at a time — and shipped overseas to make gloves.
While many hunters prefer to have a deer processed for burgers, tenderloins or other cuts, Elys has become known for going a step further — making everything from deer pork roll to venison bacon, pepperoni and, of course, jerky. Ely says the most popular items he sells are venison honey bologna, venison snack sticks with cheese and venison hot dogs.
None of what he makes is possible, he says, without investing in great equipment. That includes state-of-the-art smokers, slicers, grinders and packagers. He often goes to trade shows around the world searching for equipment that can make his job easier or make his products better.
"I think I get this from my parents because they always wanted the best equipment you can get, and therefore, the quality of the product you can make you're not ever limited by the equipment," Ely says. "I believe in investing in the best you can get in the world.
"Step up, make the investment and buy the best. We just can't go wrong with that," he adds.
Many butcher shops have gone out of business, he says, because the next generation isn't around to take over, but his children are eager to stay.
Aldan, the oldest of the two sons, has bought a farm in northern Pennsylvania and is even planning to open his own meat processing business.
"He wants to call it like Ely North or something," Dwight says.
Luke and Elizabeth are planning to stick around the main business. Elizabeth was originally a nurse, but she returned to the farm several years ago and runs the retail store.
Ely's goal was to originally preserve the farm that's been in his family for generations. The surrounding area is filled with development, and he wants his children to be able to enjoy life on the farm as much as he has.
Ely's father, who died at age 64, was there when the meat business started.
"When I started the business, it was very small in the beginning, but he was excited about it. I feel like he's probably looking down on us and smiling," Ely says.
Subscribe to receive top agriculture news
Be informed daily with these free e-newsletters
You May Also Like
---