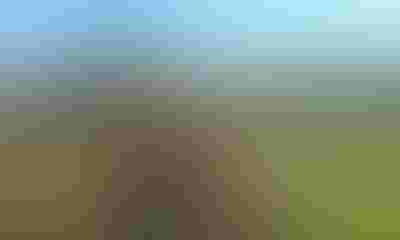 After the Chesapeake Bay Executive Council meeting Oct. 4, Pennsylvania Gov. Tom Wolf announced that farmers in the Chesapeake Bay Watershed will be on the receiving end of $28.5 million in state and federal funding assistance to improve river and stream water quality flowing to the Bay. Well, farms will get the lion's share of it.
Pennsylvania has been making strides toward protecting and improving local water quality, noted Wolf. "But we have additional work to do to make sure every producer is operating in a way that minimizes impacts to local water quality, and ultimately to the Bay.

STREAM BUFFERING: Riparian buffers like this will be one of the highest-priority best management practices for Pennsylvania's Chesapeake Bay watershed. (Photo: Stroud Water Research Center)
"We must continue to develop and deploy effective targeting in high-priority areas, support community-based and locally led approaches to conservation, collaboratively seek new funding opportunities and engage all stakeholders — federal, state, local, public, private, nonprofit — in our approach to local water quality."
He discussed Pennsylvania's accelerated Chesapeake Bay Restoration Strategy, which was announced earlier this year in response to federal mandates. See "Pa. faces clean water armageddon." He also announced the $28.5 million joint financial package of state, EPA and USDA funding to help meet Pennsylvania's 2025 nutrient and sediment reduction commitments.
Pennsylvania will commit an additional $11.8 million. USDA's Natural Resources Conservation Service will provide $12.7 million. EPA will put in an additional $1 million after $3 million was made available in March, according to the Chesapeake Bay Foundation. No timetable was reported for release or use of the funds.
The strategy relies on a mix of technical and financial assistance, technology, expanded data gathering, improved program coordination and capacity, and — when necessary — stronger enforcement and compliance measures.
"All across the state, we have countless farmers who are doing the right thing to protect local water quality, and we have others who want to do the same, but simply lack the resources — particularly in this economic climate where many commodity prices are historically low," said Pennsylvania Ag Secretary Russell Redding. "As part of our restoration strategy, we've committed to finding new funding to help farmers meet the commonwealth's water quality improvement obligations."
"The Department of Conservation and Natural Resources has committed a new pool of grant funds and is devoting more staff time to planting forest buffers along streams in the Bay watershed of Pennsylvania," added DCNR Secretary Cindy Adams Dunn. "Using our own staff experts, from foresters to grant staff to natural resource staff on our state parks, we can expand current buffer planting in Pennsylvania and provide showcase projects for others to adopt."
What farmers can take home
Nutrient and sediment reductions will be accelerated with conservation practices in priority areas. More technical assistance will be available to help farmers put those practices in place with help from private-sector partnerships and private capital.
Three restoration essentials directly affecting and benefiting Bay watershed farms are:
? putting high-impact, low-cost best management practices on the ground
? quantifying undocumented BMPs in watersheds impaired by agriculture
? meeting EPA's goal of inspecting 10% of farms in the watershed, ensuring development and use of manure management plus erosion and sediment control plans, and enforcement for noncompliance
"The additional funding provided by this collaborative effort is a much-needed down payment that must lead to meaningful progress in closing Pennsylvania's pollution reduction gap and getting it back on track toward meeting its Clean Water Blueprint goals," responded Harry Campbell, executive director for the Chesapeake Bay Foundation in Pennsylvania.
"While some farmers are willing to install conservation practices that will reduce pollution, many are turned away every year because of a lack of resources available to assist them," he added. "This new federal and state funding will allow more farmers to plant streamside buffers, reduce runoff from barnyards, and get the required management plans and other measures critical to the health of Pennsylvania waters and the Chesapeake Bay."
While $28.7 million sounds like a lot, Maryland Gov. Larry Hogan announced early this year an investment of $53 million for the Chesapeake and Atlantic Coastal Bays Trust Fund and $60 million over two years for land acquisition and preservation programs.
Subscribe to receive top agriculture news
Be informed daily with these free e-newsletters
You May Also Like
---