Oroville spillway work resumes as funding questions linger
Oroville spillway work resumes as funding questions linger
Crews began the second phase of work on the Oroville Dam's main spillway on May 8 as questions remain over how much of the dam's reconstruction project will be eligible for federal reimbursement.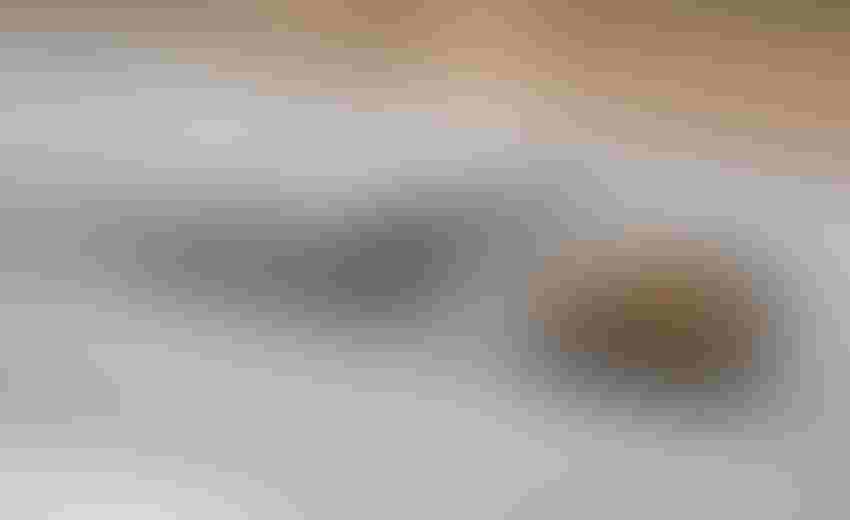 Workers from Anrak Corporation use a Wirtgen 2100 to mill the top layer of roller-compacted concrete (RCC) from the middle section of the Lake Oroville main spillway on May 1. This preparation work will create a uniform surface for placement of steel-reinforced structural concrete slabs on the spillway.
Ken James/California Department of Water Resources
Construction resumed on the Oroville Dam's main spillway this week as a cloud remains over potential Federal Emergency Management Agency reimbursements for the project.
Crews hired by the State Department of Water Resources began the second phase of repairs to the spillway at 12:01 a.m. May 8, and began preparing to remove the temporary roller-compacted concrete walls in its middle section.
This summer, crews from Kiewit Infrastructure Co. will replace the temporary walls with permanent, structural concrete walls and add other concrete walls and slabs to the structure, state officials explain. As they did last year, workers will aim to finish the main spillway by Nov. 1, says Jeff Petersen, the Omaha, Neb.-based company's project director.
"Yesterday was an exciting day at the project," Petersen told reporters May 9 in a conference call.
Work also continues on the emergency spillway, including adding a concrete cap to secure a new underground cutoff wall and the completion of a concrete splashpad on the hillside below the spillway, officials say.
Funding in doubt
The work proceeds amid lingering uncertainty about funding for the project, as FEMA told two California congressmen in a May 2 letter that an unfavorable independent review of the DWR's management of the Oroville Dam may jeopardize federal reimbursements.
The letter was in response to one sent in February by U.S. Reps. John Garamendi, a Democrat, and Doug LaMalfa, a Republican, seeking clarification on whether the state's perceived mismanagement of the dam could affect funding. The state has asked for 75 percent of the two-year project's estimated $870 million price tag, with the State Water Project contractors paying the rest.
FEMA regional administrator Robert J. Fenton told the lawmakers the agency will evaluate the Independent Forensic Team's report as well as "inspection, maintenance and repair records" and "meetings with DWR and the California Governor's Office of Emergency Service" in determining Oroville funding.
"In addition, FEMA will continue to review all relevant information thoroughly to determine and process eligibility reimbursements," Brandi Richard, a spokeswoman in the agency's Oakland, Calif., regional office, told Western Farm Press in an email. "Some expenses needed to make repairs to the dam, spillway and associated facilities may not be eligible under FEMA's disaster programs."
Richard added that each claim that DWR submits would be evaluated, and she said she couldn't speculate on whether claims would be eligible or not until the review process is complete.
FEMA has noted that in past disasters when there was a "lack of maintenance," they only had the legal authority to provide reimbursements for work to bring facilities back to their "pre-disaster design," LaMalfa and Garamendi explain. In Oroville's case, that would merely "return the spillways to the same condition that played a role in causing the disaster in the first place," LaMalfa contends.
However, Fenton told the congressmen that hazard mitigation grant funds – another pot of money – could be used to upgrade facilities.
Requests to continue
DWR spokeswoman Erin Mellon says the agency will continue to submit reimbursement requests to FEMA until it is told otherwise.
"They have not rejected any of our reimbursement claims" so far, Mellon said during the conference call. "If that does happen, there would be no changes to the construction plan."
FEMA reimbursements are sought in chunks. Of the $870 million in total project costs, $160 million was for immediate emergency response costs, Mellon says. Work required as a direct result of a disaster is definitely eligible for FEMA funding, Fenton explained.
The questions about funding came after a forensic team commissioned to study the dam's near-failure issued a 584-page report in January that largely blames a culture of complacency within the DWR that insulated the agency from access to industry knowledge and technical expertise to safeguard the dam and its mile-long spillway.
The DWR initiated several measures as a result, including designing the reconstruction in a way that prevents potential physical causes of last year's emergency from happening again, Mellon has explained.
The agency's newly appointed director, Karla Nemeth, will oversee a restructured executive team that will include a new deputy director for flood management and dam safety. Further, Gov. Jerry Brown last year ordered additional evaluations of dams with spillways similar to Oroville's.
Finally, the DWR is kicking off a comprehensive needs assessment "to see what we need to do differently in our operation of the structures," Mellon said in April.
Lake Oroville is the chief reservoir for the State Water Project, whose contractors irrigate about 750,000 acres of Central Valley farmland and serve more than 26 million customers, according to the project's website. The dam's near-failure amid heavy storms in February, 2017, prompted the reconstruction project.
About the Author(s)
Subscribe to receive top agriculture news
Be informed daily with these free e-newsletters
You May Also Like
---