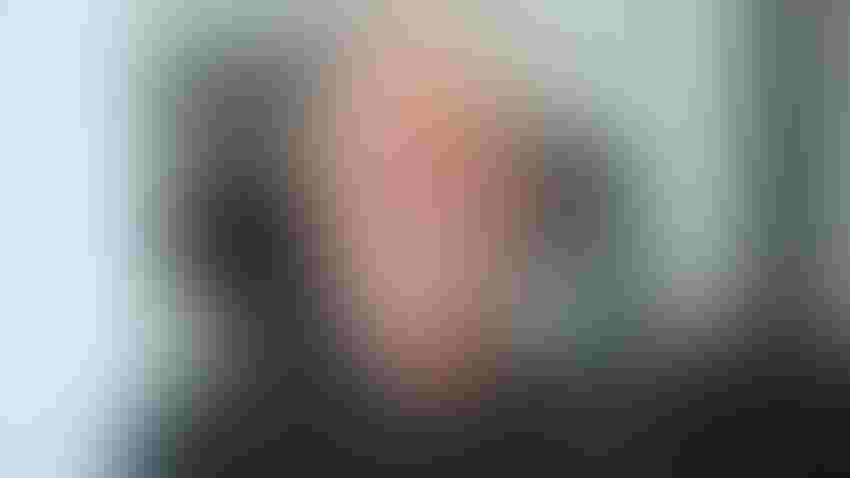 AG ADVICE: Monty Henderson draws upon both his farming and economic development experience while advising farmers and agribusiness people through a unique program.
Tom J. Bechman
Following the trail that led Monty Henderson to what he does today in addition to farming might leave you dizzy. Figuring out the hierarchy of where the organization he leads fits in the scope of things could leave you confused. Fortunately, knowing how he could help your ag business or farm is simple.
"We help people who want to begin or expand an agribusiness, or who are going a different direction in their farming operation," explains Henderson, Sharpsville, Ind. "You ask for help, and we respond.
"We don't have a pile of money to pass out. But we can direct you to grants. The best thing we do for someone is help them think through the process which accompanies any successful ag business or farming venture."
Henderson heads up what's known as the Agribusiness Initiative within the Indiana Small Business Development Center. He explains that SBDC is a federally backed program, with a presence in every state.
Farming, advising
"You go through ups and downs in farming, and sometimes you need extra income," Henderson says. "I began branching into economic development work about 20 years ago, and first worked with SBDC some 17 years ago. I enjoy the management side of things, and I had enough training to make it work."
Over the years, Henderson worked on a project in which he also became a Purdue University employee. For a while, he also worked for a small seed company, helping develop their business strategy. When several people agreed Indiana needed to focus on agriculture and agribusiness within SBDC, he was well suited to lead the effort. It's a cooperative venture with Purdue, the Indiana State Department of Agriculture and the Indiana Economic Development Corp.
"The biggest thing I bring is my practical experience in farming," Henderson says. "A team of Purdue Extension educators help me, and we draw on other experts as needed. We've helped about 200 clients so far."
Henderson expects to add an assistant and more support staff soon.
How to seek advice for farm, business
Do you have an idea for developing a business or enterprise on your farm but need help knowing where to start? Perhaps it is adding agritourism, or maybe you want to turn your homegrown beef business into a much larger enterprise.
Expect one-on-one advising from Henderson or an Extension educator with expertise in the field. ISDA also provides two agribusiness advisers who work with the program. The Indiana Soybean Alliance provides financial support to the overall program.
What's the catch? There is none — except you must take the first step. Right now, the best way is through an electronic contact. Here are two options:
Whether you're contemplating starting a 1,000-cow dairy or a 2-acre pumpkin path, it doesn't matter, Henderson says. "We're eager to assist small or large producers and ag businesses, and everything in between," he emphasizes.
Subscribe to receive top agriculture news
Be informed daily with these free e-newsletters
You May Also Like
---