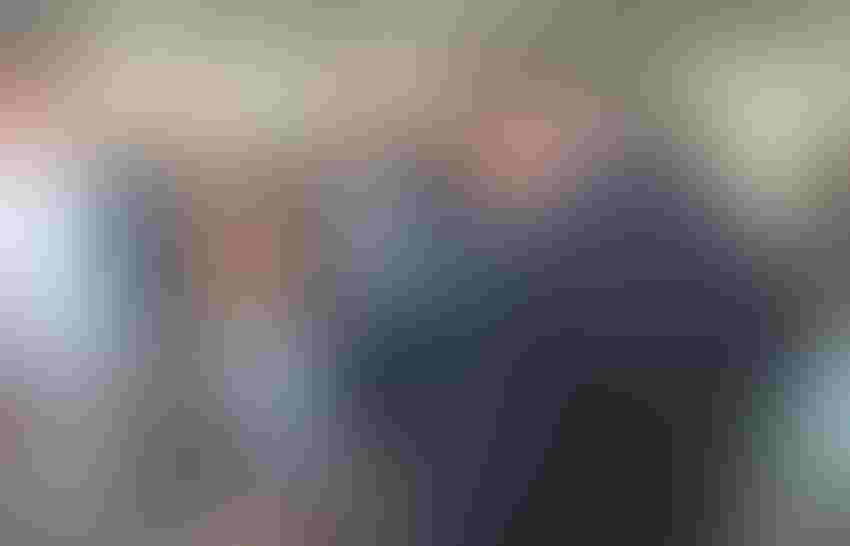 California Department of Food and Agriculture Secretary Karen Ross speaks with Jamie Johansson, president of the California Farm Bureau Federation, during a meet-and-greet at the state Capitol in Sacramento in 2019.
Tim Hearden
California's top agricultural official says the state will work with farmers to help them comply with an executive order proposing that only electric-powered passenger vehicles may be sold in the state beginning in 2035.
Gov. Gavin Newsom on Sept. 23 told a press conference the state was committing to a "firm goal" to phase out the sale of new gasoline-powered vehicles within the next 15 years and was encouraging other states to follow suit, the New York Post reported.
The board also plans to mandate by 2045 that all operations of medium- and heavy-duty vehicles be zero emission where feasible.
State Department of Food and Agriculture Secretary Karen Ross says the California Air Resources Board will bring agricultural interests to the table as it develops regulations to ensure that 100 percent of in-state sales of new passenger cars and trucks are zero-emission by 2035.
"The words 'technically feasible' are there for a purpose," Ross said, adding that regulators will consider "where the technology is and what the economics are" as they implement the order.
"I have a list of questions and I'll be meeting with CARB next week," she said during Tuesday's monthly State Board of Food and Agriculture meeting, which was held virtually. "We've also started a dialogue with equipment manufacturers and we'll be planning some ag meetings."
The secretary said it will be important for the state board to address and outline certain "priority areas" for agriculture. She noted there will be ample opportunity for ag interests to give input.
"It is a regulatory process with a lot of due process," Ross said. "We want to make sure we're up front with our work and not just waiting for the process to start next year."
Blaming climate change
The order comes as Newsom and other politicians are blaming climate change as the primary reason for California's worsening wildfires, as more than 4 million acres in the state have burned this season. The order doesn't bar Californians from owning gasoline-powered vehicles or selling them as used.
California and nearly 2 dozen other states are suing President Donald Trump's administration over its rollback of emissions standards enacted under then-President Barack Obama, the Post notes. For his part, Trump is seeking to bar California from requiring the sale of electric vehicles, while Democratic presidential nominee Joe Biden has pledged to speed the adoption of electric vehicles, according to the newspaper.
Newsom's order requires manufacturers to sell a rising number of zero-emission vehicles starting in 2024.
State officials contend that by the time the new rule goes into effect, zero-emission vehicles will almost certainly be cheaper and better than the traditional fossil fuel powered cars. The upfront cost of electric vehicles are projected to reach parity with conventional vehicles in just a matter of years, and the cost of owning the car – both in maintenance and how much it costs to power the car mile for mile – is far less than a fossil fuel burning vehicle, officials argue.
"This is the most impactful step our state can take to fight climate change," Newsom said in his release. "For too many decades, we have allowed cars to pollute the air that our children and families breathe. Californians shouldn't have to worry if our cars are giving our kids asthma. Our cars shouldn't make wildfires worse – and create more days filled with smoky air. Cars shouldn't melt glaciers or raise sea levels threatening our cherished beaches and coastlines."
There were about 256,800 electric vehicles registered in California in 2018, by far the most among U.S. states, according to the U.S. Department of Energy. But electric and hybrid vehicles still comprise less than 14 percent of California's vehicle market share, according to InsideEVs, a news site centered on electric vehicles.
Subscribe to receive top agriculture news
Be informed daily with these free e-newsletters
You May Also Like
---