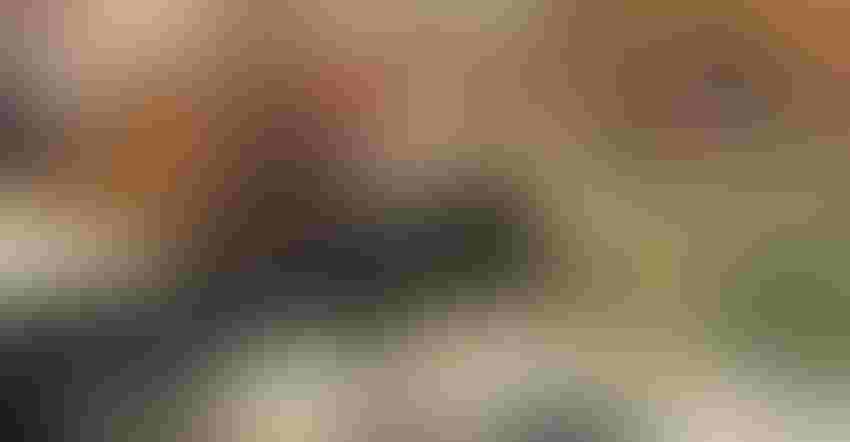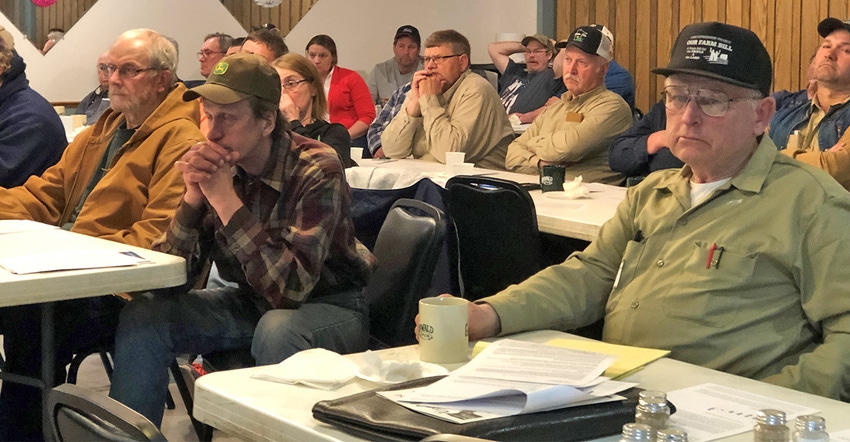 POLICY DISCUSSION: Minnesota and Wisconsin Farmers Union organizations sponsored a "Dairy Together" forum last week in Stearns County, Minn., to share information on dairy policy ideas and to encourage farmers to contact legislators.
State and national farm organizations are holding meetings to talk about price stabilization ideas that would help dairy farmers receive fair prices for their milk and align production more closely to market demand.
The Minnesota Farmers Union hosted a meeting April 16 in Greenwald, Minn., where farmer-leaders from the Wisconsin Farmers Union and the National Farmers Organization talked about programs supported by their respective organizations.
WFU is leading an effort called Dairy Together that encourages farmers to become better informed of price stabilization options and to contact legislators. WFU asked two ag economists — Chuck Nicholson from Cornell University and Mark Stephenson from the University of Wisconsin — to compare three dairy price plans, two that focused on price stabilization and one that offered margin protection.
The ag economists looked at the plans' impact on actual and predicted market conditions from 2014-2020. One price stabilization plan was operated continuously throughout the year and the other one was triggered by a milk:feed ratio. Both involved the establishment of a market access fee pool. Farmers would have either paid or received money from that, depending on how much milk they market each year.
Under the ag economists' scenarios, if a farm expanded production it would pay .015 cents to $3 per cwt into the market access fee pool. If a farm didn't ship more milk in a given year, it would receive a payment from the pool ranging from $1.50 to $1.88 per cwt.
ALL TOGETHER: Wisconsin Farmers Union government relations director Kara O'Connor said an economic study comparing dairy price stabilization programs found that farm exits would be slowed in all farm size categories and that consumers would be paying only 11 cents per gallon more for milk.
Both stabilization program scenarios allowed for an annual milk production increase based on market demand, ranging from -3% to +3%.
"The idea behind the plans is that farmers can expand if they want to," said Kara O' Connor, WFU government relations director. "If a farm goes beyond its baseline, it pays a market access fee [in its expansion year]. That fee goes into a pool for farms that did not expand production that year. So, they get a bonus for following market demand."
Under both stabilization scenarios, the average milk price increased; net farm income doubled for those farms that stayed within the allowable growth rate; hundreds of dairy farms were saved from going out of business; and there was a reduction in government program expenditures.
The margin protection program did not have much impact on milk prices, net farm income or dairy farm exits between 2014-2018, they found.
Taking a state program national
NFO is considering a plan that would modify the existing federal milk market order system to include two-tiered milk pricing that would adjust based on pounds of milk sold. The Family Dairy Farm Relief Act would provide immediate relief for small- to medium-sized dairy farms. Dave Kaseno, NFO's director of operations, noted that the program wouldn't use tax dollars and that it would level the playing field when it comes to costs of production.
GETTING PROACTIVE: Wisconsin Farmers Union president Darin Von Ruden told the audience at the "Dairy Together" roadshow that dairy farmers cannot export enough dairy products to solve their low milk price and milk oversupply problem. "We have heard over and over that dairy farmers do not want to put their trust in dairy exports that they cannot control," he said.
"We ran this by the market administrator and he said it could be done," Kaseno said.
Dick Levins, a retired University of Minnesota ag economics professor, supported the NFO proposal.
"We know we have a price problem in dairy," he said. "We also have a structure problem. We are going through a massive structure change and it's not good. There is no opportunity for family-sized [smaller] operations."
Between 2000 and 2017, the U.S. lost 63,702 dairy farms with herds of 200 cows or less, a decrease of nearly 66%, he noted. Farms with more than 1,000 cows increased by 109%, and those with more than 2,000 cows increased by 268%.
Levins said the NFO proposal is modeled after a state program in Maine. In 2004, the state implemented the Maine Dairy Relief program to stabilize dairy farm numbers. Two program assessments since then have confirmed that the state's tiered-pricing program has increased farm profits, stabilized the dairy industry and curtailed dairy farm exits.
LEVEL PLAYING FIELD: Retired ag economist Dick Levins told farmers at the meeting that a proposed NFO dairy policy program would level the cost of production playing field for all dairy farmers.
Meeting organizers encouraged farmers in the audience, who numbered more than 100, to contact their cooperatives and legislators about their concerns, and to share information on the price relief and stabilization programs presented.
To learn more about WFU's Dairy Together, and to view a video of the two ag economists discussing price stabilization plans, visit dairytogether.com
Learn more about NFO's dairy farm relief act online.
To contact your legislators, locate them at senate.gov/senators/contact and house.gov/representatives.
Subscribe to receive top agriculture news
Be informed daily with these free e-newsletters
You May Also Like
---