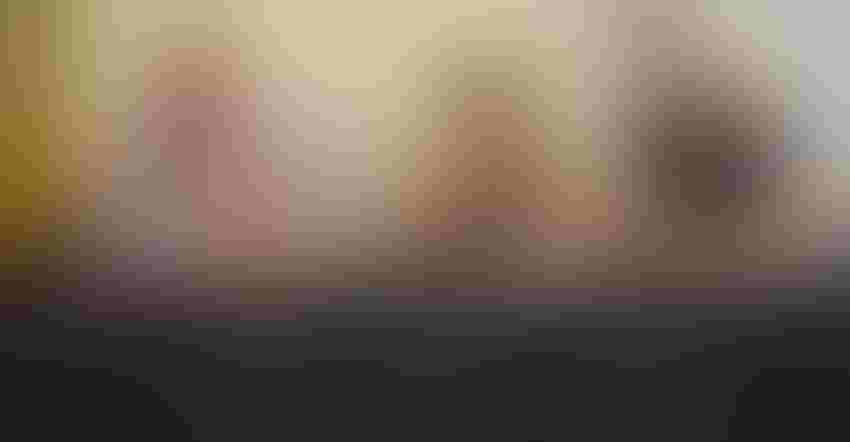 TALKING CHEESE: Mike Kosmicki wants more local milk for his company's mozzarella cheese while Rebecca Seidel and Sue Miller have plans to either start or increase on-farm cheese processing.
Chris Torres
Is there hope for Pennsylvania's dairy farmers? For two farmers and a processor who recently spoke at a dairy innovation forum at the Pennsylvania Farm Show Complex in Harrisburg, the future is in value-added products.
Rebecca Seidel, who spent nine years developing product lines for Wholesome Dairy Farms near Douglassville, Pa., is looking to make fermented dairy products — yogurts and keifer — along with hard cheeses from her small dairy farm in Womelsdorf.
Seidel farms a portion of her parent's 118-acre farm that was a dairy operation up until 1999. She has 25 Ayrshires in a seasonal dairy operation that runs from April to December.
Over the past year and half, she's been refurbishing her parent's old dairy facilities and recently bought a prefabricated shed that she plans on turning into a commercial kitchen with a pasteurization vat.
The old milk house is being turned into a cheese aging facility.
"I'm building a facility that can produce diversified products in case there is not a market for one thing or another thing," she said, adding that she's aiming for the project to cost around $50,000.
Seidel is already thinking about marketing possibilities, including selling right from the farm and at local farmers markets. But she also wants to be a resource for other farmers. To that end, she's creating a handbook to document her experiences growing the business along with difficulties she's having along the way.
She's planning on taking two interns a year when the business gets going.
"It's going to be very helpful if farmers do have a resource," she said. "When we're going through these economic problems, they can build a value-added facility or have additional diversification in their sales or grow in different ways."
Local milk for mozzarella
Mike Kosmicki's first job was on a dairy farm in southern York County. Today, he is director of herd and safety operations at Caputo Brothers Creamery, a producer of mozzarella cheese in Spring Grove, Pa.
Kosmicki gets contracts with local farmers and works with them to produce the milk needed for mozzarella cheese production.
The company claims that it is the only dairy plant in the country that makes fermented curds that can be stretched into mozzarella.
"This is something that we take a lot of pride in," he said.
Securing local milk, though, hasn't been easy. Kosmicki looks for milk that has higher fat-to-protein ratios. Most farms, he said, produce milk with lower fat and protein levels, and have higher somatic cell counts.
"We needed producers that care about the milk they were putting in the bulk tank, but that came with a price," he said.
A few years ago, the company decided that if wanted to get the milk it needed, they had to pay farmers more. For the past two years they've paid farmers $28 per cwt with no deductions for shipping or marketing.
Two farmers whose herds average about 80 head produce milk for Caputo Brothers. Their milk has a fat-to-protein ratio of between 0.80 and 0.82. The farmers don't get quality premiums; they get a consistent price that doesn't fluctuate with the market.
"We do all of that to make it feel like a true partnership," he said, adding that he hopes to bring on two new herds this fall to keep up with demand.
While the cheese is sold in the company store on Main Street in Spring Grove, they also ship it across the country and sell it in a local grocery store chain, Giant Food. They've also partnered with a local brewery, Troegs, to start developing a beer-washed curd cheese.
Attracting next generation
Sue Miller of Birchrun Hills Farm in Chester Springs makes raw milk cheese, whey-fed pork and other products in an area with intensive development pressure.
At one point Miller and her family farmed 2,500 acres in and around Chester Springs, but that number has fallen to 600 acres as much of that land has been developed. She and her family own 54 acres.
Three years ago, two Lely robots were added to the farm to make the business more attractive for her two sons to come back home. She said the original plan was to expand the herd, but cheesemaking has become more of a focus.
Miller applied for and got a $50,000 grant to purchase a 300-gallon cheese vat — she already has a 130-gallon vat — and a refrigerated unit for their retail space.
"There is something so personal about this type of work, when you're creating a product that you're going to hand off to a consumer that comes from the cows that you raised and you've raised their mothers, and you've nurtured the soils and the crops and the feed, and you've nurtured this product and then you've taken it to market, and then you hand it off to the consumer. That is the deepest relationship we can have. It's so meaningful," she said.
Grant opportunities available
Promoting value-added dairy products is one way the state thinks dairy farming will be secured in Pennsylvania.
The $5 million Pennsylvania Dairy Investment Program promotes value-added dairy products as well as marketing and helping farmers transition to organic.
The first round of funding attracted 42 proposals and funded 29 projects. The second round of funding is now open through Nov. 15.
Grants are available for the following:
$100,000 for research and development

$50,000 to help with transition to organic

$50,000 for on-farm, single producer projects, or $500,000 for a multi-producer project, cooperative or processing plant
Complete guidelines are available online.
Subscribe to receive top agriculture news
Be informed daily with these free e-newsletters
You May Also Like
---