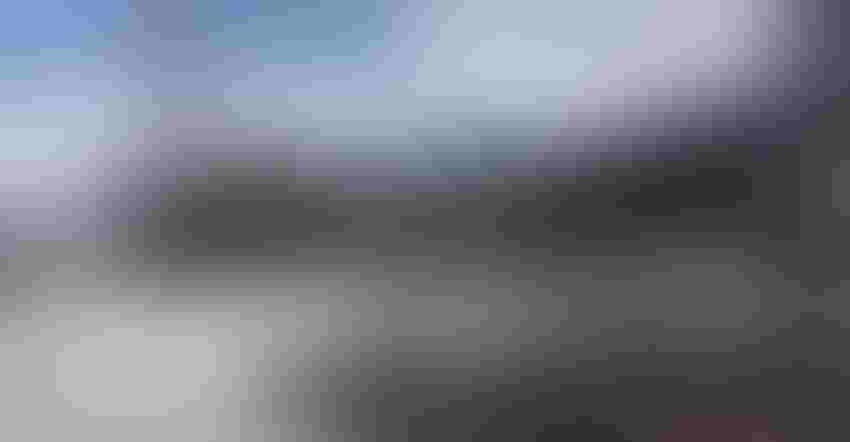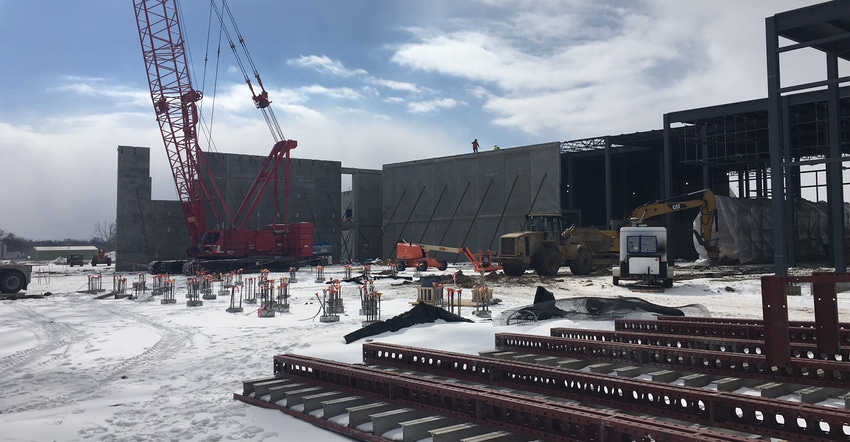 ON TRACK: An estimated 600 temporary workers will be involved in constructing the manufacturing and warehouse facility for cheese and the facility for permeate.
This winter was one of the worst for the state of Michigan. Subzero temperatures combined with record snowfall, ice, rain and winds made life miserable — especially for outdoor workers.
While it hasn't been easy, work on Glanbia's "Project Spartan" is going forward with the construction of cheese-whey and milk permeate production plants that will create more than 250 full-time jobs when the facility opens in October 2020.
An estimated 600 temporary workers will be involved in constructing the 375,000-square-foot manufacturing and warehouse facility for cheese and the 85,000-square-foot facility for permeate, all of which is located on 147 acres in the St. Johns Business Park.
"Weather conditions were tough in the late fall and winter months after our groundbreaking last August, but despite that we are currently on schedule and under budget," Glanbia project manager John Murphy says about the massive undertaking that has an estimated price tag of $470 million. "We expect to begin hiring in the third quarter of 2020."
Glanbia, a multinational company based in Ireland, partnered with dairy cooperatives Select Milk Producers Inc. and Dairy Farmers of America (DFA) to form Spartan Michigan LLC, which will own and operate the cheese and whey portions of the plant.

WALLS UP: A look inside, south down the utilidor.
Although it is not an equity partner, the Michigan Milk Producers Association also is expected to provide milk to the project, where more than 8 million pounds of milk will be received every day to produce an estimated 800,000 pounds of American-style cheddar cheese and about 40,000 pounds of whey powder per day.
A third component of Project Spartan involves a partnership with Proliant Dairy Ingredients. Permeate, produced as a byproduct from cheese and whey production, is dried into a powder. High in lactose, the final product is used in the manufacture of candies and mixes — such as Swiss Miss hot chocolate. Proliant is the sole owner and operator of the permeate portion of the plant, with has an estimated cost of $80 million to $100 million.
While the weather has not delayed work on the project, Murphy says that "there's still a lot to be done. We will be using three general contractors, eight process vendors and numerous subcontractors on the various parts of the total project that also includes a $25 million wastewater facility."
The end of the aggressive timetable for completion of Project Spartan can't come soon enough for dairy farmers in mid-Michigan and across the state who have been struggling with a shortage of in-state facilities to process their milk.
"2020 can't come too soon — I wish it was tomorrow," says Dwight Nash, a longtime dairy operator in the Elsie area who also is a DFA corporate board member. "The past years have been extremely difficult for many owners whose production exceeds the capacity of current processing facilities. This is really about saving the dairy industry in Michigan."

THE PLAN: The latest drawing of the projects design.
Bingham Township Supervisor Eric Silm understands the sentiment expressed by Nash. "We view this as a very positive event not only for our township, but across our communities in mid-Michigan and beyond," he says, citing opportunities for growth in housing, retail and business because of the families and individuals moving into the area because of the new plant.
"We signed on to the 425 Agreement with the city of St. Johns that included 55 acres of Bingham Township land, believing all those positives outweigh any negatives," he adds. "The location is perfect for Project Spartan."
Steel girders are prominent on the construction site as the overall design process for all parts of the project nears completion. Civil site work at the cheese and whey facility is almost done. Permeate plant design is 90% complete, and the wastewater treatment plant design is 50% complete.
Construction on both is set to begin in the spring. Precast installation is underway and will be complete in June. Process equipment will begin arriving on-site in July.
"This is a multifaceted project with numerous participants to build a highly automated food manufacturing facility," Murphy says. "We all are looking forward to the coming months, and especially commissioning in 2020."
Subscribe to receive top agriculture news
Be informed daily with these free e-newsletters
You May Also Like
---