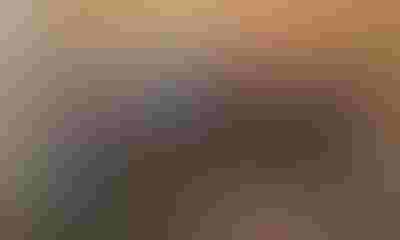 Ninety youth competed at the Wisconsin 4-H Dairy Judging Contest which was held on July 18 in Black River Falls in conjunction with the state Ayrshire and Guernsey shows. Ayrshire and Guernsey animals were pulled out of the show strings and Holstein, Brown Swiss, and Jersey cattle were trucked in from nearby farms to make classes for the contest. 
Manitowoc County was the top overall and reasons team in the Senior division and will go on to represent Wisconsin in the National 4-H Dairy Judging Contest at World Dairy Expo. The Dodge County #1 team took second place overall and will represent Wisconsin and compete at the All-American in Harrisburg, Pa.

TOP SENIOR TEAM The Manitowoc County team won the state senior 4-H Dairy Judging Contest. From left are Coach Paul Siemers, Jake Siemers, Jared Zutz, Brooke Roberts Vanessa Roberts, and Coach Angie Ulness
Dawson Nickels from Dodge County was the high individual overall and Brooke Roberts from Manitowoc County was the top reasons individual in the senior division. The two swapped positions in the reasons contest with Brooke being the top senior reasons individual and Dawson coming in second.
The top 4 individual seniors who were not on one of the first or second place teams will come together to form a team that will represent Wisconsin at the NAILE in Lousiville, Ky. These 4 individuals are Kylie Nickels and Ben Buske from the Dodge County, Brianna Hall from Vernon County and Emma Olstad from Dane County.
In the junior competition Barron County won first team overall and was the top team in the type analysis questions category. Madison Calvert of Lafayette County was the top individual and won the type analysis questions category. Dunn County was the second high team in the junior division.
Top Five Junior Teams
Barron County
Zach Moret
Henry Huth
Justyne Frisle
Alleah Anderson
Dunn County
Abbie Powers
Ben Styer
Bailey Gilbertson
Chloe Dummer
Sheboygan County
Brady Bleck
Ava Booth
Ella Bindl
Dakota Kreisa
Lafayette County
Madison Calvert
Mckenzie Calvert
Payton Calvert
Rock County
Cody Baxter
Sara Kronberg
Emma McNally
Quincee Johnson
Top 15 junior individuals
Madison Calvert -Lafayette County
Zach Moret - Barron County
Henry Huth - Barron County
Sarah Hagenow - Columbia County
Brady Bleck - Sheboygan County
Megan Moede - Kewaunee County
Katrina Hoesly - Waushara County
Abbie Powers - Dunn County
Justyne Frisle - Barron County
Maclayne Gilson- Outagamie County
Alleah Anderson - Barron County
Ben Styer - Dunn County
Natalie Roe - Green County
Brynn Emory - Jefferson County
Natalie Mark - Pierce County
Top 5 senior teams
Manitowoc County
Brooke Roberts
Vanessa Roberts
Jake Siemers
Jared Zutz
Dodge County #1
Dawson Nickels
Paul Grulke
Danielle Warmka
Sam Pitterle
St. Croix County
Eva Doornink
Derek Utecht
Austin Raymond
Ellis Frank
Pierce County
Rachel Coyne
Hannah Nelson
Paige Nelson
Shawano County
Jen Krull
Kaila Wussow
Emma Gwidt
Madelyn Gwidt
Top 15 senior individuals
Dawson Nickels - Dodge County #1
Kylie Nickels - Dodge County #2
Ben Buske - Dodge County #2
Brooke Roberts - Manitowoc County
Brianna Hall - Vernon County
Erica Helmer - Sheboygan County
Emma Olstad - Dane County
Eva Doornink - St. Croix County
Rachel Coyne - Pierce County
Derek Utecht - St. Croix County
Colin Uecker - Jefferson County
Vanessa Roberts - Manitowoc County
Jen Krull - Shawano County
Paul Grulke - Dodge County #1
Jake Siemers - Manitowoc County
Subscribe to receive top agriculture news
Be informed daily with these free e-newsletters
You May Also Like
---