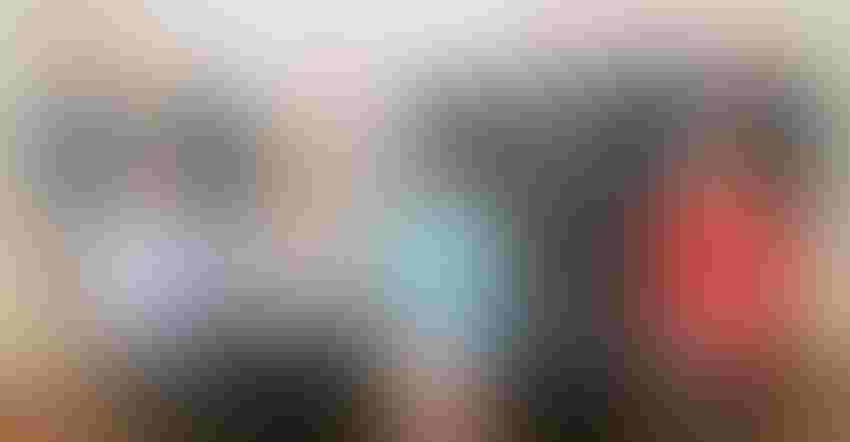 NEW BOARD: The Wisconsin Holstein Association directors for 2017 are (front, from left) Sara Feldmann, Joseta Halbur, Heather Jauquet, Pam Selz-Pralle, Sherry Siemers-Peterman, (back, from left) Erica Ullom, Bill Calvert, Bryan Stremcha, Steve Endres, Craig Krohlow, Kevin Jorgensen and Craig Carncross.
The Calumet County Holstein Breeders, in coordination with the Wisconsin Holstein Association, hosted the annual WHA Adult Holstein Convention at the Radisson Paper Valley in Appleton Feb. 24-25. More than 200 Holstein breeders from across the state were in attendance for meetings and to receive recognition for outstanding accomplishments in 2016.
The convention kicked off with committee meetings, held to discuss new and old business for 2016 and the upcoming year. Following meetings, Andy Junkin of Agriculture Strategy led a discussion on farm transition, and how Wisconsin Holstein producers can improve communication among family members to keep the family name on the mailbox through the shift in farm ownership.
At the Friday evening meal, the 2016 Wisconsin Top Performer cows were announced. Recognized were cows owned by Legacy Farms of Shell Lake and Tom Kestell of Waldo. Receiving the overall Top Performer honor was Kestell's 5-year-old cow Ever-Green-View Etax-ET, EX-90, with a record of 48,224 pounds milk, 2,526 pounds of fat and 1,628 pounds of protein. Also recognized were owners of cows that have produced 300,000 and 400,000 pounds of lifetime milk.
Saturday morning began with a round-panel discussion on farm transition led by Junkin. The panel included four Wisconsin Holstein members: Tony Brey of Cycle Farms, Sandy Larson of Larson Acres, Jim Rickert of Rickland Farms, and Dawn Haag of Haag Dairy and Badgerland Financial.
Board members elected
The annual WHA business meeting was held and included reports from board members who head the various committees, plus a report on the financial status of the association. Four new board members were elected to serve a three-year term: Sherry Siemers-Peterman of Newton, Erica Ullom of Bloomer, Sara Feldmann of Howards Grove and Craig Krohlow of Black Creek. Retiring board members include Chad Ryan of Fond du Lac, Kent Wendorf of Viroqua and Tracy Nelson of Ellsworth.
Following the annual meeting, 40-year and 50-year members and Wall of Fame inductees were honored. This year's Wall of Fame inductees were the late Elroy Borgwardt of Valders; the cow Scientific Debutante Rae, bred by Matt and Mandy Nunes of Chippewa Falls; and the bull Sandy-Valley Bolton, bred by Sandy-Valley Holsteins and the Bauer family of Scandinavia.
 Following the awards luncheon, the afternoon was highlighted by farm tours to Hilrose Holsteins, run by the Brantmeier family of Sherwood, and Fer-Crest Holsteins, run by the Brandon and Shi Ferry family of Hilbert.
Several individuals were honored at the Saturday evening banquet. This year's Distinguished Young Holstein Breeder award recognized Tree-Hayven Holsteins and Adam Borchert of Auburndale. Honored with Distinguished Service recognition were Rick and Paula Bovre of Fond du Lac. Receiving the prestigious Distinguished Breeder honor were Car-Bon Holsteins and Carl and Bonnie Werner of Beaver Dam.
The WHA board of directors met at the conclusion of the convention to elect officers for the upcoming year. Kevin Jorgensen of Waupun will serve a second term as president. Vice president is Craig Carncross of Lodi, and secretary is Erica Ullom of Bloomer. Pam Selz-Pralle of Humbird and Heather Jauquet of Pulaski will also serve as executive committee members.
Source: Wisconsin Holstein Association
Subscribe to receive top agriculture news
Be informed daily with these free e-newsletters
You May Also Like
---