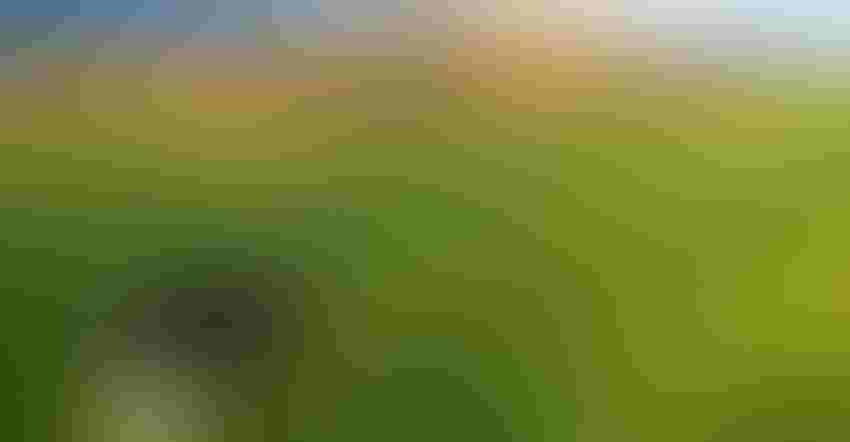 OUT TO PASTURE: At least 89 dairy farms shipping to Horizon Organic are losing their contracts next year. Horizon blames transportation costs and other factors, but its decision highlights the continued struggles of the organic dairy market.
Alan Majchrowicz/Getty Images
At least 89 producers in the Northeast who ship milk to Horizon Organic have been notified that they'll be losing their contracts by August 2022.
These farmers now have a little less than a year to figure out what to do next, and for many, there aren't many options available.
"Don't have many options; be forced to sell out, I guess," says one farmer from New York who spoke on the condition of anonymity.
Another New York farmer, again speaking on the condition of anonymity because of a confidentiality agreement with Horizon, says they received a letter Aug. 20. The farm milks 40 cows and is upgrading its facilities with no idea where it will be shipping milk next year.
Danone, the owner of Horizon Organic, issued a statement citing growing transportation and operational challenges as the reasons to drop these farms.
"Eighty-nine producers across the Northeast received this non-renewal notice," the statement says. "To help facilitate a smooth transition, we are offering each producer the opportunity to enter into a new agreement for us to purchase their milk until Aug. 31, 2022, to provide additional time and support. We will be supporting new partners that better align with our manufacturing footprint. We are committed to continuing to support organic dairy in the East, and in the last 12 months alone we have onboarded more than 50 producers new to Horizon Organic that better fit our manufacturing footprint. This decision will help us continue providing our consumers with the products they love."
Bigger issues rise to the top
But organizations representing organic farmers say Horizon's decision highlights larger problems affecting the organic dairy market.
Abbie Corse, a board member for the Northeast Organic Farming Association of Vermont (NOFA-VT) and an organic dairy farmer herself, points to a loophole in the National Organic Program's origin of livestock rule that allows conventional animals to be brought onto a dairy and transitioned to organic within only one year.
Critics of the loophole say it has allowed some farms to send organic calves to another operation to be raised conventionally, then brought back to the organic dairy for a year before starting to milk — a process called continuous transition. Theoretically, this would save money on feed costs because the calves could be fed much cheaper conventional feed before coming back to the farm.
USDA's Agricultural Marketing Service has been considering amending the origin of livestock requirement since 2015 and recently closed the comment period on a rule that would prohibit the movement of transitioned cows in organic dairies.
Corse and others have also questioned the ability of larger operations to comply with the 120-day grazing period rule and 30% dry matter intake requirement from pasture in-season.
Ed Maltby, executive director of the Northeast Organic Dairy Producers Alliance (NODPA), says organic dairy is suffering the same pains from consolidation as the conventional side.
"The organic dairy became more consolidated when WhiteWave was sold to Danone and the DOJ [Department of Justice] ruled that there was a monopsony on the supply side with the purchase. It has been headed that way for many years, especially with Aurora Dairy and their vertically integrated dairies and 10,000- to 15,000-cow herds in Colorado and Texas," Maltby says.
"In 2015-16, organic dairy took a downturn after a period of short supply and higher pay prices. Many large dairies were allowed by the National Organic Program to continually transition conventional non-organic cows to organic within one lactation. There was also poor enforcement of the requirement for the organic dairy livestock to be on pasture with many organic certifiers unable to follow the intricacies of large-scale ration formulation. This created an oversupply. Pay price dropped by 20% to 25%, and quotas were imposed.
"At that pay price, small to midsize dairies could not compete with the economies of scale; processors started to increase charges for trucking and not renewing contracts on farms with small volumes. There is now a pay price that averages $5 under the costs of production for the small to midsize dairies, and the growth of organic sales is minimal."
What's next?
Right now, Maltby says, there are not many options available for farmers to go somewhere else.
"They have very little options on the commodity market. Without Danone/Horizon in New England, there are only two buyers of organic milk, CROPP Cooperative and Lactallis/Stonyfield," Maltby says. "Effectively, it is only one, as Stonyfield buys from CROPP as well as having their own procurement. Because of national oversupply, CROPP has a moratorium on taking on new producers.
"CROPP or other handlers may be willing to build a pool of milk under a utilization contract, but that will be a very challenging situation for pay price unless it can be utilized as Class I milk, as well as some in organic. To remain in organic production, the breakeven production cost averages $34 to $35 per cwt. The option to stop being organic and go conventional may be a possibility for some if they belong to DFA.
"In New York, the farms that have been dropped have the same lack of choice with no independent dairies [Upstate and Byrne] taking on any new producers, and the only other major buyer would be CROPP."
There are 293 farmer members of the CROPP Cooperative — Organic Valley — in New England and New York, says Liz McMullen, spokeswoman for CROPP Cooperative. In a statement, Bob Kirchoff, CROPP's CEO, says that it's unclear whether the cooperative would be able to absorb more farmers.
"Organic farming is facing the same crisis we've seen in conventional agriculture — consolidation, industrialization, 'get big or get out,'" he says. "It will take a lot of people working together to solve it, but we all must be bold enough to believe we can. We don't yet know if there's any way Organic Valley can help these farmers in the Northeast, but we will turn over every stone and link arms with every partner to see what's possible."
Amanda Beal, Maine's secretary of agriculture, says the department has started communicating with the 14 Horizon farms affected in the state.
"Our bureau of agriculture, food and rural resources is exploring ways to assist these farms," Beal says in a statement. "Also, we have formed a working group that includes Maine's congressional delegation and key agriculture industry stakeholders. The workgroup met for the first time this week to start discussions of both short- and long-term strategies to help the affected farms and support the ongoing viability of Maine's dairy industry."
Anson Tebbetts, secretary of agriculture in Vermont, says 28 farms in the state received letters from Horizon Organic. Like Maine, Tebbetts says a similar task force has been formed to look at alternative markets for these farms.
"Our main goal is try to save these 28 that are in Vermont and give them some alternatives," he says. "We're exploring multiple strategies, including other handlers, pairing cheesemakers and farmers, and perhaps even more processing in the region."
Tebbetts mentioned the news to U.S. Agriculture Secretary Tom Vilsack during a recent visit to the state.
The state's congressional delegation is also on the task force. At least two farmers have also become members of the task force.
"These farms were some of the first ones that transitioned to organic," Tebbetts says. "They blazed the trail for organic production, and now, you know, I think a lot of them feel abandoned by this news now. They were there building these companies, and now these companies don't need them anymore. That's difficult for them."
Subscribe to receive top agriculture news
Be informed daily with these free e-newsletters
You May Also Like
---