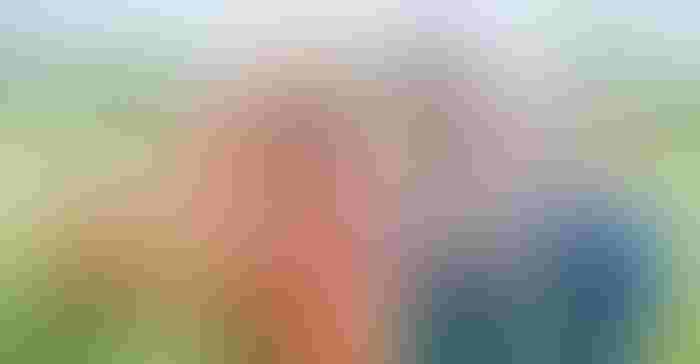 It is no secret that dairy cow markets have been impacted by COVID-19. The situation also has negatively affected the dairy goat world, but in a different way. While the pandemic may not have caused an immediate disruption for dairy goat producers like it did for dairy farmers, it will have serious long-term negative effects as the economy continues to suffer.
Most dairy goat farms use a different approach to marketing milk with processors compared to dairy farms, which has been working in their favor. Goat milk also has a longer storage life than cow's milk in the form of frozen curd.
Related: Complete coronavirus coverage
Goat dairy farms lock their milk prices in at the beginning of the year for 12 months at a time, with varying rates depending on the season. There are set prices for winter, spring, summer and autumn months. Dairy goats tend to dry up and lower production in winter — hence a higher price rate during those months and a lower rate for early summer months, when goats have higher milk production.
Wisconsin goat milk prices for 2020 sit around $35 per cwt, give or take $5 based on the season. Premiums and bonuses are also preset amounts for the year.
Goat milk marketing
Jason Benson owns Lymett Goat Farm in Old Albertville, Wis., on the western side of the state, and milks 120 goats. He expects these price fluctuations each year.
"We plan for the change of prices throughout the year," Benson says. "We know they are going to happen. However, there is a small clause in the contract with our processor that states that they reserve the right to change those contracted prices at any time. Thankfully, we have not experienced that yet."
Currently, there are no reported goat dairy processors in Wisconsin that have retracted from their contracted prices from the beginning of this year.
Dr. Kevin Wellejus, DVM, manager and part owner of Drumlin Dairy in Calumet County, Wis., where they milk nearly 10,000 goats, has been able to continue producing goat milk at full capacity at the pre-pandemic price. However, he still has concerns about what lies ahead for dairy goat markets.
"In the long run, this shutdown is going to hurt the goat industry more than the cow industry, because goat milk relies on a good economy," Wellejus says.
Benson adds, "Our product is driven by supply and demand of people who enjoy a luxury product. They want our product, they don't need it."
As restaurants and entertainment events shut down during the pandemic, the demand for goat cheese shut down as well.
No. 1 state in dairy goats
Wisconsin leads the U.S. in milking goats, with 72,000 head, according to the USDA National Agricultural Statistics Service in 2019. With the exception of a few small, local markets, all goat milk produced in Wisconsin is made into cheese. Goat milk, in the form of frozen curd, can be stored for months at a time.
Typically, a portion of goat milk produced during the summer months is processed into curd, frozen and stored, while the rest of it is immediately made into cheese and sold to consumers. That stored curd can then be thawed out, mixed with fresh milk and used to make cheese during the winter months, when there is a decreased supply in goat milk.
Processors have been storing a higher percentage of their goat milk during this pandemic, as they currently have very little demand for their product.
There is little known as to how much total storage capacity the goat dairy processors have remaining and how much longer they can continue to add to their inventory.
Dairy goat farmers are not excluding the fact that they may still indeed suffer the same impacts as the dairy cow industry — forced to decrease production and experience severe cuts in milk prices — but as of today, they are full steam ahead in hopes that the economy will bounce back more quickly than expected, and demand for goat dairy products will follow.
O'Brien is the Extension ag educator in Calumet County, Wis. This column is provided by the University of Wisconsin-Extension Dairy Team.
Subscribe to receive top agriculture news
Be informed daily with these free e-newsletters
You May Also Like
---