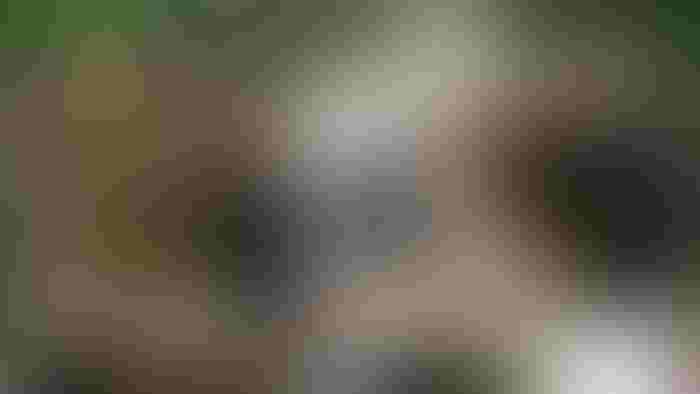 There was no shortage of contests, educational seminars, cow shows, commercial exhibits and new products to see at the 2023 World Dairy Expo on Oct. 1-6 at the Alliant Energy Center in Madison, Wis. Following are several highlights from this year's show:
Supreme champions. Eight international breed shows featured more than 2,600 dairy cattle from North America during World Dairy Expo, culminating with the selection of the supreme champion cow at the conclusion of the show on Oct. 6.
A fan favorite, Erbacres Snapple Shakira-ET, rose to the top of World Dairy Expo's Dairy Cattle Show and claimed the title of 2023 supreme champion. Shakira is owned by Jacobs, Antelimarck, Ty-D Holsteins, K Theraulaz and Attaboy Holsteins of Cap-Sante, Quebec. Her winning streak began in 2021 when she was named grand champion of the International Holstein Show and supreme champion of World Dairy Expo.
After winning the 6-year-old and older cow class, Shakira accomplished the same feat, as she was named grand champion of the International Holstein Show before claiming her second World Dairy Expo supreme champion title.
Supreme champion heifer of World Dairy Expo was claimed by the junior champion of the International Red & White Show, Sco-Lo Dc Rogue2470-Red-ET. Before claiming junior champion, she was the winning summer yearling heifer in the International Red & White Show. She is owned by Fly Higher, Elmlo, Andy and Whitney Reynolds, and Mackenzie Reynolds of Corfu, N.Y., and receives the W. Terry Howard Memorial Trophy along with her honors.
Minnesota sweeps judging contests. University of Minnesota finished first among 19 schools in the 102nd National Intercollegiate Dairy Cattle Judging Contest at World Dairy Expo. The team finished with a score of 2,545 and added to its achievements by also being the high team for Reasons category.
The team of Ben Styer, Isaac Rott, Kelsey Biel and Haley Buekema was coached by Les Hansen, Eric Houdek and Gabriella Houdek. Styer and Rott also placed first and third overall as individuals, respectively.
Finishing second and third overall were Cornell University and Virginia Tech, respectively. Other teams finishing in the top five include Iowa State University and University of Wisconsin-Platteville.
Minnesota also took the top honors in the 101st National 4-H Dairy Cattle Judging Contest at Expo. The team of Calvin Benrud, Natalie Clemenson, Evelyn Scheffler and Caryn Miklas was coached by Tony Scheffler, Maizie Scheffler and Emily Mollenhauer. The second-overall team, by a margin of 9 points, hailed from Missouri. Oregon, Florida and Ohio completed third, fourth and fifth, respectively.
Don't expect a new farm bill soon. At a panel discussion on Oct. 5, Pete Kappelman, a Manitowoc, Wis., dairy farmer and senior vice president of member and government relations at Land O' Lakes, and Gregg Doud, chief operating officer of National Milk Producers Federation, said current dysfunction in Washington, D.C., is making it unlikely that a new farm bill will be voted on by the end of year. An extension of the current 2018 farm bill is expected.
Champions honored at World Forage Superbowl. For the second year in a row, Rodney Archer of Alamosa, Colo., was named the grand champion forage producer with his commercial hay entry and will receive $2,500 from Legacy Seeds.
A total of 293 entries from 18 states across the country were evaluated in this year's World Forage Analysis Superbowl. Awards were presented to the top five finishers in each category during the Forage Superbowl luncheon on Oct. 4 at the Alliant Energy Center. A total of $26,000 in prize money was presented to this year's champions.
The Grand Champion First-Time Entrant award of $2,000, sponsored by New Holland, went to Martin Farms of Strykersville, N.Y. for its standard corn silage entry.
Quality Counts Awards were also presented during the luncheon. In the area of Quality Counts Corn Silage, Zirbel Dairy Farm in De Pere, Wis., captured top honors with its BMR corn silage. For Quality Counts Hay/Haylage, Jenson Family Farms of Elk Mound, Wis., took first.
Deere/DeLaval partnership. Ahead of its official unveiling at this year's Agritechnica in Germany, John Deere and Delaval announced their joint Milk Sustainability Center, a digital ecosystem to help dairy farmers improve the efficiency and sustainability of their operations through monitoring nutrient-use efficiency for nitrogen, phosphorus, potassium and carbon dioxide equivalent for the farm, on specific fields or for the herd.
Expanding horizons. The 65th National 4-H Dairy Conference was held during World Dairy Expo in nearby Middleton, Wis. A total of 138 high school students from across the country attended this year's event Oct. 1-4.
The annual conference was originally held in Chicago and then to Madison once World Dairy Expo was established in 1967. This year's attendees listened to a variety of speakers, participated in several activities, and had the opportunity to tour ABS, ST Genetics, Hoard's Dairy Farm, Jones Dairy Farm, Crave Brothers Farm and World Dairy Expo.
Hot new products featured. The trade show offered an array of modern dairy farm equipment and products in the Outdoor Trade Mall, Coliseum, Trade Center and Exhibition Hall. Everything from the latest in manure handling equipment to robotic milking systems and animal health products were on display, including dozens of companies that brought new dairy-centric products. Among them were:
Knegt Electric Tractor line available in 45 or 55 hp

farm hoof trim chute by Rippleview Hoof Care

T8088 Ag Bagger by RCI of Mayville, Wis.
FBI talks 'agrosecurity.' During three separate talks at Expo, agents from the Federal Bureau of Investigation talked about the growing threat of trade secret thefts in agriculture and best practices to protect agricultural intellectual property.
Subscribe to receive top agriculture news
Be informed daily with these free e-newsletters
You May Also Like
---