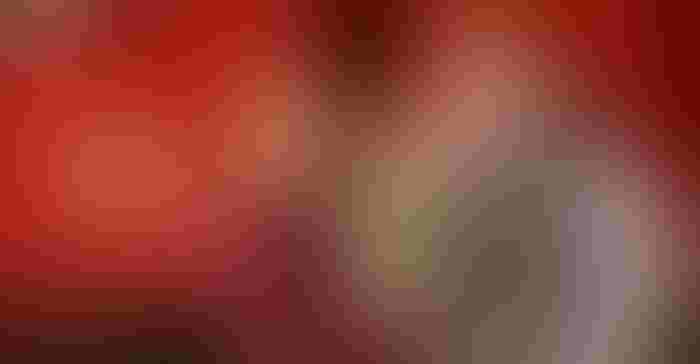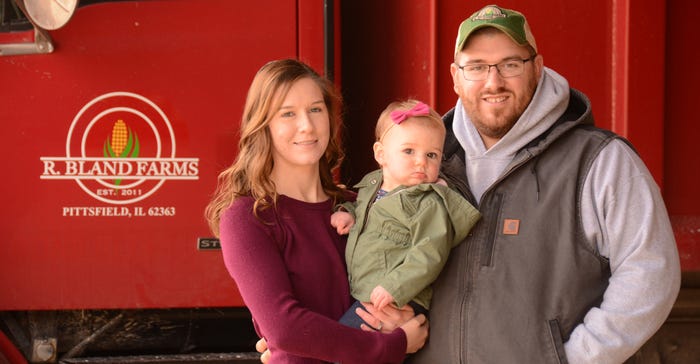 If there's anything Ryan Bland has learned in four years of farming in Pike County, Ill., it's flexibility. Frankly, that's how the first-generation farmer got into production agriculture in the first place.
"All of this started because I wanted to buy a little farm. I wanted a tractor, so to pay for the tractor, I started planting food plots for people," Bland says.
Just like the children's books, in true "If You Give a Mouse a Cookie" style, it all snowballed from there.
Before long, that farm, tractor and food plot led to two skid steers, an excavator, a dozer and four tractors. He manages 100,000 acres of ground for 200 landowners, planting food plots, taking care of roadways and creek crossings, and taking on various land improvement projects — like a recent driveway project for $70,000. And farming 1,450 acres.
In all, Bland operates four different businesses near Pittsfield, Ill. He founded Non-Typical Wildlife Services in 2011 for land management; operates Non-Typical Hunt Club; runs the farm under R Bland Farms; and helps his parents with a rental business, Bland Properties. And he spent his quarantine getting his real estate license, so he can sell ground.
If that weren't enough, he and his wife, Amanda, raised 100 head of white-tailed deer for the hunting preserve market, in a business that would rival most seedstock cattle operations.
Land manager
Bland's situation is as unique as the area he farms in, where hunting and recreational ground bring top dollar from out-of-town investors who want a better return on investment than they can get in the stock market. Plus, they like to hunt.
"We have a ton of people around here to buy or lease ground for hunting. They'll buy a 200-acre piece that's half tillable and half hunting. The tillable makes enough to pay the taxes, and it all appreciates," Bland explains.
They need someone local to help manage the ground, and that's where Bland comes in. Originally, he was helping the landowners find farmers to operate the tillable ground. Before long, he realized he could do it himself and offer landowners more control.
"If they want 5 acres of corn left standing, I leave 5 acres — not five rows," Bland says. "Some farmers don't respect the nonresident landowners, but we need to because they have the money."
That's a philosophy that's worked well for him. Bland started out farming 145 acres, which turned into 600, then 920, then 1,450 acres. But those first acres were the kind a lot of beginning farmers would recognize.
"On a 50-acre piece, 16 acres was tillable — in seven fields," he says, laughing. "Every field opening you went through, you had to fold up and unfold because of access."
He's learned a few equipment lessons along the way, too, especially in managing his own destiny. Just ask him about his first combine, a 2002 John Deere model with 3,700 engine hours.
"That was a nightmare," Bland recalls. "We got halfway through the first season and blew the motor out. I spent $50,000 in repairs, and it was supposed to be bulletproof."
It wasn't.
He wound up trading for a newer-model Case with 900 hours. Bland's also in the process of buying a RoGator so he can do his own spraying, and a floater truck so he can buy fertilizer direct off the river in Quincy.
Deer pivot
And just like the flexibility that first brought him into farming, Ryan and Amanda decided last winter to liquidate their deer herd, because it no longer worked in their operation. Amanda returned to nursing school, which meant she couldn't keep up with the daily feeding and management demands of a 100-head deer herd.
And as Ryan says, "It's hard to find labor — competent labor — when you're dealing with animals."
The couple has a nearly-2-year-old daughter, Ryleigh, and a baby girl due at the end of the year. And while Ryleigh loves everything outdoors, including the deer chores, Ryan says it's been phenomenal being out of the animal business: no fences to fix and no worrying about the storms that blow trees into them. So while the pivot out of the deer business may not have paid off financially, it's made a huge difference in their family.
For Ryan, who didn't grow up on a farm, the learning curves have been steep, but so has his success.
"Nothing was handed down to us," he says, "and everything has really grown. I don't know if we're doing it right or wrong — but things are getting better."
Ryan and Amanda are part of the 2022 class of Cultivating Master Farmers, a two-year mentorship program between young farmers and Master Farmer award recipients sponsored by Farm Credit Illinois, Compeer Financial, Illinois Farm Bureau, Growmark, Bayer and Prairie Farmer. The group recently extended this class by a year, to make up for lost time due to COVID-19.
Ryan says they applied for CMF because he always wants to learn more, especially about grain marketing, business decisions and cover crops. And while the meetings have been few so far, the lessons have been deep.
"I've learned it has to be a business. Don't let people walk all over you," he says. "And don't worry about impressing the guy next door with land. Think quality over quantity, and get good at what you're doing before you get bigger."
Words to live by for young and Master Farmers.
About the Author(s)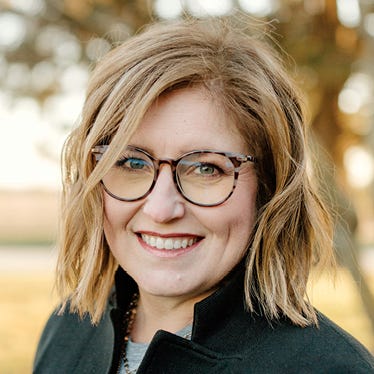 Senior Editor, Prairie Farmer, Farm Progress
Holly Spangler has covered Illinois agriculture for more than two decades, bringing meaningful production agriculture experience to the magazine's coverage. She currently serves as editor of Prairie Farmer magazine and Executive Editor for Farm Progress, managing editorial staff at six magazines throughout the eastern Corn Belt. She began her career with Prairie Farmer just before graduating from the University of Illinois in agricultural communications.
An award-winning writer and photographer, Holly is past president of the American Agricultural Editors Association. In 2015, she became only the 10th U.S. agricultural journalist to earn the Writer of Merit designation and is a five-time winner of the top writing award for editorial opinion in U.S. agriculture. She was named an AAEA Master Writer in 2005. In 2011, Holly was one of 10 recipients worldwide to receive the IFAJ-Alltech Young Leaders in Ag Journalism award. She currently serves on the Illinois Fairgrounds Foundation, the U of I Agricultural Communications Advisory committee, and is an advisory board member for the U of I College of ACES Research Station at Monmouth. Her work in agricultural media has been recognized by the Illinois Soybean Association, Illinois Corn, Illinois Council on Agricultural Education and MidAmerica Croplife Association.
Holly and her husband, John, farm in western Illinois where they raise corn, soybeans and beef cattle on 2,500 acres. Their operation includes 125 head of commercial cows in a cow/calf operation. The family farm includes John's parents and their three children.
Holly frequently speaks to a variety of groups and organizations, sharing the heart, soul and science of agriculture. She and her husband are active in state and local farm organizations. They serve with their local 4-H and FFA programs, their school district, and are active in their church's youth and music ministries.
Subscribe to receive top agriculture news
Be informed daily with these free e-newsletters
You May Also Like
---