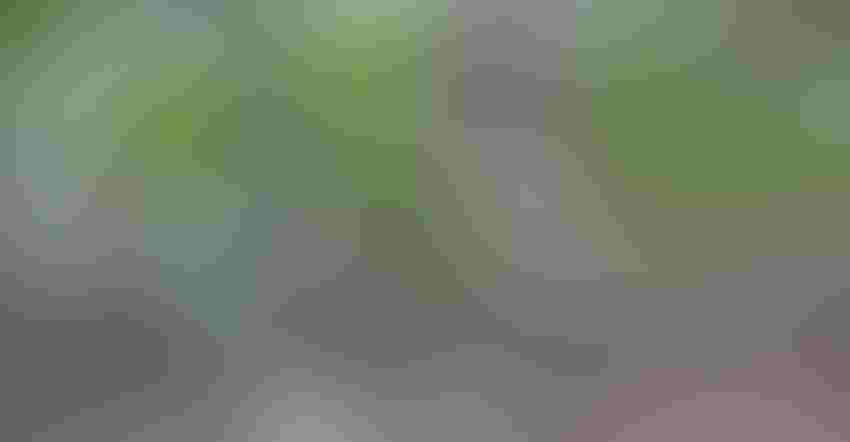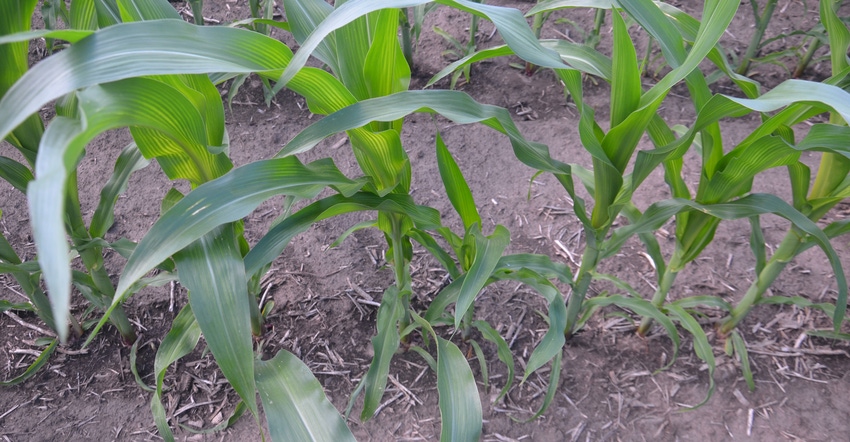 SHORT ON SULFUR: Dan Quinn got many calls this season about sulfur deficiency symptoms like this striping in young corn. The Purdue University Extension corn specialist says it's time to monitor sulfur more closely.
Tom J. Bechman
Matt Clover started a discussion about sulfur for corn with a simple question. The soil fertility specialist with Pioneer asked a virtual audience to answer "true" or "false": Sulfur is just as important as nitrogen for normal crop development.
If you said true, you're among the 85% of viewers who got it right. "That's a true statement," Clover said. "Corn needs 17 essential elements to grow and complete its life cycle."
Obviously, it doesn't need them all in the same amounts. Nevertheless, sulfur is a key part of three amino acids used to make proteins. Just because the number of pounds needed is higher doesn't mean the nutrient is more important to the crop, Clover said.
Until recently, you may not have worried about adding sulfur to corn. That's because it was free in the air, added through power plant emissions. However, stricter guidelines over the past two decades has greatly reduced the amount of sulfur emitted by power plants into the atmosphere, he explained.
When Clover asked how many growers on the program were adding sulfur for corn every year, he was encouraged that nearly 4 in 5 were doing so. However, more than 1 in 10 said they only think about it once in a while or never.
One way to know where you stand on sulfur amounts is to pull tissue samples, Clover said. What he looks at is the ratio of nitrogen-to-sulfur, hoping it's in the 10-to-1 to 12-to-1 range. If you need sulfur, ammonium sulfate (AMS) or ammonium thiosulfate are possible sources. If you apply elemental sulfur, it takes three to five years before it's in a form the plant can use.
Sulfur and soybeans
The first question Shaun Casteel asked when he addressed the virtual audience showed that he has his work cut out for him. Casteel is the Purdue University Extension soybean specialist. Less than half of the growers responding said they apply sulfur to soybeans every year. The same number said they apply it once in a while or never.
Casteel's work dating back to 2015 near La Crosse, Ind., has shown a significant response in soybeans to sulfur in many instances on sandier, lighter soils. He's talking about yield responses the first year that return a high rate on the investment. He found the best results on many of those soils by applying 20 pound per acre of sulfur using AMS or MES10, often preemergence. If sulfur is deficient, symptoms may show up as early as V2 to V4 in soybeans, he said.
If you're monitoring with tissue tests, the nitrogen-to-sulfur ratio that is acceptable is wide in beans, often around 17-to-1. But nitrogen is still important for soybeans to complete their life cycle.
What really opened Casteel's eyes was when he found a 10-to-14-bushel-per-acre response for applying sulfur on 4% organic matter soil near West Lafayette, Ind., in 2020. While more research is underway, he suspects the natural processes that unlock sulfur in the soil and supply it for plants may work more slowly early in the season.
He noted that not all fields respond, and he will continue looking at fine-tuning products and rates. However, where soils do respond to sulfur in beans, it can be significant.
Subscribe to receive top agriculture news
Be informed daily with these free e-newsletters
You May Also Like
---