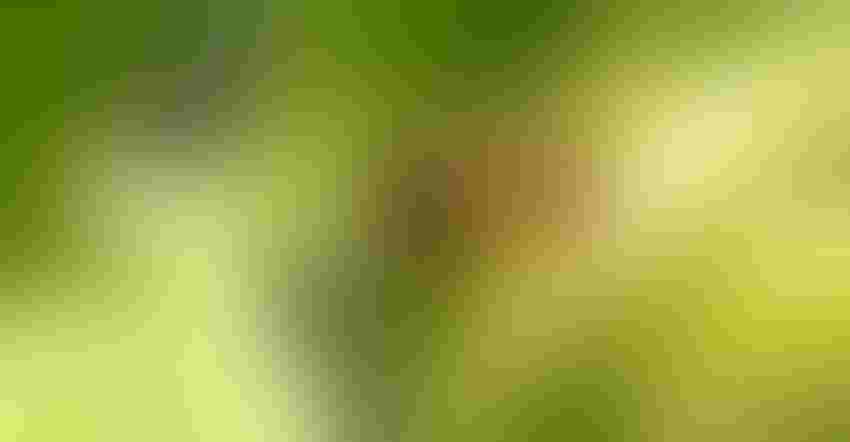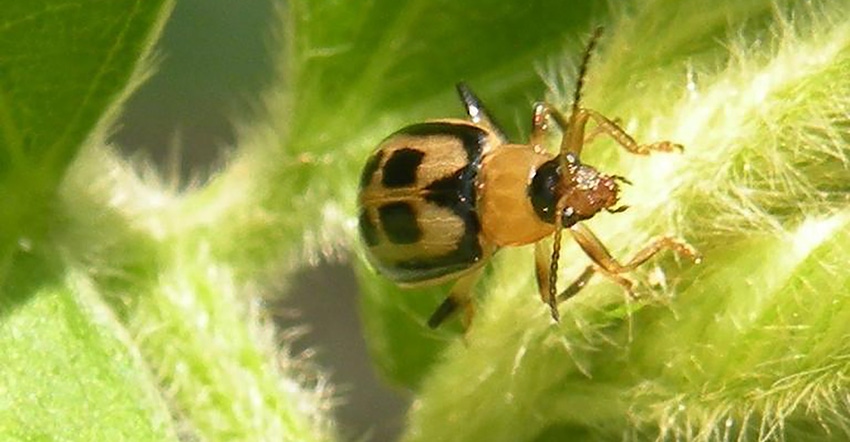 DIAMOND BACK: One key indicator of bean leaf beetles in soybean fields is the black diamond situated right behind its head.
Jessica Louque, Smithers Viscient, Bugwood.org
It's a year for viruses, and another one may be coming — this time to your soybean fields. Overwintering bean leaf beetles are showing up in early-emerging soybean plants, and they bring with them bean pod mottle virus.
Bean pod mottle is found in many soybean-producing states, but it is increasing in Missouri's neighboring states of Illinois and Iowa. It affects seed quality and causes yield losses, especially when feeding occurs on seedlings.
This year's mild, dry winter and cooler spring temperatures favor high survival rates of bean leaf beetles. These insects emerge hungry and ready to feed on leaves. It is this feeding that transmits the pathogen to young soybean plants.
However, the bean leaf beetle can feed all summer long, meaning the pod mottle virus can occur throughout the growing season. Farmers should take a yearlong approach to management.
Bean leaf beetle identification
Adult bean leaf beetles are a quarter-inch in length and vary in color, appearing yellow, orange, tan or even red. Kevin Rice, University of Missouri Extension entomologist, says there is one distinct attribute that is present no matter the bean leaf beetle body color — a black triangle behind the head.
The first sign of bean leaf beetle presence in the field is oval holes in the soybean leaves. "There are two generations per year, and right now we have the overwintering generation that is active and could be moving into early-planted soybeans," Rice explains.
Signs of the damage caused by these pests transmitting the pathogen are seen later in the growing season. Bean pod mottle virus also can cause mottling of the upper soybean leaves.

DAMAGED LEAVES: This soybean plant shows signs of bean pod mottle virus from the bean leaf beetle. It has curled up leaves that often are mistaken for herbicide drift damage.
Often, farmers misread these crinkled leaves and stunted plants as herbicide injury drift. The virus infection late in the season causes delays in soybean maturity. Typically, farmers find their plants just "stay green" through harvest.
If not detected in the field, bean pod mottle virus can show up in the combine hopper through seed discoloration. Soybean seed coats will turn light purple in color.
Let untreated, university researchers show that depending on when the plant was infected, the virus can cause reduced yields from as little as 3% to as much as 52%.
Treatment threshold
Rice says early treatment is best. In the seedling stage, "If there are more than five beetles per row-foot or one plant per row-foot destroyed," he says, "it is time to treat."
At pre-bloom, farmers should consider treatment if they find more than 10 beetles per row-foot and defoliation of 30%. Rice says to apply an insecticide when there are 10 beetles or more per row-foot and defoliation of more than 20%, or more than 15 beetles and pod damage of greater than 10% from bloom to maturity.
Rice says that while the bean leaf beetle has a lower treatment threshold than some of the other defoliating insects in soybeans, it's because this beetle transmits a virus. "So, this is one you want to be very aware of in your field, and watch the threshold and treat it you if you hit those action thresholds," he adds.
About the Author(s) Editor, Missouri Ruralist
Mindy resides on a small farm just outside of Holstein, Mo, about 80 miles southwest of St. Louis.
After graduating from the University of Missouri-Columbia with a bachelor's degree in agricultural journalism, she worked briefly at a public relations firm in Kansas City. Her husband's career led the couple north to Minnesota.
There, she reported on large-scale production of corn, soybeans, sugar beets, and dairy, as well as, biofuels for The Land. After 10 years, the couple returned to Missouri and she began covering agriculture in the Show-Me State.
"In all my 15 years of writing about agriculture, I have found some of the most progressive thinkers are farmers," she says. "They are constantly searching for ways to do more with less, improve their land and leave their legacy to the next generation."
Mindy and her husband, Stacy, together with their daughters, Elisa and Cassidy, operate Showtime Farms in southern Warren County. The family spends a great deal of time caring for and showing Dorset, Oxford and crossbred sheep.
Subscribe to receive top agriculture news
Be informed daily with these free e-newsletters
You May Also Like
---