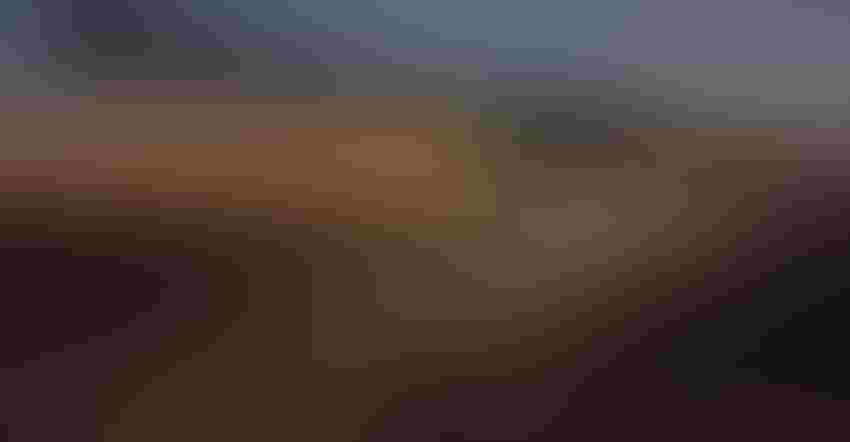 NOTIFICATION REQUIREMENT: The Washington state Legislature is pondering a bill that would require applicators to notify authorities four business days ahead of any spraying they want to do.
Photo courtesy of John Deere
Every season, farmers consider ways to produce higher-yielding crops and keep pests under control. It's a long-standing, in-field battle that requires management, knowledge — and, perhaps in the future, notification of everyone around a field. At least that's what they're considering in Washington state.
A bill currently in the state Senate, SB6529, enhances several provisions for applying pesticides of any type. The state has already had key recordkeeping requirements on the books, but this new bill goes farther. Two key areas include providing notification before an application to all neighboring parties — that would include everyone in a nearby subdivision, for example; and a requirement that all spray records be submitted to the state health department monthly.
The bill specifically notes that the "legislature finds that pesticide exposure can result in acute and chronic health problems for agricultural workers. Further, the legislature finds that drift from pesticide spray applications is a source of pesticide exposure and poses risks to community members in the vicinity of the pesticide application."
The Legislature also found that lack of communication was a contributing factor to drift exposure incidents, leading to the proposed enhanced notification requirements. If the bill passes, all applicators would be required to provide notice to the state Department of Health of an intended pesticide application four business days before the intended application. The DOH would then have to notify all nearby potentially affected parties within two hours of the application. To accomplish the notification, DOH would also have to assemble a comprehensive list of those "nearby locations," including relevant contact information, and keep it current.
Violating this provision could carry a fine up to $7,500 per violation of the notification process.
Beyond traditional recordkeeping
While farmers today use new tools to more precisely track pesticide use —including products used, fields applied and weather the day the action took place — these new notification and reporting rules go a step farther, and state agriculture groups are not happy.
During a state Senate committee hearing recently, the Washington Association of Wheat Growers and other groups representing state agriculture testified in opposition to the bill. WAWG issued a statement after the testimony explaining why it opposed the stricter pesticide application standards.
The group points out what farmers well know: Pesticide applications can only be done under certain weather conditions, including temperature, humidity, wind speed and wind direction. The group statement noted that regulations that require advance notification periods before a spray application are "extremely burdensome and could result in crop devastation due to a grower's inability to address a pest or weed problem in a timely manner."
Marci Green, WAWG president and a Fairfield, Wash., farmer, noted that "when we discover a problem in one of our fields, time is of the essence in applying crop protection products. I would hate to be required to let one or two 'good spray days' pass us by and then have wind and rain on the day I'm scheduled to spray."
During testimony before the committee, Nicole Berg, chairman of WAWG's Natural Resource Committee, and a Paterson, Wash., farmer, said today's farmers are "precision agricultural specialists" who apply nutrients and pesticides when needed, and in the smallest dose possible.
Berg shared an example during testimony: "Last year, we applied 4 ounces of pesticide per 100 gallons of water to treat a problem called stripe rust — a disease that, if not treated promptly, can quickly devastate whole fields. We aren't dumping chemicals into the air or soaking our fields in pesticides. We use very small amounts and precisely apply them to keep ourselves, our families, our workers and the public safe. These bills are unnecessary and redundant."
If passed, the measure would go into effect July 1, 2018.
A new work group
The bill also proposes creation of a "modernizing pesticide notification work group" to develop recommendations to allow for sufficient notification on neighboring property. The group would include one member and one alternate from each of the two largest caucuses in the Senate; one member and one alternate from each of the two largest caucuses in the House; one representative from each of the following departments: agriculture, health, labor and industries, natural resources, and Hispanic affairs; the superintendent of public instruction (or designee); and no more than 10 members representing the following: the ag industry, pesticide applicators, labor, environmental advocacy organizations, the Washington state parent-teacher organization, farm work advocacy organizations and child health advocacy organizations.
In addition to the work group, the measure allows for representatives from the University of Washington Latino Center for Health and the Washington State University Urban Integrated Pest Management and Pesticide Safety Education program, and other experts and technical advisers, to be invited to take part. In this advisory capacity, these folks are not part of the work group.
The work group would be tasked to develop recommendations for a pesticide drift exposure notification system.
Subscribe to receive top agriculture news
Be informed daily with these free e-newsletters
You May Also Like
---