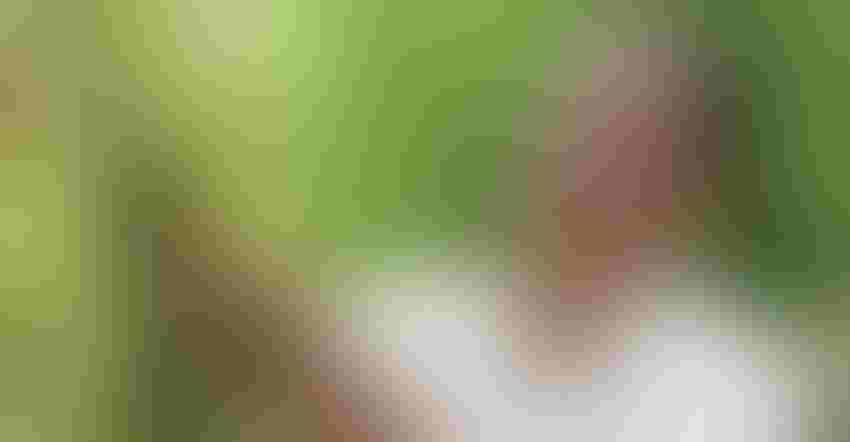 DISTINGUISHED SCHOLAR: Ohio State University plant pathologist Guo-Liang Wang was recently presented with a 2019 Distinguished Scholar Award.
Scientist Guo-Liang Wang, an international leader in rice genetics, has received Ohio State University's Distinguished Scholar Award for his contributions to global food security.
The award, which includes a $20,000 research grant and a $3,000 honorarium, recognizes exceptional scholarly accomplishments by senior professors who have compiled a substantial body of research.
Wang, a professor of plant pathology in OSU's College of Food, Agricultural, and Environmental Sciences (CFAES) since 1999, has produced pioneering insights into the resistance of crop plants to fungal and bacterial pathogens, specifically disease resistance in rice.
Rice is one of the most important crop plants on the planet, feeding half the world's population. However, rice diseases constrain stable rice production worldwide. Significantly, various pathogenic microbes cause severe yield losses in epidemic years, leading to major financial hardships and starvation in many countries.
International renown
Several disease-resistant genes that Wang's group mapped and cloned are now being widely used in Asia, Africa, and South America to develop rice cultivars that can resist devastating disease.
One nominator noted, "Dr. Wang has made and continues to make significant and fundamental contributions to understanding the molecular mechanisms of plant responses to pathogens. He has collaborated broadly to develop critical tools and techniques that are enabling major discoveries in rice genomics. He is highly valued in the scientific community as an imaginative and knowledgeable scholar, and a generous collaborator."
Cathann A. Kress, Ohio State's vice president for agricultural administration and dean of CFAES, said, "We are very proud of Dr. Wang and his scholarship. He represents our college very, very well."
Wang, 58, mainly works with the bacterium that causes bacterial blight and the fungus that causes rice blast, two of the most serious and costly rice pathogens in many regions of the world. He began studying rice blast about 30 years ago as an undergraduate student in China.
Wang has published 15 book chapters and more than 175 papers. Many of his papers are in top-tier journals, including Science, Nature, PNAS, Genetics, Cell Host & Microbe, PLoS Pathogens, Current Biology, and The Plant Cell. His articles have been cited by other researchers more than 9,500 times, an indication of his impact on his research community.
Over the past 19 years, he has obtained total funding of $50 million, with $8.5 million directly supporting his lab from the National Science Foundation, the USDA, the Rockefeller Foundation, the U.S. Department of Energy, the U.S. Agency for International Development (in collaboration with the International Rice Research Institute), the Bill & Melinda Gates Foundation, the Defense Advanced Research Projects Agency and industry.
"Dr. Wang is an energetic, productive, and highly accomplished scientist with a global reputation. He is the international go-to person for any advice or assistance with the molecular biology of host plant resistance, especially with rice," said Laurence Madden, Wang's colleague and a distinguished professor in CFAES' Department of Plant Pathology. "This global recognition has clearly raised the profile of Ohio State plant pathology throughout the U.S. and the world, helping to make our department a world leader in the study of plant-microbe interactions and in genomics of plant defenses."
Research 'home runs'
Wang has led or contributed to several research "home runs" over the course of his career, one nominator wrote. "What brings the importance of his fundamental work home is that Dr. Wang's research on, and discovery of, plant disease resistance genes has been directly translated to the field for use in protecting rice from losses due to disease."
Another nominator called him "a strong advocate for young scientists not only from his own laboratory, but from all over the world. His graduate students have won awards and obtained grant funding while enrolled. Most, if not all, have gone on to prestigious positions in the U.S. and elsewhere."
Wang received his bachelor's degree in plant genetics from Hunan Agricultural University in China; his master's degree in plant genetics and breeding from Fujian Agriculture and Forestry University, also in China; and his doctorate in plant genetics and breeding from the University of the Philippines.
His additional awards include the DuPont Young Professor Award, Outstanding Overseas Young Scientist Award of China, Syngenta Award of the American Phytopathological Society, and the Changjiang Scholar Award from the Chinese Ministry of Education. He is a fellow of the American Phytopathological Society and a fellow of the American Association for the Advancement of Science.
OSU established the Distinguished Scholar Award in 1978. Recipients are nominated by their departments. Up to six are selected annually by a committee of senior faculty, including several past recipients of the award.
Janet Weisenberger, senior associate vice president in OSU's Office of Research, noted that the award committee "was just blown away by the quality, importance and impact of Wang's work. It is a well-deserved honor."
The last CFAES researcher to win the award was Parwinder S. Grewal, a former professor of entomology, who won in 2011 for his work with nematodes. He is now head of the University of Tennessee's Department of Entomology and Plant Pathology.
Source OSU, which is solely responsible for the information provided and is wholly owned by the source. Informa Business Media and all its subsidiaries are not responsible for any of the content contained in this information asset.
Subscribe to receive top agriculture news
Be informed daily with these free e-newsletters
You May Also Like
---