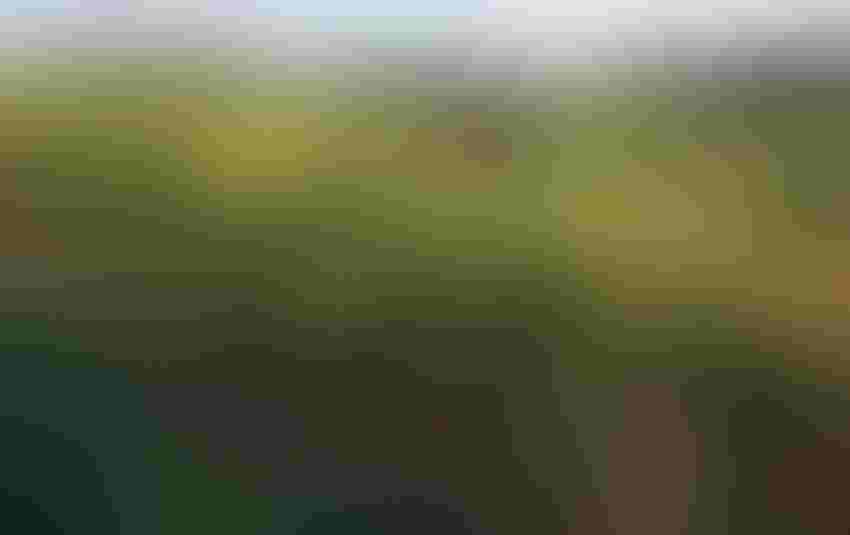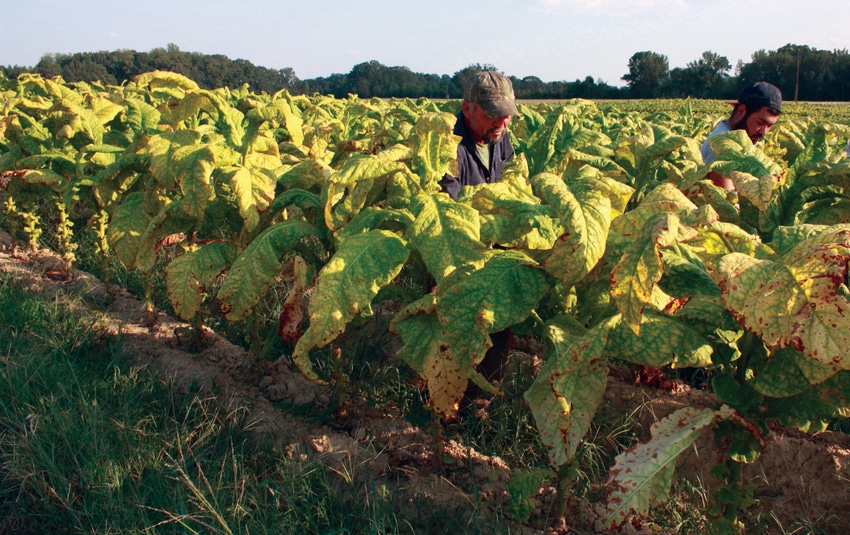 Careful hand harvest in September 2016 ensures the best quality for this flue-cured tobacco near Chase City, Va., in 2016.
Chris Bickers
Price alone should not be the prevailing factor in purchasing leaf, said Clay Strickland of Salemburg, N.C., at the annual meeting of the Tobacco Growers Association of N.C.
"Value should be the key determination," said Strickland, a flue-cured grower who is current president of TGANC. "And value should be defined by the high standards and compliance guarantees that (characterize) U.S. leaf."
But instead, there seems to be a new trend in the industry, he said. It seems to encourage "value of tobacco based on a criterion that doesn't have anything to do with leaf characteristics that describe its utility function as the key ingredient in a cigarette."
Strickland noted that some questioned why farmers have to go to expense of participating in the GAP program when our competitors doesn't appear to have to make such a commitment.
"I'm not suggesting GAP has caused an erosion of opportunity or is the reason we are experiencing lower contract volumes," said Strickland. "What is troubling is that while we endure the time and expense to prove integrity in our product, farmers who are not held to the exact same GAP standards in other global locations are enjoying increases in acres and leaf demand."
Strickland said he doesn't know if Brazil even has a GAP program. But if it does, "it can't possibly compare to the training done here in the U.S."
The 2016 flue-cured crop fell well short of potential, said Strickland. A very rough estimate of production might be 448 million pounds. Some of the limiting factors were:
The crop came off the stalk quickly;

The crop ended up light in tonnage;

The curing conditions made it difficult to produce the quality desired;

Barn space frequently was less than adequate to save this crop.
Heat earlier in the season was a major problem for many flue-cured growers. One of them, Billy Carter of Eagle Springs, N.C., said in an interview after the meeting that from June 19 until Hurricane Hermine in early August, his tobacco received less than one inch of rain.
"It was very hot too," he said. "About a quarter had been harvested before the heat set in (and was unharmed), but after that the bulk of the crop was baked. It was too far gone when the rain finally came." Both yields and quality were down.
Daniel Green, chief executive officer of the Burley Stabilization Corporation in Springfield, Tenn., attended the TGANC meeting and shared his estimate of burley production in 2016.
"At most, it reached 110 million pounds," he said. "I have done some research, and I can't find any record of a burley crop this small since 1919, which is as far back as I could find data."
Despite the poor yield, Green said it is a very useable crop. It was thin. "With all the water we had, it grew very quickly," Green says.
Steve Pratt, general manager of the Burley Tobacco Growers Cooperative Association in Lexington, Ky., also attended, and said that the first tobacco his cooperative processed was useable leaf.
"It doesn't look bad," he says. "The quality appears in the average range."
At an earlier meeting in Kentucky, agricultural economist Will Snell of the University of Kentucky said, "Tobacco receipts (in Kentucky in 2016) slumped to their lowest post-buyout level, due primarily to unfavorable weather and curing conditions.
"A combination of much lower yields and a very poor quality crop will likely cause the Kentucky value of tobacco production to fall below $300 million in 2016."
For U.S. flue-cured, two factors could affect the near-term outlook, said North Carolina State University Agricultural Economist Blake Brown. "Developing countries have smokers that are making enough money now to smoke a better quality cigarette.
"That means manufacturers in these countries want to buy some US tobacco, or in some cases Brazilian tobacco; (whatever the source) they want to buy some good quality tobacco to go into that blend. 
"That is a positive thing for farmers. But I don't know whether it will offset the declines for domestic use by U.S. manufacturers. That's a big area of concern."
The other factor is the new category of heat-not-burn products, which show considerable promise in the smoking market.
The new governor of North Carolina attended the meeting, noting it was one of his first such appearances since his inauguration. As is customary for Tar Heel governors, he pledged his complete support for tobacco and made sure that everyone knew he had grown up on a tobacco farm near Rocky Mount, N.C.
"As a kid, I 'cropped' and 'primed' tobacco on my family's farm," he said. "It was hard work that gave me a profound appreciation for agriculture and the people who are called to do it."
About the Author(s)
Subscribe to receive top agriculture news
Be informed daily with these free e-newsletters
You May Also Like
---