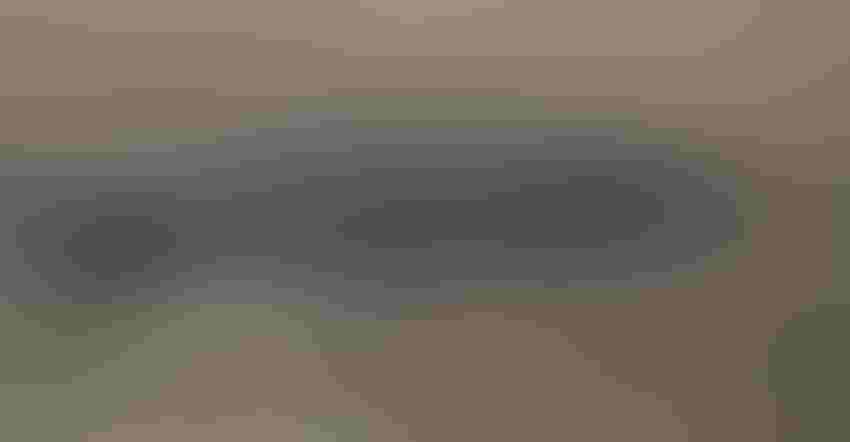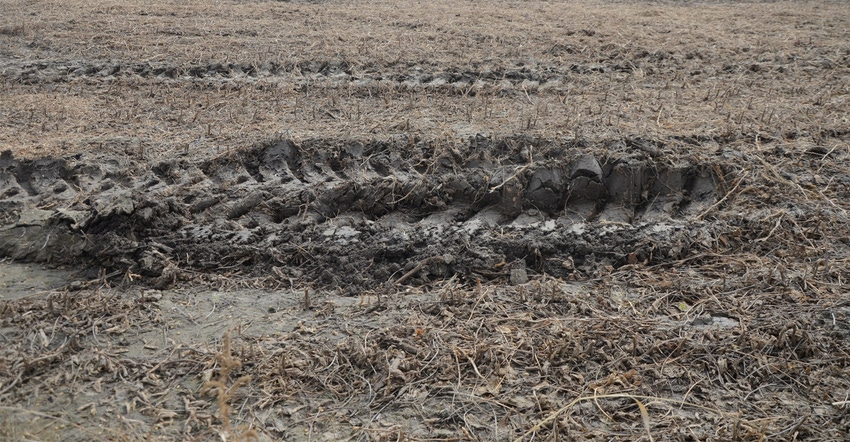 WHAT NOW? In spring, reduce damage by smoothing over the area where compaction occurred during harvest and by planting cover crops.
With this fall's wet weather, many were kept out of fields until mid-October. However, with brief breaks in the weather, it was tempting to get back into fields to finish harvest. So, there were a few cases of compaction in Nebraska fields this fall, leaving ruts, and potentially causing problems when planters hit the fields next spring. And that compaction isn't a problem that goes away anytime soon.
"If they're leaving a rut with the combine or grain cart in the field, that's compaction they're not going to be able to get rid of until a year from now," says Paul Jasa, Nebraska Extension engineer. "If it's localized to certain areas of the field, maybe they can go out when it's dry next spring to plant across it. But those ruts are still going to be there."
There are, however, things growers can do to minimize compaction during harvest.
"I tell producers to keep the grain cart on its heel. It's a heavy axle; that's what causes compaction," Jasa says. "If we have the grain cart in the field, keep it half full. If we have less load in the cart, the less damage it's going to do. About 80% of the damage is done on the first pass. So when the combine is out there, have the grain cart follow the same track the combine made."
When it comes to the combine, grain tank extensions can also add more weight to the machine, resulting in more compaction. That's because all of the weight of the combine is centered on one axle.
"When we extend the grain tank, the tire isn't big enough to spread that load out. The only way you can get a load to spread out is to have lower inflation," Jasa says. "However, when you get a heavy axle load, you can't have a low inflation pressure, because then your tires get damaged. I would recommend reducing the grain tank load."
Considerations for next year
While it's too late to make an investment in tracks for this year's harvest, Jasa notes tracks provide more axles to spread out the load. However, this typically comes with an added cost of about $20,000 to the combine or to the grain cart. So, Jasa recommends growers consider the benefit in their situation. If farming poorly drained river-bottom soils, tracks would likely be a good investment.
"We need to think about that with our combines and grain carts as well," Jasa says. "A combine tire is one point touching the ground. With the track, you've added two axles, and sometimes there's a roller in between, so you've got three axles. So you're spreading out the load. It's the point load under that initial point of contact that we're worried about."
So, how do you mitigate damage from compaction or reduce its impact on next year's crop? The first step is to stay out of wet fields and causing more compaction. This includes not smoothing in fields when they are wet.
"When it comes to smoothing it in, it depends on how bad the damage was. If it's just every 12 rows from somebody's big combine, there's no reason to disk all 12 rows if it's only two-wheel tracks," Jasa says. "The odds are with a combine that big, ruts are confined to a two-row minimum. There's no sense going out with a 30-foot disk and disking all 12 rows."
"I know some growers that have pivot track fillers. It's more time-consuming, but they can use it to fill in combine and grain cart tracks, too. It's not the entire length of the field, but it might just be the lower end of the field," Jasa adds. "It's hard to tell what next spring will be like in terms of rain, but the soil should be dry with the track filler."
While it's too late to get any benefit from cover crops this fall, Jasa notes seeding in late winter or early spring can help repair compaction, depending on the species planted. Certain covers planted at this time can provide adequate cover to protect from erosion from spring rains, and repair ruts.
"Some people like a tap-rooted type crop. When it comes to radishes and turnips, the cover crop everyone talks about, they will put down a taproot, but it will be small in diameter. They only get those bigger taproots when soil temperatures are cooling down," Jasa says.
"For an early-spring planted cover crop, oats and some in the mustard family like spring canola would work well. Those mustards are easy to germinate and can withstand some fairly cold temperatures," he says. "You can almost frost-seed them, and that taproot in the mustard plant will go down and protect that soil quickly."
About the Author(s) Tyler Harris is the editor for Wallaces Farmer. He started at Farm Progress as a field editor, covering Missouri, Kansas and Iowa. Before joining Farm Progress, Tyler got his feet wet covering agriculture and rural issues while attending the University of Iowa, taking any chance he could to get outside the city limits and get on to the farm. This included working for Kalona News, south of Iowa City in the town of Kalona, followed by an internship at Wallaces Farmer in Des Moines after graduation.
Coming from a farm family in southwest Iowa, Tyler is largely interested in how issues impact people at the producer level. True to the reason he started reporting, he loves getting out of town and meeting with producers on the farm, which also gives him a firsthand look at how agriculture and urban interact.
Subscribe to receive top agriculture news
Be informed daily with these free e-newsletters
You May Also Like
---