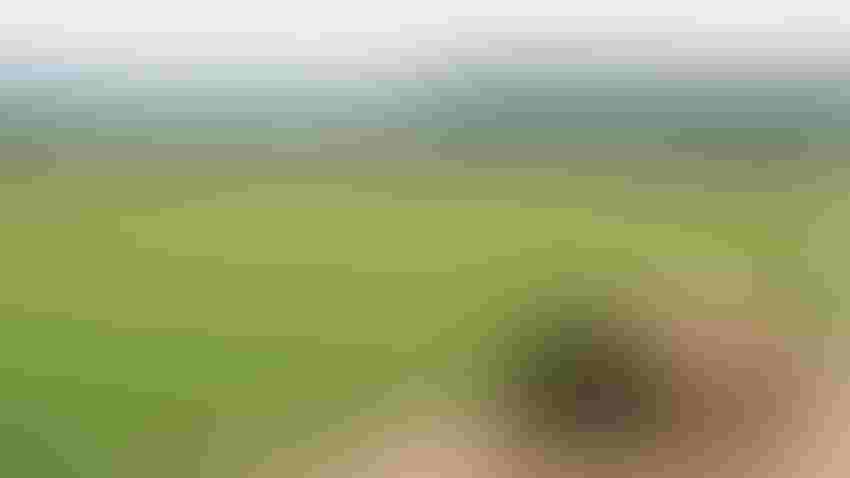 State Farm Stadium in Glendale, Arizona, recently installed Tahoma 31 bermudagrass on its field. Scientists at Oklahoma State University developed the grass, which is known for its drought resistance and cold hardiness. Super Bowl LVII will be played at the stadium on Sunday.
Todd Johnson, OSU
When the Kansas City Chiefs and the Philadelphia Eagles take the field Sunday in Super Bowl LVII, it will be on 1 million pounds of Oklahoma State University's (OSU) Tahoma 31 turfgrass, the same turfgrass that blankets the Chiefs and Eagle's home stadium fields, according to a USDA release.
The variety, developed by OSU researchers, is also used at other sports venues such as Dodger Stadium and Churchill Downs and for lawns including the U.S. Capitol Lawn in Washington, D.C. 
"Creating a good turf can create a good environment for the safety of athletic players," said Yanqi Wu, OSU plant and soil sciences professor and breeder in an OSU release. "Because the players run very quickly, there is a lot of traction on the turf, so the turf needs to be very solid and dense. When players step on it, there needs to be no slipping and no divots. Tahoma 31 has a very good root system, so it holds its surface very well."
Tahoma 31 is also used for athletic fields because of its fine texture, darker color, high density, cold hardiness, and drought and shade tolerance. These features make the bermudagrass variety adaptable to many locations from the East Coast to the West Coast.
"It interested a few key leaders in the industry over several years, and golf course superintendents and football field managers communicate; they try products and get a feel for them, then they build trust," said Dennis Martin, OSU Extension and research turfgrass specialist. "Once a high visibility, top-notch stadium that gets a lot of traffic has success with something, things can spread like wildfire. That's what we've seen with Tahoma 31. The grass is performing, and as long as it continues to perform, I think we'll continue to see it in those facilities."
Turfgrass is used on more than 700,000 athletic fields across the nation, according to the National Turfgrass Federation. The turfgrass industry contributes more than $40 billion per year to the U.S. economy, according to USDA's Economic Research Service.
Research funding
OSU researchers created Tahoma 31 with support from USDA's National Institute of Food and Agriculture.
"This is a great example of how the availability of long-term funding allows advances that truly make a difference," said Tom Bewick, national program leader who oversees NIFA's Specialty Crop Research Initiative (SCRI) grant program. The OSU turfgrass research team has collaborated on three multi-institute SCRI grants totaling more than $16 million in support of the development of turfgrass. 
Read More: https://www.nifa.usda.gov/about-nifa/blogs/osu-going-super-bowl-lvii-support-nifa
Subscribe to receive top agriculture news
Be informed daily with these free e-newsletters
You May Also Like
---