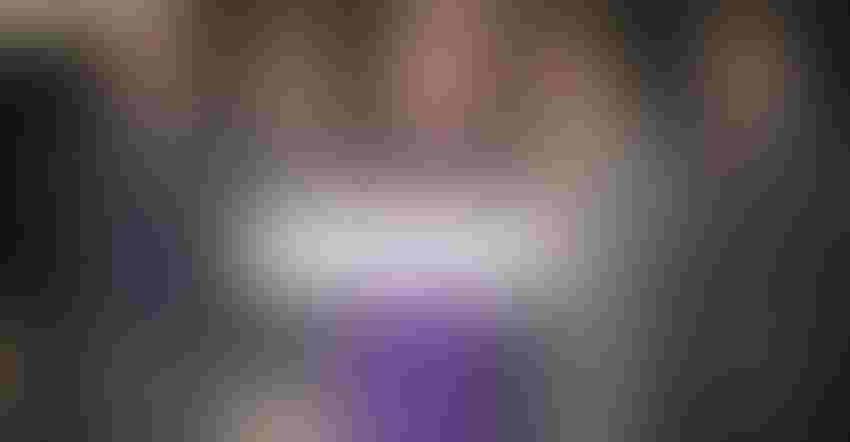 The American Sugar Cane League presented the LSU AgCenter with a check for an endowed chair in sugar production at the Louisiana Division of the American Society of Sugar Cane Technologists. Pictured are Rogers Leonard, AgCenter associate vice president; Jim Simon, general manager of the American Sugar Cane League; Lindsey Fussell, AgCenter senior director of development; Bill Richardson, LSU vice president for agriculture, and Charlie Schudmak, president of the American Sugar Cane League.
Tobie Blanchard/LSU AgCenter
On the heels of a highly successful sugarcane harvest, LSU AgCenter experts provided their insight at the annual meeting of the Louisiana Division of the American Society of Sugar Cane Technologists recently (Feb. 5-7).
At the meeting, held in conjunction with the American Sugar Cane League, farmers and sugar mill operators gathered to discuss new techniques and strategies for growing cane and producing sugar.
Al Orgeron, LSU AgCenter pest management specialist, said the tricyclopyr herbicide, Trycera, works well on Merril's nightshade, resulting in higher sugarcane stalk weights, increased plant populations and a positive effect on sugar per acre.
It is applied between Oct. 1 and May 31 because of drift considerations.
He said the herbicide Armezon provides good bermudagrass control but it must be used with a crop oil and a nitrogen fertilizer. Even better control can be obtained when it is mixed with a triclopyr herbicide, he said.
Anna Hale of the U.S. Department of Agriculture said the public sugarcane breeding program is developing varieties with cold tolerance and resistance to brown rust and mosaic disease. Her program focuses on developing parents useful for the commercial breeding programs.
Record production
She said the breeding program has resulted in record sugar production from such varieties as LCP 85-384, which took 30 years to develop from crosses and backcrosses.
"Continuing this program is key," she said. "If you stop, it's going to take 10 years to catch up."
Kenneth Gravois, LSU AgCenter sugarcane specialist, said weather is the biggest determinant of a cane crop. He cited his undergraduate student weather study that correlated rainfall and temperatures to sugarcane production.
From an analysis of 59 years of Louisiana weather and statewide sugar yields, Gravois concluded that low rainfall in April results in better cane yields because of increased tillering. He said a warm, wet August is usually followed by higher total sugar per acre. "If you struggle to plant cane, you're going to make a better crop."
Herman Waguespack, American Sugar Cane League agronomist, said work continues on perfecting a planting machine. A planter is needed to reduce labor costs, he said. Most prototypes now cause damage to seed cane, he said.
Jeff Hoy, LSU AgCenter plant pathologist, said using the insecticide Platinum and the fungicide Quadris combined in a seed-cane treatment has been shown to increase yields. No label for either product as a seed treatment has been obtained, he said, adding billet planting of longer stalks seems to hold an advantage. "We've seen better performance with larger billets, and higher quality."
Bill Richardson, LSU vice president for Agriculture, thanked the American Sugar Cane League for its support of the LSU AgCenter and its research. The league recently endowed an LSU AgCenter chair in sugar production. 
Subscribe to receive top agriculture news
Be informed daily with these free e-newsletters
You May Also Like
---