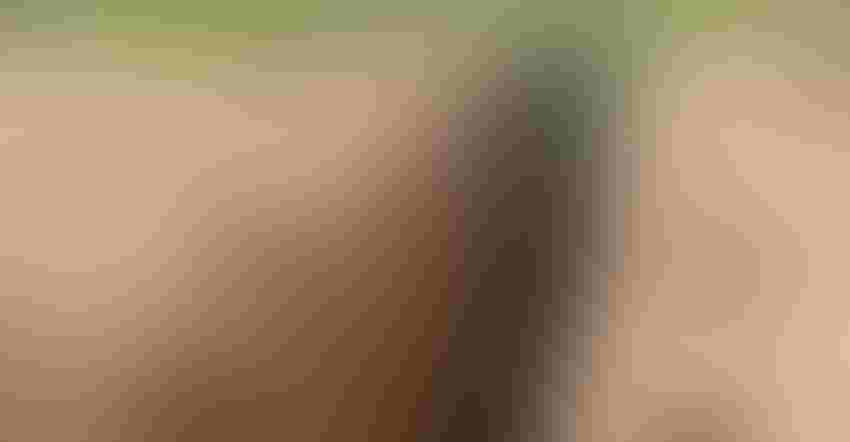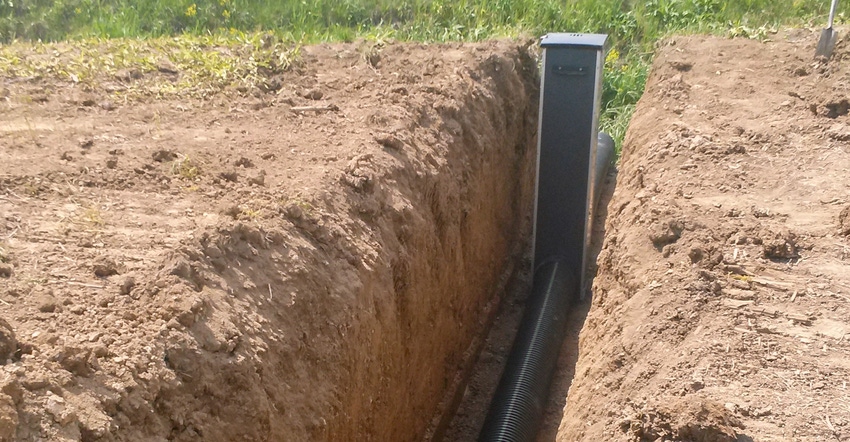 UNDERGROUND ASSETS: JMJ Bulldozing installed this drainage-control structure to allow the farmer to adjust the drainage level for the tile system.
Photos courtesy of JMJ Bulldozing
Without agricultural drainage practices, much of Ohio's most productive farmland would be difficult, if not impossible, to farm. Even so, draining fields year-round can remove water that crops need and send nutrients downstream, where they impair water quality.
That's why drainage water management was selected as one of 10 best practices targeted for funding through the H2Ohio water quality initiative. Although the Ohio Department of Agriculture is reevaluating funding levels for H2Ohio due to the COVID-19 crisis, controlled drainage remains a valuable tool for improving water quality and enhancing crop production.
Drainage practices are used on about two-thirds of the cropland across the state, and subsurface drainage is particularly common in the northwestern part of Ohio, where the first round of H2Ohio funding is being allocated.
Related: Complete coronavirus coverage
Steve Gerten, who farms and runs Inbody Drainage near Leipsic, estimates he's previously installed 60 to 70 water-control structures, about half in existing subsurface tile systems and the rest with new systems. Some of the landowners received cost-share funding through the Natural Resources Conservation Service Environmental Quality Incentive Program or other programs, but other farmers made the investment on their own. "They saw the benefits, so they took it upon themselves to put them in," Gerten says.
TAKING CONTROL: A series of stop boards within the water-control structure allows operators to raise the drainage level on the upstream side of the structure.
How it works
A control structure allows a farmer to hold water back in tile lines, raising the water table in the field to the level set with stop boards within the structure. Typically, farmers remove or lift the stop boards before planting to let water drain away freely. Then after spring fieldwork is done, they can set the boards to hold more water in the soil, which also keeps more nutrients and moisture accessible to crops. For harvest, the stops can be opened again to allow fields to dry. Then, over the winter, the stops can be set to hold back water. "Holding back water during the nongrowing season holds back some of the nutrients in the soil profile," Gerten explains.
Livestock farmers also use the systems to restrict tile outlets when manure is applied to prevent manure nutrient loss through tile lines, he adds. "It alleviates any potential problems with the manure application."
How much a control structure will reduce water discharge and nutrient loss varies, depending on soil properties and topography as well as management. However, studies done in Ohio have shown that controlling drainage water during the nongrowing season can reduce water discharge by 20% to 40% per year. Nitrogen loads can be cut by as much as 22 pounds per acre, and dissolved phosphorus loads can be cut 0.4 pound per acre.
Suitable sites
Kyle Cohrs, who operates Cohrs Drainage based in Napoleon, estimates his family's company has installed more than 200 of the structures. They are most suited for level fields without much slope, he explains. How much land one structure can control depends on the tile layout and the terrain. He's installed some that handle 80 acres, while others might handle only 10 or 20.
Once the structures are installed, they hold up well, Cohrs adds. Structures his dad installed 20 to 25 years ago are still in good working order. They don't require much upkeep other than lubricating rubber seals, he notes. "They're pretty maintenance-free."
The structures work best on level fields with little slope, explains Steve Casey of JMJ Bulldozing. His company operates mostly in Wood County and northern Hancock County. "Our topography is very flat, so they fit in here," he says.
Gerten cautions farmers against completely removing stop boards from the structures, rather than just raising them. The seals on the boards can be damaged more easily when they're removed and moved around for storage, he explains.
Jim Carter, district administrator with the Wood Soil and Water Conservation District, has several installed on land he farms himself, and he has also worked with other farmers who have them. He advises marking structures well, even if you think you'll remember where they are: Other family members, employees or new farm operators will need to be able to find them as well. He's known of a few instances where structures were damaged because someone ran over them. "I have protective posts around all mine," he notes.
Some farmers may be concerned that restricting tile flow with a control structure might damage tile systems, especially older clay tile. However, Gerten says he's seen no evidence of damage from any of the structures they've installed. The joints between clay tiles tend to shift when soil expands and contracts as moisture levels change. "That can happen regardless of whether you use control structures or not," he points out. Holding water in the soil profile for longer periods over the winter might actually reduce that movement, because there is less change in soil moisture around the tile.
Accessibility
The water-control structures do require consistent management to adjust the water levels in the fields throughout the year, Carter stresses. "Management is a key issue on them," he says. If they're not set to bring the water table up after harvest, they won't help retain nutrients in the field. Farmers can also have crop damage due to excessive water if the structures aren't managed during the growing season.
If a structure is installed in a remote spot far from the road, management throughout the season gets more complicated. Gerten is currently testing an automated system that can be controlled using a cellphone app. "You have remote ability to raise and lower it," he explains. The system uses a solar panel to power an actuator to raise and lower the boards in the control structure. He's working with the NRCS to install the automated system on his own farm so he can test the automation.
Keck writes from Raymond, Ohio.
About the Author(s)
Subscribe to receive top agriculture news
Be informed daily with these free e-newsletters
You May Also Like
---