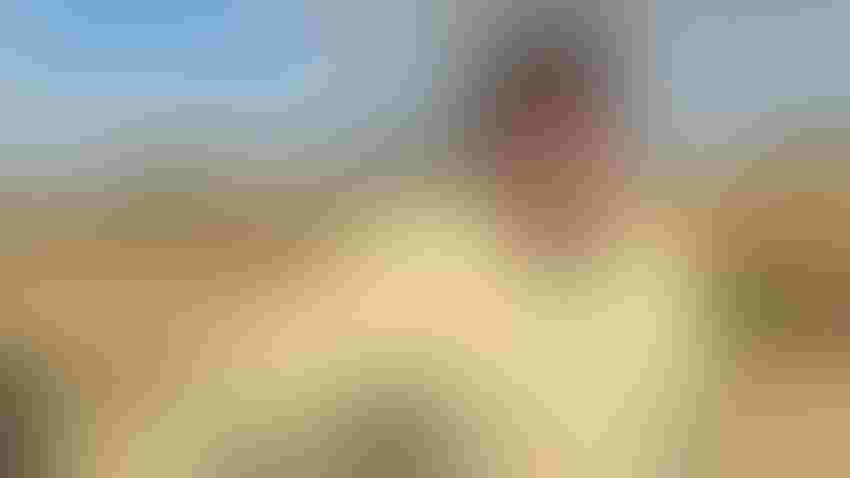 CORN FUTURE: Harold Wolle of Madelia, Minn., enjoys advocating for corn farmers. Even with the dysfunction in Washington, D.C., he says it's a wonderful time to be in a position to advocate because of the many important issues that face the nation's corn growers.
Kevin Schulz
As a farmer, Harold Wolle works in the current, the here and now. He also realizes that he needs to have an eye on the future, both for his farm and for his industry.
Wolle of Madelia, Minn., became president of the National Corn Growers Association in early October, and he adopted a theme of "Shaping the Future" for his one-year term. Wolle replaces fellow-Minnesotan Tom Haag from Eden Valley, who now becomes chairman of the Corn Board of the NCGA.
Wolle's son Matt has taken over the farm near St. James, Minn., in Watonwan County, which consists of 1,800 acres of corn and soybeans and 200 acres enrolled in the Conservation Reserve Program.
When he puts on his NCGA hat, Wolle's thoughts turn to the farm bill.
"It's still hopeful that we can get a farm bill across the finish line by the end of the year, and that we don't have to do an extension," he says.
Whenever the farm bill is completed, Wolle says improvements could be made to producer safety net portion, specifically the Price Loss Coverage and Agriculture Risk Coverage programs. Also voted on at the last NCGA convention — Corn Congress — was to request a mandatory base acre update, so that when cropping systems change to growing different crops, that those farms be eligible for the safety net provided by Title 1 of the farm bill.
Trade, growing corn demand
Another immediate concern for Wolle and corn growers across the nation is growing corn demand, with the estimated carryout of more than 2 billion bushels at the end of this marketing year.
U.S. livestock and ethanol industries are two of the three major consumers of American corn, and "we are so blessed in this country that we can grow more corn than we consume domestically. So, trade becomes very, very important," he says. Topping the trade issue list is Mexico's ban on importing genetically modified corn.
"Of course, we think that that's illegal under the terms of the U.S.-Canada-Mexico Agreement," he says, adding that Mexico is an important trading partner "for a couple of reasons. … our transportation system is set up. We've got rail lines that go deep into Mexico, and the Mexican consumers, the livestock feeders, they want our corn, and they realize that our corn is a very safe product for them." The U.S. Trade Representative's Office has been urged to start a dispute settlement panel for issue resolution.
Another side of trade goes back to the farm bill, specifically programs under the Foreign Ag Service — Foreign Market Development Program and the Market Access Program — which both provide funds to organizations such as the U.S. Grains Council, the U.S. Soybean Export Council and the U.S. Meat Export Federation.
Those funds have not increased throughout the life of several previous farm bills, Wolle says, and the NCGA is asking that the farm bill include a doubling of funding for MAP and FMD. "On a percentage basis, it's large, but total dollar is minuscule compared to what we spend on the federal budget."
Ethanol policy
You can't talk corn without talking ethanol, and Wolle points to several issues — the first being to allow year-round sales of E15, which former President Donald Trump decreed to allow that to happen. That ruling was challenged and reversed in the courts. Wolle says the NCGA is pushing to change the law in order to accommodate that.
"It revolves around the evaporative qualities of gasoline," he says. Reid vapor pressure is a measure of the volatility of gasoline and other petroleum products, and the original Clean Air Act had a 1-pound Reid pressure waiver for 10% ethanol, "and 15% ethanol actually is less volatile than 10% ethanol," Wolle says. "So, logic would dictate that if E10 is eligible for a 1-pound waiver, E15 should be as well. Well, the courts ruled that was not the case."
E15 is being allowed to be sold year-round thanks to a presidential-Environmental Protection Agency waiver aimed to reduce gasoline prices at a time of market supply uncertainty due to the Russia-Ukraine war.
Wolle says every trip corn growers take to the nation's capital is spent seeking co-sponsors to back the Next Generation Fuels Act that would "pave the way for higher blends of ethanol in our nation's fuel supply. … It will allow the engine manufacturers for our vehicles to design and manufacture engines that are specifically designed to use the higher octane in higher blends of ethanol."
As some factions continue the push for electric vehicles, Wolle doesn't deny that they will be a part of the decarbonization of the nation's transportation system, but he stresses that ethanol has a place at the table. "Numerous studies show that ethanol has 46% to 50% better greenhouse gas score than straight gasoline," he says. "If we want to start to decarbonize the transportation industry right now, the quickest, easiest way is through higher blends of ethanol."
Next up for ethanol is what the NCGA calls "ethanol to jet," establishing sustainable aviation fuel from ethanol. "There's a few hurdles we have to cross before that becomes feasible," he says, adding that some of that feasibility comes from corn farmers themselves becoming more cognizant of their ability to sequester carbon on the farm "so that corn gets a lower carbon index score that's fed into ethanol plants. … the whole objective is to lower the carbon index of this sustainable aviation fuel."
Subscribe to receive top agriculture news
Be informed daily with these free e-newsletters
You May Also Like
---