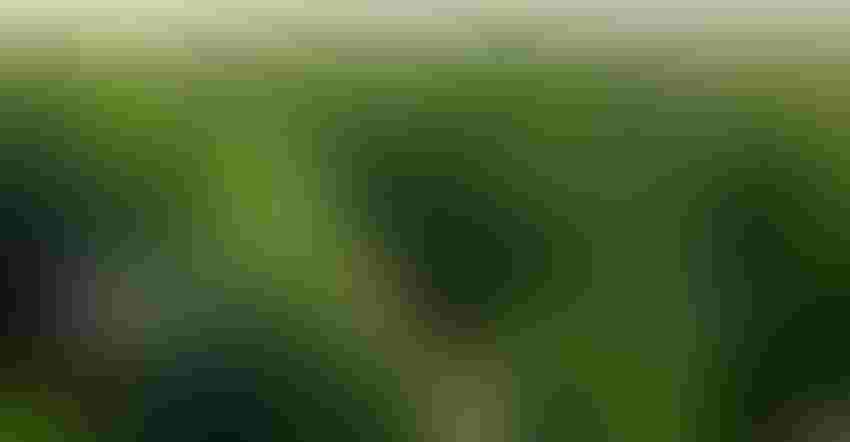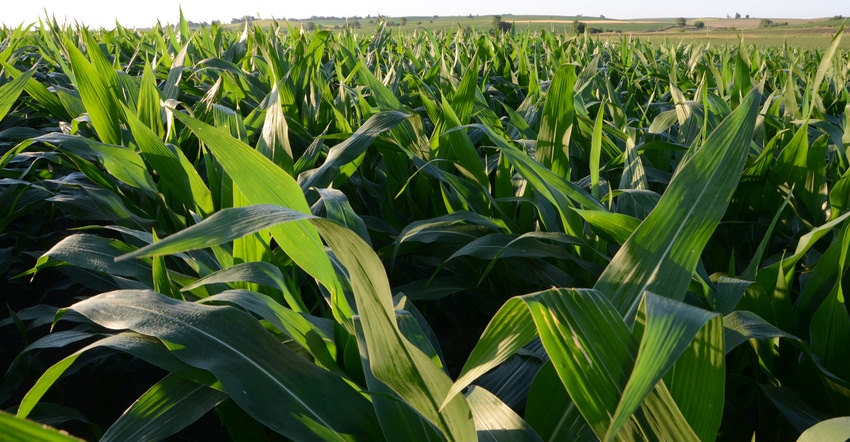 MAXIMIZING NITROGEN: Source from Sound Agriculture takes a new approach to help boost nitrogen to a corn crop. By helping corn send a signal to available microbes, the plant has access to more available nitrogen.
Willie Vogt
What was once a kind of holy grail in the world of corn is becoming more real. It's the idea of creating a system that allows corn to fix its own nitrogen. During Commodity Classic, Farm Progress connected with Sound Agriculture, a California startup with some interesting numbers to share for its Source product.
Unlike some approaches, Source is not a biological. "It's actually small-molecule chemistry," says Eric Davidson, CEO and co-founder, Sound Agriculture. "It mimics a plant signal to microbes in the soil that encourages an association and nutrient production."
Davidson explains that the molecule was built around the natural process of mycorrhizal action that's used by soybeans to fix nitrogen. Taking that action and turning it into an applied chemical product is essentially the "magic" of the product.
Benefits of chemistry
Taking the chemical route offers some interesting advantages, according to Davidson. With this approach, farmers know that the results will be consistent, which has been a challenge for biological products (though that's being worked out).
"What we're seeing is that we get a yield increase, and it also offsets the potential nitrogen loss from weather events," Davidson says.
The product can also offset a portion of the nitrogen needed for the crop. "So, in university trials, we've seen anything from 25 to 100 pounds offset [with Source]," Davidson says.
Another feature of Source that separates it in the market is that it's a foliar spray that's compatible with existing crop protection products that go on in a post-application. He explains that the application timing is anywhere from emergence to VT, so this could be a companion application with a later-season fungicide that might give that plant a nitrogen boost during tassel and grain fill.
Getting to a new idea
Davidson explains that he and co-founder Travis Bayer have a scientific background and have always been interested in how plants interact with the environment. They've been exploring work on water availability and drought, and that also led them into the nitrogen space. "We were really thinking about how plants communicate with their environment and receive communication from the environment," Davidson says. "That got us interested in a lot of compounds that plants naturally produced in the root zone and sort of signaled to the microbes."
Turns out corn sends no signals about nitrogen needs to the soil microbes — and, of course, corn is a "nitrogen-negative" crop. With Source, the corn is giving that signal, which makes available nitrogen accessible to the root; and the same signal also enhances phosphate solubilization.
Field results
Of course, the proof of new technology is in the field, and Sound Agriculture has announced its results of three years of field trials with the Source product. The result? The product provides an 8.6-bushel-per-acre advantage with an 85% win rate in trials.
These are results from trials conducted over three years — 2017 to 2019 — as far east as Ohio and as far west as Nebraska. The diversity of the trials offered Sound Agriculture a dataset that provides confidence in the consistency of the product's performance. And the company is claiming a three- to fivefold return.
Cost of the product is $11 per acre, and it can be applied with other crop protection products. In addition to boosting yield, you're peeling off 25 pounds of N or more, which is part of the company's math when calculating total return.
Travis Bayer, co-founder, notes that farmers appreciate a key aspect of a product — consistency. "The last thing farmers like is inconsistent performance. Chemistry is consistent."
You can learn more about the product at sound-ag.com.
About the Author(s)
Subscribe to receive top agriculture news
Be informed daily with these free e-newsletters
You May Also Like
---