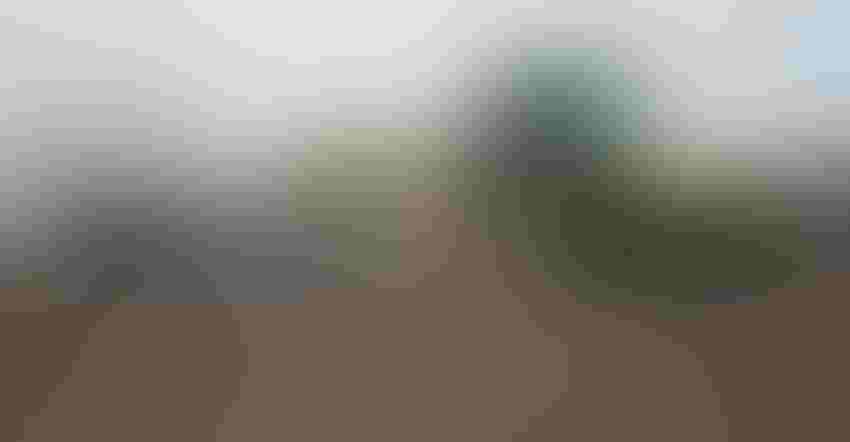 OFF AND RUNNING: Jimmy Frederick plants corn on river bottom ground in spring 2018. Over the past five years, he's been applying biologicals on his soils, and in the past couple of years, he has been working on reducing his nitrogen rates on corn.
Jimmy Frederick of Rulo, Neb., is known for his accolades in reaching high soybean yields. Frederick set the national record for soybean yield in 2018 when he harvested 138-bushel soybeans — with populations less than 100,000 plants per acre in a rainfed environment.
However, he's also been pushing the limits on his corn yields, and lately, he's set his sights on 250 to 300 bushels per acre — while trimming back his nitrogen fertilizer applications.
At the foundation of Frederick's nitrogen program is the biologic activity of the soil, and that comes from applications of biologicals, he says.
This will be the third year he's cutting back on applied nitrogen, but he notes, "I feel my soils are just now starting to get to a point to where I'm becoming less dependent on synthetic forms of N."
"I'd like to get down to 60 to 70 pounds of applied N for 250- to 300-bushel corn," Frederick says. "The soil is so interesting. It kind of reacts like a drug addict when you take the drugs away. You wean it off, and it learns to work without it. That's what we've been going for for several years now."

BIOLOGICALLY ACTIVE: Frederick prepares different Biovante biological products to apply at planting in 2018. He's applying different species of biologicals at different times of the year and hopes this, along with monitoring soil nitrogen and split-applications, will help cut back on applied N.
For five years, Frederick has applied certain species of biologicals in spring and fall — typically through a high-clearance machine, but also with liquid nitrogen on the planter. This includes Biovante's BioRed, which includes several species of aerobic, anaerobic and nitrogen-fixing microbes. Frederick says this has helped his soil retain more nitrogen and make it more available to the crop throughout the year.
"It's been only recently that I've really focused on specific soil tests to help quantify the soil's transition and activity," he says. "Obviously, soil types vary so much, even within the same field, that trying to get consistency of nutrient availability can be a struggle. But I truly feel that the balance is happening for me because of the biological conditions of my soils."
Frederick also emphasizes the importance of understanding and monitoring the relationship between carbon and nitrogen as he adds living microorganisms to the soil.

FOCUS ON PLACEMENT: Moving into 2019, Frederick also is focusing on N application timing, rate and placement. For the past several years, he's used 360 Bandits from 360 Yield Center, to apply nitrogen just below the soil surface to prevent volatilization and close to the plant root zone.
Moving into 2019, Frederick also is focusing on N application timing, rate and placement.
"Placement is a big factor when trying to be efficient with N," he says. "Being a mobile nutrient, it's important that it moves into the plant and isn't lost to leaching or denitrification. It's important to be able to get nitrogen close to the new root growth and stay in partnership with the plant as it's growing."
He's using 360 Yield Center's Bandits mounted on his row units to apply nitrogen in the right location, close to the plant's new root growth.
"As the roots develop, the band of nitrogen, along with any other nutrients I'm applying, are within close proximity to help the plant grow," Frederick says. "I don't want to overstimulate the plant too much with nitrogen at the beginning, but usually in my lighter, wet ground, I'm stabilizing the N with a fulvic acid like Assist from Biovante or a nitrogen stabilizer called Nitrocon, also from Biovante. For my heavy ground, N placement seems to benefit from the 360 Bandits."
He's also using 360 Y-Drops to make two in-season nitrogen applications close to the root zone and using a Soil Scan 360 at least once every other week to monitor soil N levels.

CUTTING BACK: While he's only recently started to cut back on his applied nitrogen, Frederick hopes to ultimately cut his nitrogen rates back to 50 to 60 pounds per acre — while raising 250-plus bushel corn.
As he builds his soil biology, Frederick says he is rethinking his nitrogen applications.
"It makes me think maybe I'm working too hard when it comes to nitrogen applications," he says. "Am I trying to force the plant to take something that it doesn't need? Are my applications out of luxury and my ability to apply, or out of necessity to the plant?"
"I can't start to see higher yields until I'm able to understand rhythms or patterns regarding nutrient uptake that my plant needs based on my soils," he adds. "Are these rhythms and patterns the same for every grower? The short answer is 'no,' but you've got to find out why. Yes, there are some similarities for everyone, but when it comes to nutrient efficiency across the board and knowing how your soils are going to meet those nutrient needs, it's a must to understand how my soil is functioning."
About the Author(s) Tyler Harris is the editor for Wallaces Farmer. He started at Farm Progress as a field editor, covering Missouri, Kansas and Iowa. Before joining Farm Progress, Tyler got his feet wet covering agriculture and rural issues while attending the University of Iowa, taking any chance he could to get outside the city limits and get on to the farm. This included working for Kalona News, south of Iowa City in the town of Kalona, followed by an internship at Wallaces Farmer in Des Moines after graduation.
Coming from a farm family in southwest Iowa, Tyler is largely interested in how issues impact people at the producer level. True to the reason he started reporting, he loves getting out of town and meeting with producers on the farm, which also gives him a firsthand look at how agriculture and urban interact.
Subscribe to receive top agriculture news
Be informed daily with these free e-newsletters
You May Also Like
---