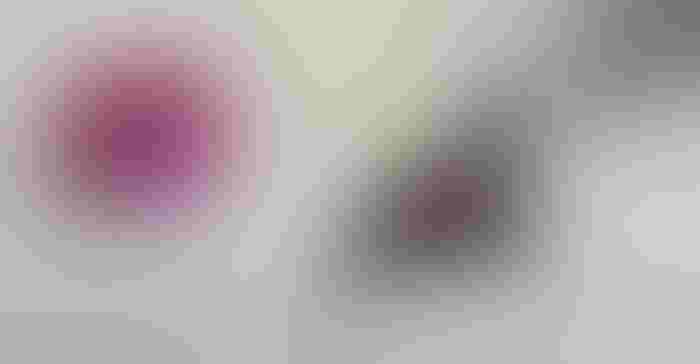 Farmers will soon benefit from a new weed seed test that will help them stay ahead of invasive, prolific Palmer amaranth weed infestations.
The new genetic test can detect one Palmer seed in a mix of 200 pigweed seeds with 99% accuracy. Researchers hope it will be commercially available by the end of 2021.
A team of scientists from Minnesota, Colorado and Michigan started collaborating on an identification assay in 2018 after Minnesota prioritized tamping out the aggressive invasive. Palmer amaranth was first found in September 2016 in the state; later that fall, the ag commissioner listed Palmer as a prohibited noxious weed seed. That listing means that any seed lot contaminated with Palmer is not legal for sale. Seed lots properly labeled must have a noxious exam that includes genetic testing to determine if any amaranth seed found is Palmer.
"It's very difficult to identify Palmer amaranth seed visually when next to spiny amaranth or redroot pigweed seed," says Anthony Brusa, a postdoctoral associate in the Wyse Lab at the University of Minnesota and a member of the research team. Brusa, who worked on his doctorate at Rutgers University, was specifically hired in 2018 to work on the project. Palmer seeds are the size of poppyseeds, he adds.
Seeds collected from wide area
To develop the genetic test, the scientists collected Palmer amaranth seeds from a wide geographical range, across the U.S. and in Mexico, South America and Africa. They then performed genomic sequencing on these samples and searched for specific genetic differences among species.
The targets identified were then used to design a set of three genetic markers for the identification of Palmer DNA against the DNA of related pigweed species. Finally, those tests were validated for performance against a robust testing panel. Using assay tools from the global company LGC Biosciences, they saw test sensitivity range from 99.8% to 100%, and specificity from 99.59% to 100% in the three markers.
Other scientists involved in the study say the new test has wide potential.
"We hope that this will be the first of many molecular diagnostics developed for weed seed testing," says Eric Patterson, an assistant professor and weed geneticist at Michigan State University. "The gates are open for developing tests for herbicide resistance, seed contamination and seed bank diversity."
Todd Gaines, an associate professor of molecular weed science at Colorado State University, says the test has the potential to help prevent Palmer seed from being introduced as a contaminant in pollinator seed mixes, birdseed and other seed lots sold from areas where Palmer is a problem.
"We also see great potential for this to be used to help protect corn and soybean exports by verifying the absence of Palmer in grain sold to countries that won't accept Palmer-contaminated products," Gaines adds.
Brusa says the three universities are currently working to develop a test licensing agreement. Once approved, any private lab could offer the testing as a service. CSU has a plant diagnostic lab and plans to make it available.
Meanwhile, the researchers continue to investigate different approaches to Palmer control, such as looking at the potential to use genomic testing to identify Palmer in soil seed banks.
"Since farmers are already taking soil samples for crop nutrient reasons, we talked about testing soil samples and identifying weed seeds in the soil," Brusa says.
Brusa notes the project was truly a team effort, with collaboration among the three universities, University of Minnesota Extension and the Minnesota Department of Agriculture. Funding came from the Minnesota Invasive Terrestrial Plants and Pests Center.
"A big part of Palmer weed control gets back to the growers," Brusa adds. "So far, every initial sighting of Palmer in Minnesota was from a grower. Control efforts wouldn't be possible without their help. Prevention of Palmer is a team effort."
To learn more about Palmer in Minnesota, visit MDA's Palmer amaranth webpage.
About the Author(s) Paula Mohr has been editor of The Farmer since 2004. She enjoys covering a wide range of topics that are of interest to Minnesota producers.
Subscribe to receive top agriculture news
Be informed daily with these free e-newsletters
You May Also Like
---