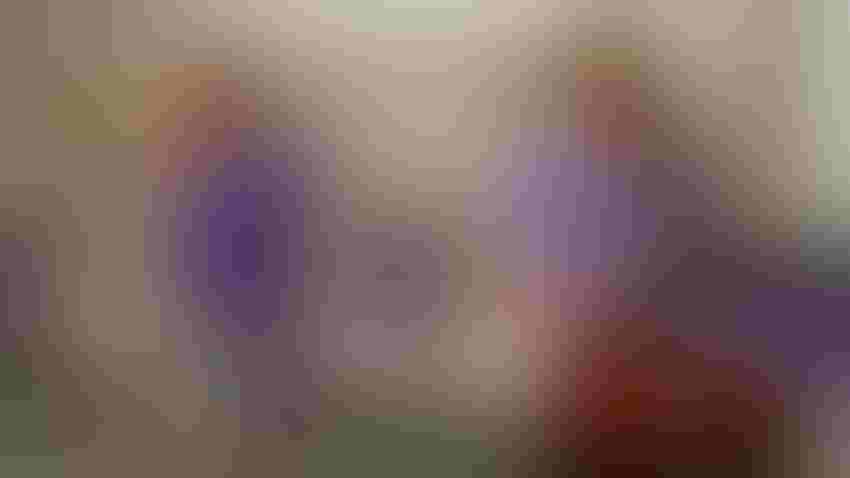 GLOBAL RESEARCH STATUS: Kansas State University students Emma Roy (left) and Abbey Schiefelbein conduct lab experiments in the Kansas Value Added Foods Lab. Jane Schuh, K-State's new Director of Research for the College of Agriculture, says teaching and outreach are opportunities to grow the state's workforce.
Courtesy of K-State Research and Extension News Service
Describing herself as "a small-town, rural agriculture type of girl," Jane Schuh has taken the reins as director of research for Kansas State University's College of Agriculture.
Schuh is a veteran of academia, having built a successful career in cellular and molecular biology. She was most recently the director of strategic initiatives for North Dakota State University's Division of Agricultural Affairs.
She began her duties as the director and associate dean for the K-State College of Agriculture's research and graduate programs on July 1.
Schuh recently answered questions on the weekday radio podcast Agriculture Today, produced by K-State Research and Extension. The following is a portion of that interview.
Working in agriculture seems to be a natural fit for you, considering your background, right? Yes. I am a small-town, rural agriculture type of girl. I grew up on a farm about 5 miles out of the tiny town of Sheldon, N.D. … I am very familiar with rural living. Then, I graduated from a land-grant university at North Dakota State and spent a number of years there as an administrator, researcher and teacher. So that land-grant mission of service to people is near and dear to my heart.
What are some things that you're really excited about in terms of research at Kansas State and the value it brings to farmers? Well, I think there's a lot of opportunity, and people have seen that in the huge investment in infrastructure and facilities that the university is making. The facilities K-State is building are going to be world-class.
Facilities bring together researchers from different disciplines. One reason you go to a comprehensive research university is because it's one-stop shopping. If you've got a big problem … there are people that have the knowledge and know-how to help. In any particular project, you might be bringing in economists, or people from sociology or maybe people from engineering or many other areas of agriculture. They can work together and really be responsive to producers and people in industry.
Being able to collaborate across many disciplines for different needs is something that I think is just tremendously exciting, and that reflects investment in agriculture and in the economy of the state. It's something that I can't wait to join in.
Some things stick out in what you're saying, including your commitment not only to research, but also to teaching and outreach. Absolutely. One of the things that really drew me to this opportunity was not only the need to collaborate, but really the desire to increase collaboration across the entire university. And so, when I look at my background — being able to work with public-private partnerships, business, federal research and state agencies — I think that really fits well into what I see as opportunities growing in Kansas right now.
As a university, we can provide the teaching and training that the workforce needs. We need to work with producers and industry to learn their needs for students that we're training, so that they're ready to move out into the workforce.
One of the things that I have always been very proud of in working at a land-grant university is the outreach component, or Extension, where not only are we extending the knowledge that is created on campus, but we're also getting knowledge from producers about what we should be doing next.
There's no need to tell you, but water is always going to be a key topic in agriculture, right? Definitely. Water is important. I didn't have to talk to too many people to hear water come up. But, really, it's a tremendous opportunity for all of that university collaboration to come together around a central issue.
We can't look at that from one perspective, because there's not just one perspective that's going to be able to fix things. … It really is going to be multiple perspectives looking at challenges in different ways. It's going to be conservation, it's going to be changes in how we do things, and an understanding of why we're doing things, and Outreach and Extension is really important.
Kansas and Kansas State have been leaders of some national and international labs, looking at how the issues we are working on here can have impact on the global scale. … One of the things that I always think about when I think about sustainability … is how does the farmer sustain a good way of life for themselves and their family and be able to pass that on to the next generation? What does that look like, and how do we help support that in the land-grant mission? So, yes, we absolutely have an opportunity to be a global leader at Kansas State.
Listen to the full interview with Schuh online at bit.ly/kstateschuhinterview.
Source: Kansas State Research and Extension News Service
Subscribe to receive top agriculture news
Be informed daily with these free e-newsletters
You May Also Like
---