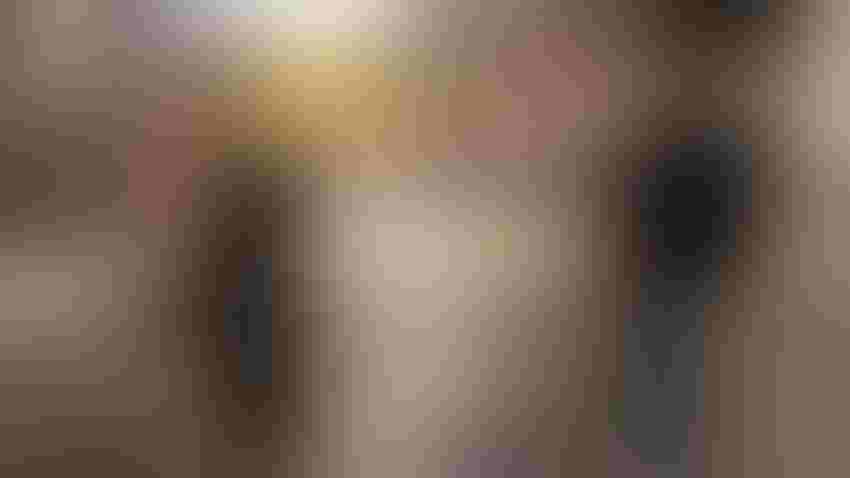 POTATO PROMO: Burke Kennedy was one of the attendees who came by the exhibit at the second annual Global Produce and Floral Show, where he received information about the Michigan Potato Industry Commission from Kelly Turner. As visitors left, they were presented with a sample bag of Michigan potato chips.
George Hubka/MG News Service
Michigan potato growers, depending on the field and area of the state, are seeing strong yields in most areas — except those that saw some flooding due to heavy rain — says Kelly Turner, executive director of the Michigan Potato Industry Commission.
"Our 2023 growing season was uneven in terms of weather, with April to June being extremely dry," she says. "That was followed by near-record wetness in July. Growers battled dampness during September and early October harvest as well."
Turner exhibited at the second annual Global Produce and Floral Show from Oct. 19-21 at the Anaheim Convention Center in California. In addition to explaining the production side of the industry, Turner presented information on the potato processing industry and the many products produced from the Michigan crop. 
Michigan is ranked ninth in the nation with the production of 1.65 billion pounds of potatoes during 2022.
Horse tests positive for West Nile
Mosquitoes will continue to be active until there has been a hard freeze. Take precautions to protect your animals, yourself and your family, said state veterinarian Nora Wineland, who reported that West Nile virus was detected in a 12-year-old standardbred mare from Isabella County. This is the third case of WNV reported in a domestic animal for 2023.
"On Sept. 27, the mare was found down and unable to rise," Wineland said in a statement. "The horse was unvaccinated against WNV and later succumbed to the disease.
"Despite the cooler temperatures being experienced around the state, the mosquitoes that carry WNV and other mosquito-borne diseases will remain alive and active until there has been at least one hard freeze where the temperatures fall below 28 degrees F. Until this occurs, it is important to continue taking precautions to keep mosquitoes away from animals.
"Placing livestock in a barn under fans during peak mosquito activity [from dusk to dawn], eliminating standing water on one's property, using an insect repellant on animals that is approved for the species, and contacting a veterinarian to vaccinate horses against WNV and other mosquito-borne diseases are all vital measures to take in order to keep animals healthy."
Horse owners are urged to contact their veterinarian if a horse shows signs of illness — mild fever and stumbling, which can progress to being down and struggling to stand. Funding is available to test animals suspected of having a mosquito-borne disease. Contact MDARD at 800-292-3939 for more details.
As of Oct. 13, WNV was also detected in 12 wild birds and 124 mosquito pools throughout Michigan. There were 17 cases of the disease reported in humans as well.
For more information about WNV, visit michigan.gov.
Michigan has problem retaining young adults
Business group officials told a gathering last week the state has a lot of work to do to maintain young people in Michigan if it wants to attract a skilled workforce.
During a luncheon at Michigan State University, officials highlighted recent polling showing more than 25% of young adults would likely leave the state within a decade. About 64% of those polled in the 18- to 29-year-old age group said they would be living in Michigan within 10 years. That number drops to 52% among college students from out of state.
Tim Sowton, vice president of public policy with Business Leaders for Michigan, said the "forecast is not fate," and there is an opportunity to address such numbers.
Triscuit donates $100,000 for students
Triscuit Brand announced it is giving $100,000 to Michigan State University's farming program to provide 25 scholarships for students studying agribusiness and food industry management, and to fund a study tour where students will meet key Mondelez and Triscuit brand representatives and learn about the brand's supply chain. 
Triscuit crackers are made with 100% Michigan-grown white winter wheat, grown by more than 1,000 generational family farmers in Michigan's Co-Op Elevator farming collective.
Subscribe to receive top agriculture news
Be informed daily with these free e-newsletters
You May Also Like
---