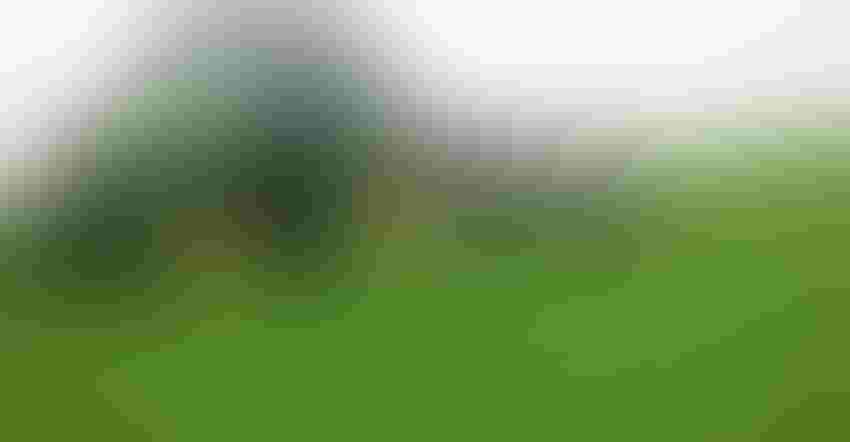 GREEN RELIEF: If you planted cover crops late this fall, you might want to try planting your cash crop into the cover crop in order to maximize the cover's benefits.
It has been nothing short of amazing how quickly the concept of "planting green" has grown within the cover crop movement, including many countries around the world.
This practice involves planting the cash crop directly into a cover crop that is terminated just before or shortly after planting. It basically allows cover crops to more fully express their benefits, such as increased biomass or nitrogen production in the case of legumes.
We are approaching another cash crop planting season, and most East Coast farmers seeded cover crops late. Allowing for extra growth in spring is attractive to those trying to build soil health and will potentially decrease input costs.
Moisture management is critical
Cover crops offer a significant benefit by helping dry out the soil to provide a timelier planting in wet conditions. That being said, careful management needs to be considered if it's dry and no rain is in sight.
Termination needs to be sooner in this scenario so as not to rob moisture from the next crop. If the cover crop is getting tall and may lodge, rolling is recommended to place the stems in the direction of the planter and to eliminate hair-pinning in the seed slot.
Soybeans are easy
Planting green requires a high level of management and attention to detail. The best way to start is with soybeans. Cereal rye is the most common cover crop seeded before beans, and they are rather easy to control. Beans are also very forgiving in regard to seed placement, which can be a challenge for rookies or those who have inadequate planters. And there seems to be some sort of synergistic effect going on between these two species that typically results in yield increases!
But the real bonus may be that it is providing noticeable control of herbicide-resistant weeds. The phenomenon has become so real that farmers who were never inclined to plant cover crops are now doing so to meet this challenge!
Corn is hard
On the other hand, success with planting corn into a green cover crop requires astute attention to detail. Unless you have a sizable portion of legumes as your cover crop, nitrogen needs to be on or very near the seed at planting. Be attention to both the type and rate of nitrogen so as not to damage the seedlings. If cereal rye is the cover crop, assume no nitrogen is available at that time. It'll be there later in the season, but not early on.
Some worry about allelopathy with corn, but usually that's a misdiagnosis and it is actually an early season nitrogen deficiency. Nitrogen management is critical and needs to be front-loaded at planting, either with the total amount or split between planting and a side-dress application later.
Equipment modifications
Planting green is not for the faint of heart and neither is it for a planter that is not set up to navigate the jungle of cover crops. The degree of cover crop maturity and height is a huge factor influencing a planter setup, which will dictate the measures that need to be taken.
Curved tine row cleaners with treader wheels are required. The thick rootmass associated with a more mature cover crop favors a spoked-type closing wheel in order to get the seed slot tightly closed. Some of these styles are subject to wrapping when planting into cover crops taller than 20 inches. Either choose a less-aggressive brand or purchase deflectors made to eliminate wrapping. 
Distracting slugs
There is a side benefit to planting green: It keeps the slugs more interested in eating the cover crop rather than chewing on the cash crop. It's not a complete control, but it is consistent enough for many farmers to say they have seen a difference in slug damage when planting green.
Crop insurance caution
In the past, farmers had to abide by regional rules related to cover crop termination guidelines that discouraged planting green in some scenarios. Fortunately, the new farm bill relaxed those standards a bit, so have a chat with your crop insurance provider to verify that you are in compliance.
The Coach's Closer
The longer you let a cover crop grow, the more benefits you may get from it. The key to planting green is to embrace another level of management and understand the rules that make it work.
Groff is a cover crop pioneer and innovator who farms in the Chesapeake Bay Watershed. Check out his website, covercropcoaching.com. 
Subscribe to receive top agriculture news
Be informed daily with these free e-newsletters
You May Also Like
---