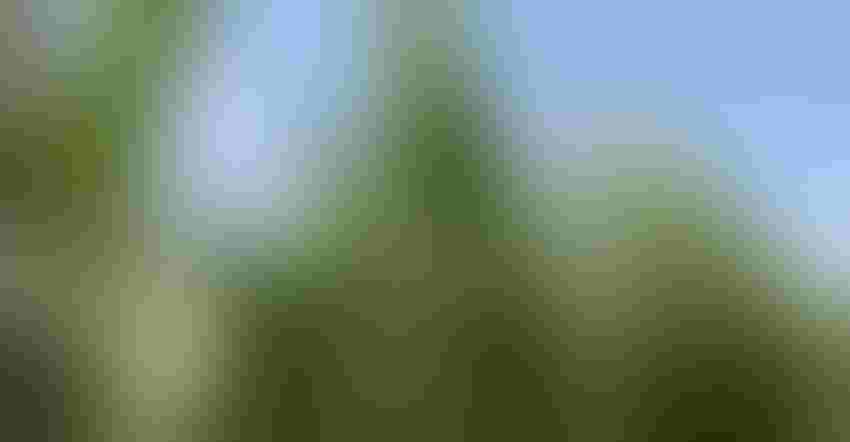 HISTORY OF CORN: Pioneer is ramping up its story about breeding and technology, and it will be more aggressive in telling its story as it competes as part of Corteva.
Photos by Willie Vogt
Standing in a cornfield on a warm August day, Ryan Myers, Pioneer U.S. corn lead, told attendees at a media event that the company was going to change how it talks about products and technology. "We're going to think, act and feel different than in the past," he says. "We're going to be more aggressive in our discussion about yield and performance."
Pioneer, now part of Corteva, the U.S.-based, ag-focused company birthed in 2019 as a spinoff of the merger of Dow and DuPont, appears to be digging in on its history and pushing harder into the market. A changed competitive landscape has developed with the last round of mergers and acquisitions now complete. And in the seed business, Myers admits that Pioneer is "taking the gloves off" to be scrappier than in the past.
He notes that the company will be focusing on its competitive advantage in a way that customers have "not seen before." But what does that mean?
For a company that's been marketing hybrid corn since 1926, there's a long history of innovation and tech on which to build. "We're going to talk about a revolution that's a significant change in an organization," he says. "Eight years ago, we decided that the 2-bushel-per-acre increase in corn yield was not going to be good enough. We needed to have more yield and be more consistent in total product performance than in the past."

TALKING REVOLUTION: Ryan Myers, U.S. corn lead, Pioneer, shares the story of how new technology, a revamped testing program and a focus on consistent performance put the company in a stronger position.
Ramped-up breeding
First step on the road to boosting yield is to kick up the breeding program. Myers explains that implementation of double-haploid breeding techniques was a significant start. The technique can produce new inbreds in one year, versus eight. "We've taken eight years out of the process with that one technology," he notes.
Big data also has a role in this corn revolution. He says the company is deploying precision phenotyping and predictive analytics to determine which of those accelerated inbreds should be put together for higher yield. "We're working on making the best matches, and using predictive analytics to determine the future hybrids," he says.
In addition, the company is using new simulation tools that can take that predictive information and simulate growing seasons. The company has more than 90 years of breeding experience that can be put into computer models. Add in new modeling techniques, and Myers explains that the company can simulate 100,000 years of growing seasons to evaluate products. "We do that to get the best outcome," he says.
As for the eight years Pioneer picked up with double haploid breeding? Call it seven. One year was added back to the IMPACT (Intensively Managed Product Advancement Characterization and Training) trial program for further crop testing before releasing hybrids to market. "We want to break a hybrid before a customer gets it," he says.
That added testing will also boost a key measure for hybrids — consistency. An extra year of testing can remove the uncertainty of weather in testing. A hybrid tested under a perfect year of weather may fail if conditions change, but having an extra year and more plot locations can thin out the inconsistent performers.
"We not only want top-yielding hybrids, but we want them to be consistent performers," Myers says. "That's what we get with the added year."
In fact, Myers says that the "Class of 2020" includes a fewer hybrid choices from where the company began, because some lines just didn't meet specification. "We know those hybrids won't be going into a Pioneer bag," he says.
Going into 2020, Pioneer will bring out new products Myers says have shown the highest yield increase in company history. "We're seeing an 11.8-bushel-per-acre advantage with a 70% win rate [in trials]."
You can learn more at pioneer.com.
Subscribe to receive top agriculture news
Be informed daily with these free e-newsletters
You May Also Like
---