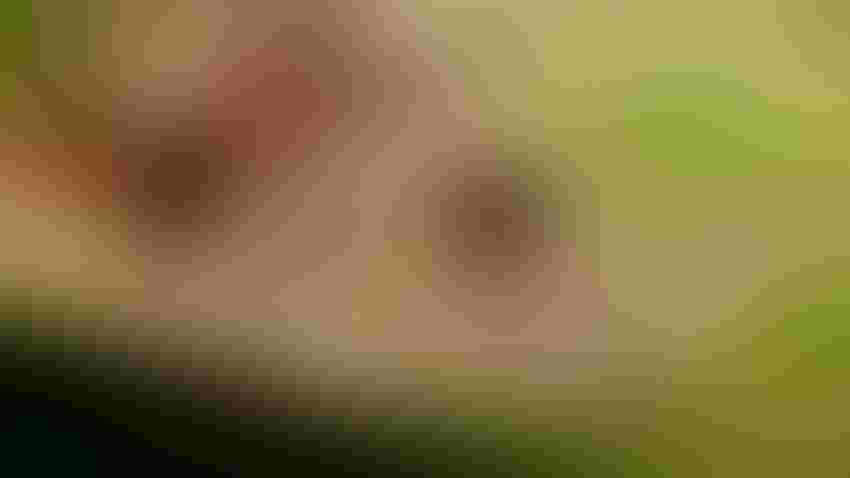 JAPANESE BEETLE: Kansas farmers need to be scouting fields for different yield-robbing pests this growing season, according to Kansas State University Extension entomologists. This includes the Japanese beetle, which will feed on corn tassels and young soybean plants.
JJ Gouin/Getty Images
From Japanese beetles to western bean cutworms — and every creepy crawly critter in between — yield-robbing pests are making their presence known in Kansas fields.
Kansas State Extension entomologist Jeff Whitworth, and Anthony Zukoff, Extension entomology associate, updated growers on pest movements they need to monitor in their fields in recent Agronomy eUpdates.  
Japanese beetles
Whitworth reported that adult Japanese beetles have been concerning corn farmers in the eastern third of Kansas through July. The beetles are strongly attracted to fresh corn silks and are voracious feeders that can chew off those silks as fast as they grow out, he reported. Additionally, adult beetles can be attracted to young soybean leaves and pods.
The larvae are white grubs that feed on the roots of many different perennials, often turfgrass. As the larvae grow and move into a field, the damage they leave behind will be on the side of the field closest to where the larvae were feeding.
Japanese beetles are reportedly migrating west across Kansas, and last year they were reported as far west as Saline and Republic counties. Whitworth advised if farmers scout Japanese beetles in a field, they should monitor the whole field for infestation as they tend to aggregate on the side closest to where the grubs fed.
Chinch bugs and false chinch bugs
Will the real chinch bug please stand up?
As of July 20, central Kansas farmers were reporting elevated chinch bug activity, but Zukoff warned that there is a difference between chinch bugs (Blissus leucopterus) and false chinch bugs (Nysius sp.). Knowing this difference is critical to managing these sucking insects and their damage to sorghum fields.
Look for the "X" — chinch bugs are 3 to 4 mm long, with black bodies and white wings with dark triangular markings that they keep folded over their backs. The markings create a distinctive "X" shape, Zukoff explained. The false chinch bugs are brownish-gray, with clear wings and no "X" mark.
The damage these two insects can cause to a plant are different. Chinch bugs inject digestive enzymes into plant tissue as they feed — causing the tissue to break down and discolor. You'll note reddish spots at chinch bug feeding sites. Too much of this can cause stunting, wilting and necrotic lesions on plants.
False chinch bug feeding, however, usually has little effect on plants, but Zukoff cautioned that extreme numbers can cause wilting and death.
Additional details on life history and management recommendations for these two pests can be found in the following Kansas Crop Pest publications:
Fall armyworm
Every year Kansas farmers are on the lookout for fall armyworm migrating into the state from the Gulf coast. With two full generations possible, Zukoff warned that Kansas farmers need to scout for these pests that can defoliate alfalfa, and also damage the grain of corn, sorghum and wheat crops.
The first fall armyworms were detected June 16 in central Kansas, Zukoff reported, with moths also captured in southwest Kansas the last week of June. While the overall capture numbers were very low, the numbers seem restricted to the southwest.
Zukoff cautioned that more moths may have entered the state through July. Caterpillars can exponentially grow in size quickly, which can lessen the effectiveness of control measures. "It is critical to scout thoroughly and treat if needed, before the caterpillars are over a half-inch long," he explained. The larger the caterpillar, the harder to control and the more damage they're capable of in the field. Read more at bit.ly/eupdatefallarmyworm.
Western bean cutworm moths
As of July 27, pheromone trap counts of western bean cutworm moths in western Kansas cornfields showed that their annual flight is winding down in southwest Kansas. They began emerging in the southwest the second week of June, and counts were low through the month, Zukoff reported. The Finney County 2023 flight, he reported, is much less noticeable than last year's flight, and he advised that the moth flight should conclude in southwest Kansas sometime in early August. But he cautioned that all at-risk cornfields should continue to be scouted.
"Early detection of egg masses is important, as any chemical control — if warranted — needs to happen before larvae enter corn ears," Zukoff said. "When the field is almost fully tasseled, an average of 8% of plants with eggs or small caterpillars justifies control measures. Control will be reduced if applications are delayed until all silks have emerged, or if larvae have already entered the ear tips."
Control options and additional information on western bean cutworms can be found in the 2023 Corn Insect Pest Management Guide, bit.ly/corninsects.
Source: Kansas State Agronomy eUpdate contributed to this article.
Subscribe to receive top agriculture news
Be informed daily with these free e-newsletters
You May Also Like
---