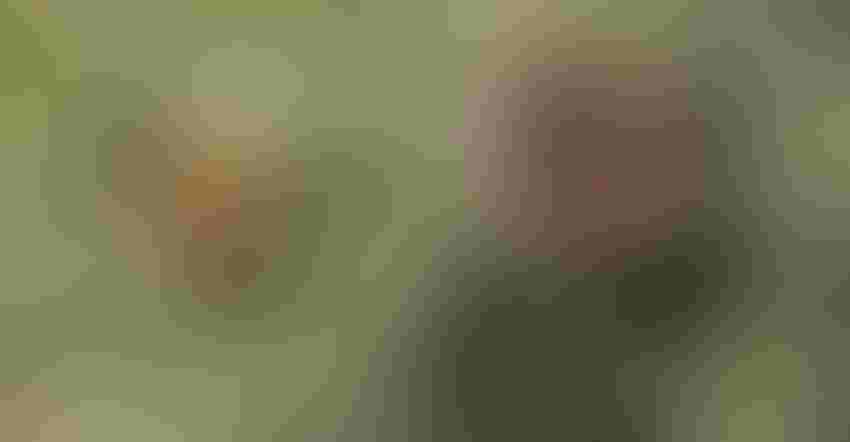 FOREST TREASURE: Pine nut harvest has begun on public lands. The focus for the Bureau of Land Management and the U.S. Forest Service forest is safety.
Brytten Steed, USDA Forest Service, Bugwood.org
Those beautiful pines in Nevada forests also contain a tasty treat — pine nuts. The season, which kicks off in September and usually runs into late October, is underway. The Nevada Bureau of Land Management and Humboldt-Toiyabe National Forest are working together to ensure a safe harvest, and to make people aware of regulations surrounding pine nuts.
The BLM and U.S. Forest Service have two types of pine nut harvesting — personal use and commercial use.
For personal use, if individuals and families visit lands managed by BLM and Humboldt-Toiyabe National Forest, they can gather up to 25 pounds of nuts per season, per household without a permit and at no charge. The limit aims for a sustainable level of harvest and protection of resources across pine nut picking areas. If you're interested in gathering more than 25 pounds, contact the local BLM or U.S. Forest Service office.
The services note that while the general public can harvest pine nuts for personal use without obtaining a permit at one of the BLM or USFS offices, it is recommended that individuals stop by the local office to obtain specific pine nut harvesting information. The information available could include maps of good crop areas, closure information, fire restrictions and areas to avoid.
Personal use harvest is allowed where pinyon pine trees may be found on BLM-managed lands. The Battle Mountain and Ely districts have issued 11 commercial permits for collection of just over 205,000 pounds of nuts. Public and tribal members are still allowed to collect within these units for personal use. If you're interested in gathering for commercial use, call Coreen Francis, lead forester, at 775-885-6021 or email her at [email protected].
In the Humboldt-Toiyabe National Forest, personal use harvest is allowed anywhere that pinyon pine trees may be found on the Austin-Tonopah, Bridgeport, Carson, Ely and Mountain City-Ruby Mountains-Jarbridge Ranger districts; and the Spring Mountains National Recreation Area. Only one commercial contract has been awarded by the Ely Ranger District to harvest about 10,000 pounds of pine nuts on the Monte Cristo unit. Public and private members can still collect within the area for personal use. Learn more by contacting Carol Carlock, Central Zone fuels specialist, at 775-289-3031 or [email protected].
Enforcement
Nevada BLM and Humboldt-Toiyabe National Forest law enforcement will pursue all applicable federal violations against any illegal pine nut harvesters. The fine for violation of the law is $5,000, six months in jail or both, per violation. There also could be further charges and restitution if there is damage during illegal activity.
To report suspicious pine nut harvesting on lands managed by the Nevada BLM, call the Lake Mead 24-hour Dispatch Center at 702-293-8998. If the suspicious activity is occurring on the Humboldt-Toiyabe National Forest, contact either the Nevada Division of Wildlife 24-hour Dispatch Center at 775-688-1331 or 775-688-1332 (U.S. Forest Service law enforcement) or the local Ranger District Office from 8 a.m. to 4:30 p.m. Monday through Friday (phone numbers are listed below).
If at any time a person feels threatened or is threatened by another harvester, leave the area and immediately call 911. Never approach anyone who may be illegally harvesting pine nuts. Instead, get details and descriptions of the incident and turn them over to an enforcement agency. Helpful information includes:
• the license plate number and description of the vehicle involved (make, model, year, and condition)
• number of people involved, along with descriptions
• date and time of incident
• location and directions to the area; if possible, GPS coordinates
• name of county incident occurred in
• name and telephone number of person reporting the incident
• any cellphone photos if available
See ranger district contact info below.
Source: Nevada BLM, Humboldt-Toiyabe Forest
Subscribe to receive top agriculture news
Be informed daily with these free e-newsletters
You May Also Like
---